Seager teams up with friend to help fight cancer
Mariners third baseman will raise funds through pledges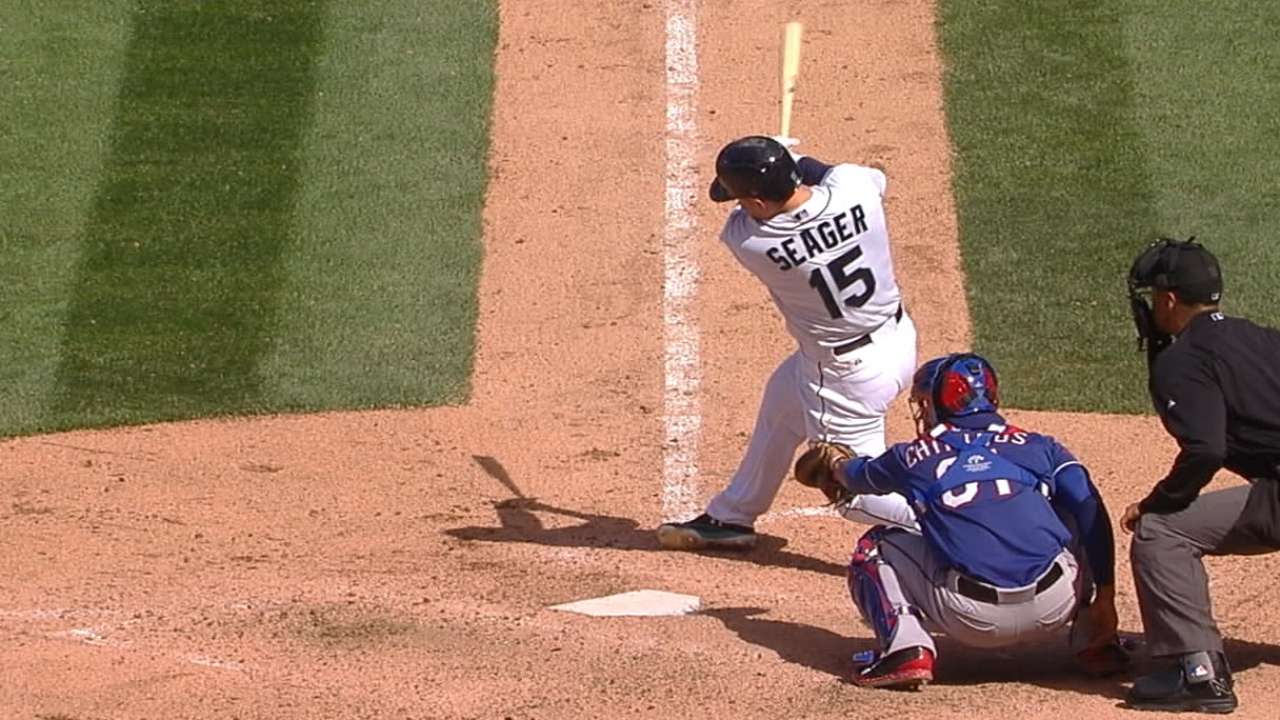 PEORIA, Ariz. -- Racking up hits has always been important to Kyle Seager, but that role will help another goal this season as the Mariners All-Star third baseman has hooked up with former North Carolina teammate Chase Jones on a charity to help fight children's cancer.
Jones was diagnosed with Stage 4 brain cancer when he was a freshman in college. Now seven years later, Jones is pushing to help others with his Vs. Cancer Foundation -- and he landed a key contributor in Seager.
Seager and his wife, Julie, have agreed to match the first 100 pledges to the foundation based on the number of hits he accumulates in the coming season. Those who pledge 50 cents a hit (or a minimum of $25) will receive a Seager Vs. Cancer T-shirt. Pledges of $1 per hit (minimum $150) will receive an autographed ball and a T-shirt. And those who pledge $5 per hit (minimum $500) will get a Safeco Field suit and batting practice passes for a Mariners game this September, as well as the ball and T-shirt.
Seager, who tallied 158 hits last season, said this is a cause close to his heart, thanks to his friendship with Jones as well as the birth of his son, Crue.
"You sit down with Chase and really start learning more about it," Seager said. "Cancer is the No. 1 cause of death in children and adolescents. You really start going through it. Since me and my wife have had Crue in our life, it changes your perspective on everything.
"You start thinking about that and talk to Chase's mom and dad and think about what they went through and think of anything you can do to help. Everybody knows about it, but to bring more awareness and help financially to find a cure is very important."
Jones, a second baseman at North Carolina, stayed on for his final three years of college as the team's bullpen catcher. He lived in the apartment across the hall from Seager his sophomore year and in the same off-campus house their junior year before Seager was drafted by Seattle.
The two have remained close friends and Jones, who was a four-year starting quarterback and ASB president during his high school days in North Carolina, has dived full speed into his foundation work the last few years.
"It's pretty awesome to see the Seagers believe in this," said Jones.
Seager recalls his teammate being diagnosed and then dealing with a brain tumor that first year of college and said it left an imprint.
"It was terrible," he said. "The whole team, you get to know them and you're around them every day, just like this team. When something like that happens, it completely rocks the club and makes you think about things and puts everything in perspective. Thankfully he was able to fight through it and get past it and hopefully continue to stay past it. He's somebody who has been very inspirational to me."
Seager just signed a seven-year, $100 million contract extension, but said this project was in the works before that deal became reality.
"Chase started this a couple years ago and it's something me and Julie wanted to be a part of," he said. "He's done a great job broadening it. He's got Little Leagues, colleges, high schools, Minor League teams involved. He's done a great job with it and we'd told him before that we wanted to get involved any way we can. We had a nice meeting with him this offseason and made a plan of what we want to do. It's a really cool thing that me and Julie have gotten to be a part of this."
Half of all proceeds from the campaign will be given to local pediatric oncology programs in Seattle, while the remaining half will help fund cancer research projects. To make a pledge, fans can go to the foundation's website at Seagervscancer.org.
Greg Johns is a reporter for MLB.com. Follow him on Twitter @GregJohnsMLB as well as his Mariners Musings blog. This story was not subject to the approval of Major League Baseball or its clubs.