Rotation hopeful Marquis makes strong first step
Relievers Samson, Hoover also throw shutout ball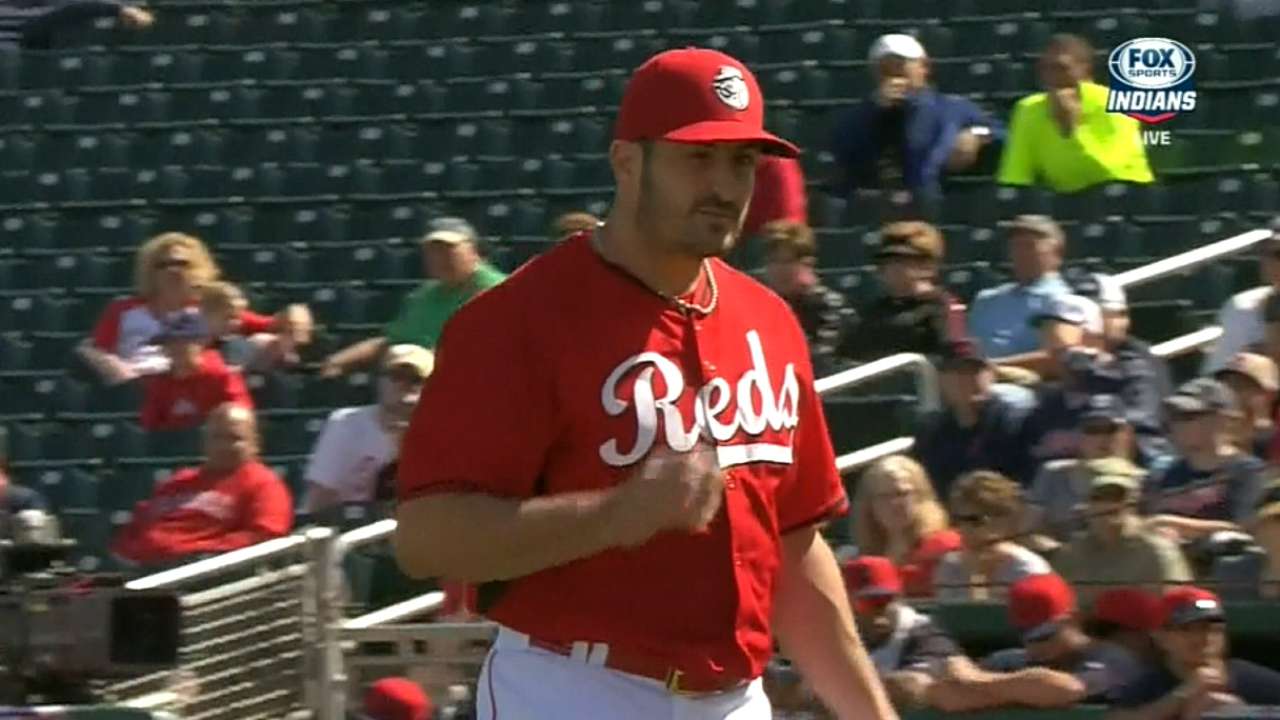 GOODYEAR, Ariz. -- Both the Reds and Indians opened their Cactus League seasons Tuesday showcasing pitchers who are competing for rotation spots.
Veteran Jason Marquis pitched two scoreless innings for the Reds while Zach McAllister allowed a first-inning run on Devin Mesoraco's RBI single during his outing in a 10-0 victory for the Reds.
Marquis, who was signed in the offseason to a Minor League contract and is a non-roster invite, gave up no hits and walked two batters in his two innings with three strikeouts. After he issued a two-out walk in the second and James Ramsey reached on Zack Cozart's error, Marquis escaped by striking out Tyler Naquin.
"It was nice to get back on the mound with a little adrenaline. It's been awhile," said Marquis, who did not pitch in the Majors in 2014 as he came back from 2013 Tommy John surgery on his elbow. "Obviously, the line score came out good. I still have to work and get a little more consistent with my sinker in the zone. All in all, I thought it went well. I'm just excited to get back on the mound and start competing again."
Marquis is vying for one of the two openings in the rotation with Tony Cingrani, Anthony DeSclafani, Raisel Iglesias and others.
McAllister is out of options and vying for the fifth starter's spot with Cleveland against Danny Salazar, T.J. House and Josh Tomlin. He allowed three hits and a run with three strikeouts over two innings. In the bottom of the first, following a Brandon Phillips one-out double, Mesoraco lined a two-out single to center field and made it a 1-0 game.
"He was actually pretty good," Indians manager Terry Francona said of McAllister. "He gave up the two-out hit, but I thought he was down in the zone, showed good arm strength and used all his pitches. I thought he was pretty good."
Cincinnati added three runs in the fourth inning against Charles Brewer -- including an RBI single by Marlon Byrd and an RBI double off the center-field wall by Jay Bruce. Kevius Sampson replaced Marquis with two scoreless innings and one hit and one walk and two strikeouts. J.J. Hoover pitched the fifth and struck out the side following a pair of Indians singles. Three more Reds runs crossed in the sixth against right-handed pitcher Bryan Price, who is of no relation to Reds manager Bryan Price.
"We had 10 RBIs by 10 different hitters. That also speaks well for the diversity of the lineup today," manager Price said. "The pitchers came in and threw strikes for the most part and allowed the defense to do some work, so it was a nice first day."
Up next: Like on Tuesday, the jockeying for rotation spots will continue for the Reds when they face the Indians again at 3:05 p.m. ET Wednesday -- this time as the visiting club at the teams' shared Goodyear Ballpark facility. DeSclafani will make his debut against Tomlin. Also on the list of potential pitchers out of the bullpen is Iglesias, who would be working his first game for Cincinnati. Iglesias, who was signed last summer after his defection from Cuba, is also competing for a rotation spot.
Mark Sheldon has covered baseball for MLB.com since 2001 and has been the Reds beat reporter since 2006.
This story was not subject to the approval of Major League Baseball or its clubs.