Yanks of future make big statements in spring opener
Severino fans first two batters; Judge knocks game-tying homer in ninth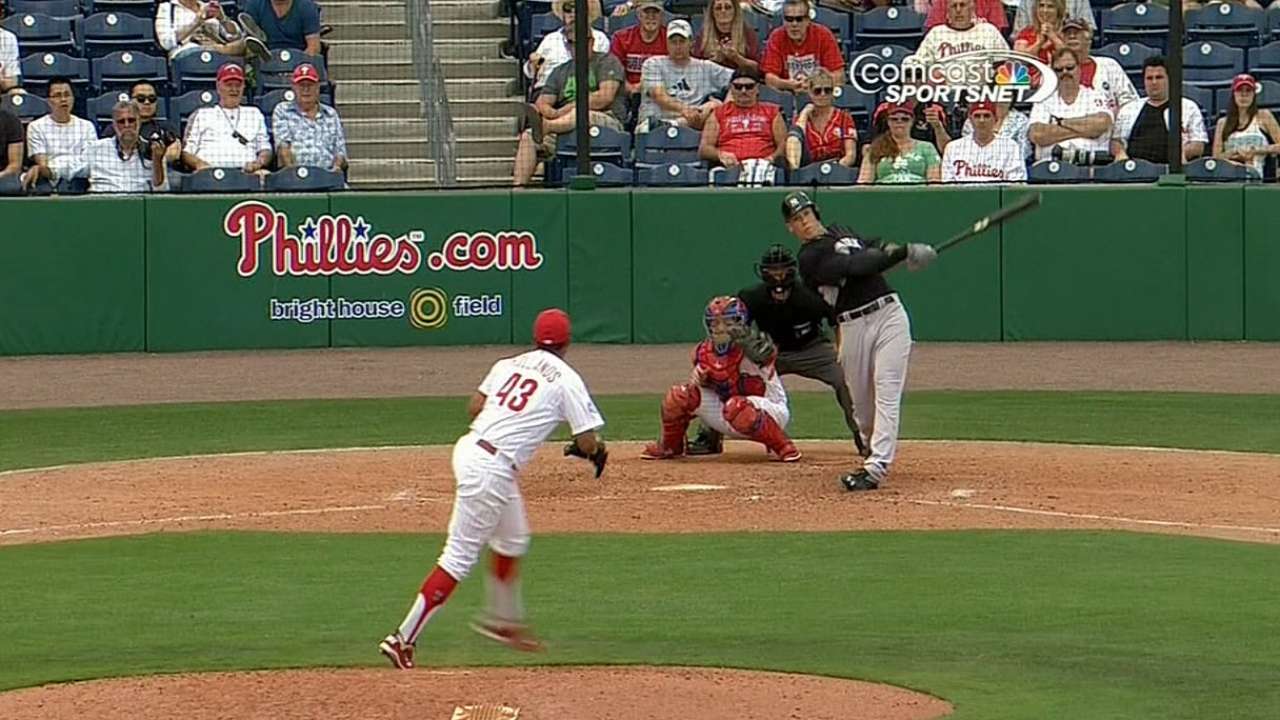 CLEARWATER, Fla. -- The Yankees scored four runs in the ninth inning on Tuesday to tie the Phillies, 5-5, in their Grapefruit League opener at Bright House Field.
Phillies left-hander Mario Hollands allowed five hits and four runs in the ninth, which included a two-out, three-run home run from Aaron Judge, the Yankees' No. 5 prospect.
Yankees starter Adam Warren worked two scoreless innings. Luis Severino, the top prospect in New York's farm system and theNo. 23 prospect in baseball, according to MLB.com, followed and allowed two runs in 1 1/3 innings to hand the Phillies a 2-1 lead.
Ryan Howard put Philadelphia on the board with a fourth-inning single to score Freddy Galvis, and third baseman Cody Asche later put the Phillies ahead with a sacrifice fly.
"He did a lot of good things on the field," Phillies manager Ryne Sandberg said of Howard, who went 2-for-2. "He showed some good movement on the field, some range on some plays. He did a good job on a high throw over there at first base. He really moved around really well on the field, and he had some at-bats [in which] he squared some balls up. I liked him going to left field, opening up the field."
Chris Young, Garrett Jones and Jose Pirela put together consecutive two-out singles in the first inning against Phillies right-hander David Buchanan to score the game's first run. Buchanan allowed one run in two innings. Jerome Williams followed Buchanan and worked two scoreless innings.
Batting first and second, respectively, in the Yankees' lineup, Jacoby Ellsbury and Brett Gardner both went 0-for-3.
Yankees Up Next: New York will begin its 20th season at George M. Steinbrenner Field on Wednesday at 1:05 p.m. ET on MLB.TV, hosting the Phillies. Right-hander Nathan Eovaldi is scheduled to make his first appearance in pinstripes, with Philadelphia giving the nod to right-hander Kevin Slowey. The contest will mark Alex Rodriguez's first game action since the 2013 postseason.
Todd Zolecki is a reporter for MLB.com. This story was not subject to the approval of Major League Baseball or its clubs.