Walker: Alvarez 'what you want in a teammate'
Though slugger not generally vocal, friend is happy to sing his praises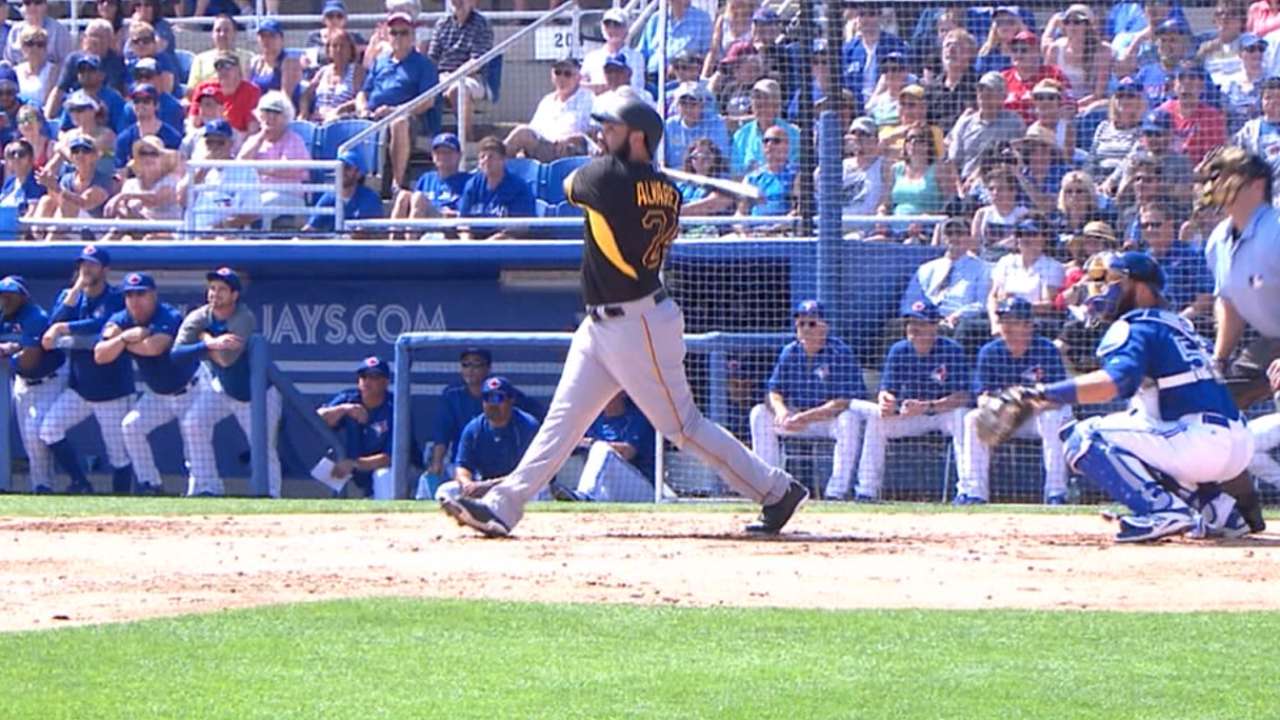 DUNEDIN, Fla. -- Pedro Alvarez has all kinds of power. He can crush a baseball, as he did Tuesday on his first swing in the first inning of the first game of the spring, sending an Aaron Sanchez offering over the left-field fence to give the Pirates a 3-0 jump toward an 8-7 exhibition win over Toronto.
Alvarez can also crush media folk hoping for an incisive comment or an insightful interview. That has never been his bag. So he can also powerfully polarize, because outsiders get a view of him startlingly different than how he is regarded in the clubhouse, where the Bucs to a man embrace him as a wonderful teammate and an inspiration.
One of those men, Neil Walker, is Alvarez's tightest friend on the team. The Kid from Pittsburgh and El Toro from the Bronx are united by expectations (both were first-round picks in the First-Year Player Draft) and experiences.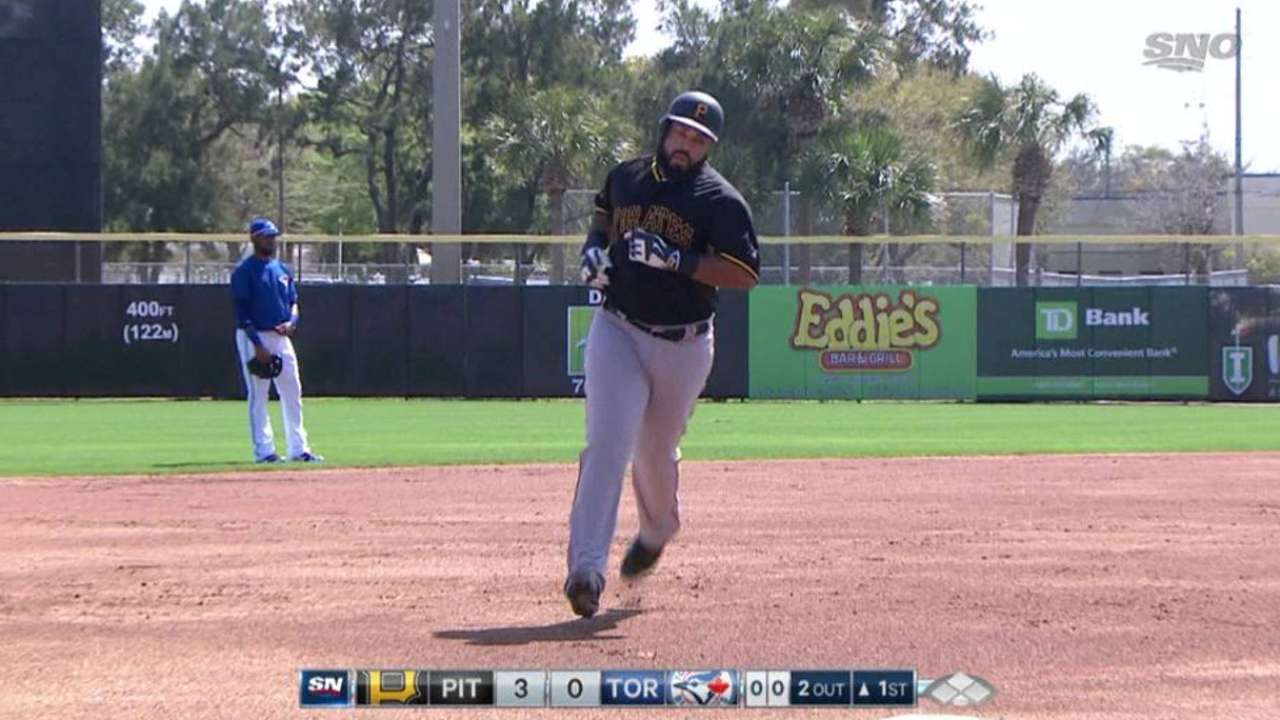 "You want me to talk about Pedro? I'd love to," Walker said. "Because he gets so much stuff from everyone that he doesn't deserve. And he's not one to talk about himself."
OK, Walker, the floor is yours:
"Pedro is probably the hardest-working guy I've ever played with. His desire to win and to be the best is through the roof, the best I've ever seen in anyone. I've learned so much from him in that regard.
"He's the epitome of what you want in a teammate, one we're very fortunate to have here in this organization. He'll have your back in any situation. He's even-keeled, never out of control. I know that troubles some people, who'd like to see more emotion from him -- but that's not him.
"The things that matter most to him are the ones he puts the most focus on. The media and other people outside the clubhouse … they get a misconception of who you are, or what you stand for, when you aren't outspoken with your opinions. If [Alvarez] doesn't feel like talking to the media, he's not going to talk. He's somewhat guarded in that regard. But when you get to know him, you understand he's just more focused on things higher on his priority list. That's just the way he is.
"The way things have played out with him, having to change positions, people are looking for knee-jerk reactions from him. But that's not going to happen. He's taking this process not as a demotion but as something that is going to help him and help this organization. Those are the two most important things to him.
"He's looking great and swinging well. All the injuries from the end of the year are gone. From a mental standpoint, he came in with his focus exactly where it needs to be. It's fun to watch him work, because he makes us all better. We know when he's on the field, he can change the game with one swing. I know he's going to work harder than anybody to become comfortable at first base."
Tom Singer is a reporter for MLB.com and writes an MLBlog Change for a Nickel. Follow him on Twitter @Tom_Singer. This story was not subject to the approval of Major League Baseball or its clubs.