Neshek boasts impressive cards, memorabilia collection
Astros reliever sends fans his autograph in exchange for others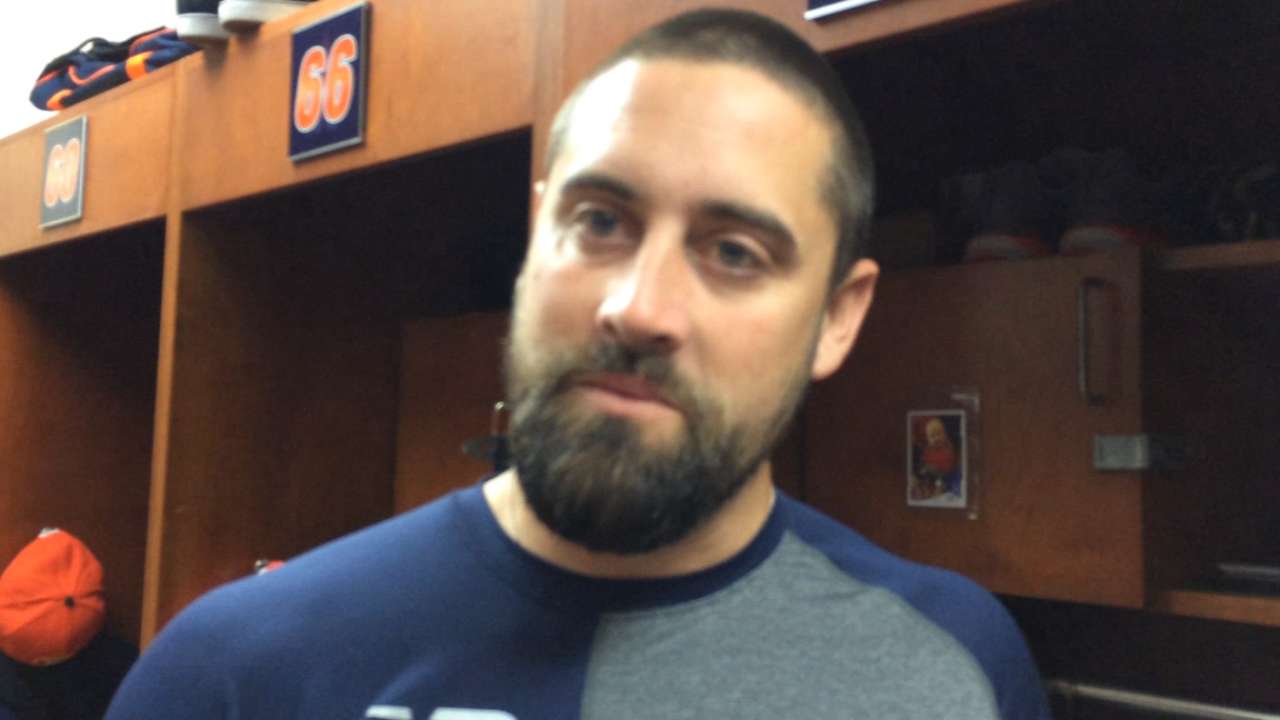 KISSIMMEE, Fla. -- On any given morning at spring camp, Astros reliever Pat Neshek can be spotted at his locker signing dozens of baseball cards with a discarded stack of envelopes at his feet. He rips them open, scribbles his name on each card and sends them back to where they came from.
Neshek, the sidearm reliever in his first season with the Astros, is an avid sports memorabilia collector who appeases other collectors and fans interested in getting his signature by returning any cards they send him -- as long as they include a self-addressed stamped envelope for the return.
"I get about 10 [letters] a day, sometimes more, sometimes less," he said. "It's a pretty solid 75-100 letters a week. I try to get them turned around as quickly as I can."
Neshek posts a mailing address at his Web site, Neshek.com, which also contains some posts about his quest to obtain certain pieces of baseball history. One of his projects is an attempt to assemble complete Topps Baseball Card sets that are signed by everyone in the set, which gets us back to the letters he receives. Fans send him autographed cards to help him complete his sets in exchange for his signature.
"That's probably my favorite thing to do," said Neshek, who has a completed signed 1985 card set and is working to finish the 1970, '74 and '79 sets as well. "When you start doing this stuff, you acquire a little bit of everything. When I had Tommy John surgery [and was recovering] in 2008 and 2009, I got to trade some of the stuff I didn't want and combine it with some of the stuff I did want. That's a problem collectors end up having after awhile: They accumulate so much random stuff."
Neshek was a collector as a kid, but grew apart from the hobby as he got older. He had a roommate in college who was into collecting autographs and sports memorabilia and it refueled Neshek's passion.
"Once I got drafted and started playing in the Minors, I met a lot of the collectors and stuff like that, and I started chronicling my journeys on the Web site," he said. "I would trade with a lot of fans, trade my autographs, and it kind of spiraled from there."
Last year with the Cardinals, Neshek acquired a coveted Babe Ruth autographed baseball from teammate John Lackey in exchange for giving up his No. 41 uniform number. The ball, worth thousands of dollars, came with a letter of authentication.
Neshek also possesses the signature of Napoleon Bonaparte.
"It's in French, but it tells what they need for supplies for the war [the French Revolution], and it's stamped with a red seal, and he signed the bottom of it," Neshek said.
Neshek's next target is Hall of Famer Nolan Ryan, whose signature he needs on some cards. Fortunately for Neshek, Ryan is an executive adviser with the Astros and will be in spring camp later this month.
"He's always been really good about that," Neshek said. "Roger [Clemens] is here, and Jeff Bagwell and Craig Biggio will be here. I'm pretty lucky to be able to come in here and meet some of the guys."
Brian McTaggart is a reporter for MLB.com and writes an MLBlog, Tag's Lines. Follow @brianmctaggart on Twitter. This story was not subject to the approval of Major League Baseball or its clubs.