Hultzen feels good after throwing first live BP
Mariners taking things slowly with former first-round Draft pick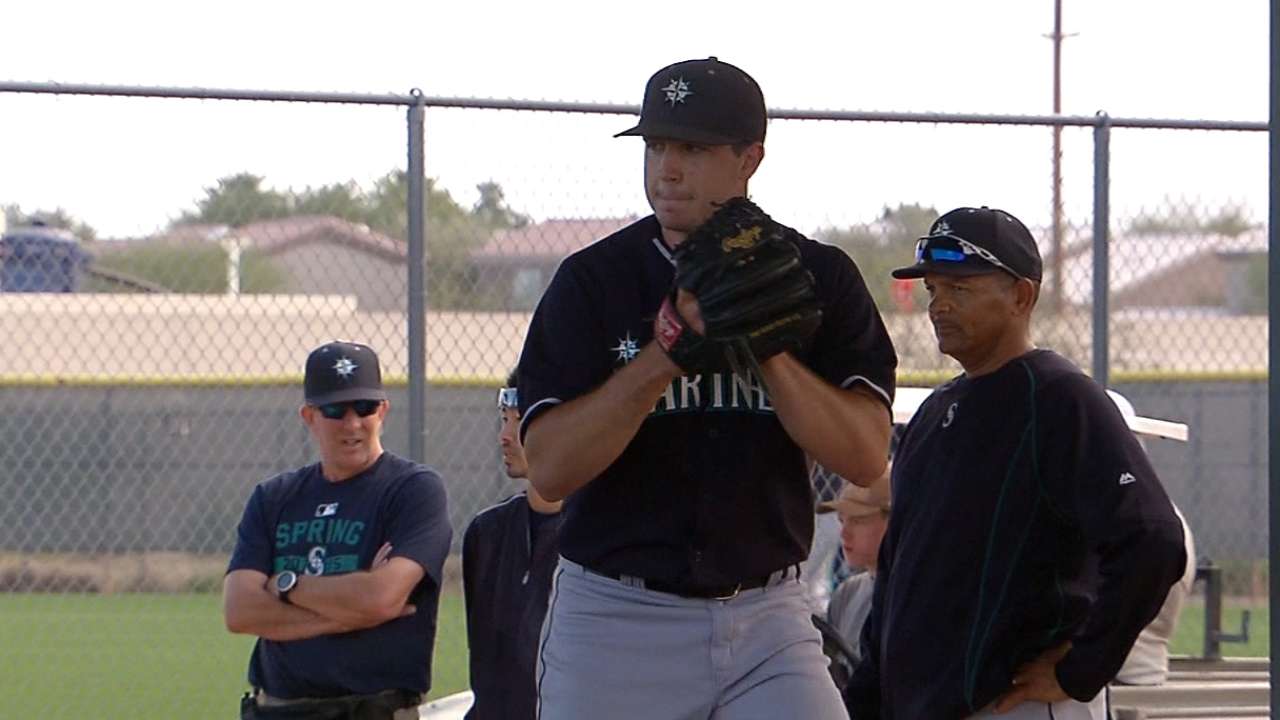 PEORIA, Ariz. -- Danny Hultzen took another step on the long road back from shoulder surgery Tuesday as the Mariners' 2011 first-round Draft pick threw his first live batting practice of the spring and pronounced everything good.
The Mariners are looking at this season as a build-up year for Hultzen, focused on getting him ready to compete for a Major League role in 2016 after missing nearly two full seasons with significant shoulder issues. But the 25-year-old appears strong and healthy as he progresses through the early spring work.
On Tuesday, Hultzen faced Minor League hitters Austin Cousino, Ian Miller and Tyler Smith on a back practice field at the Mariners complex. But the former Virginia standout pitched with purpose, stalking off the mound between batters and revving himself up for full battle mode.
"It was just good to be out there and it felt good to get the juices going," Hultzen said after his 28-pitch outing. "I haven't had that in a while."
Hultzen said he's uncertain of the next step. He's being brought along a little slower than most of the other Seattle pitchers, who've all thrown two live batting practices before they're considered game ready. Hultzen doesn't know if he'll be asked to do more than that, but said he's throwing full out and not having any lingering issues whatsoever from the labrum and rotator cuff surgery that sidelined him for all of 2013.
"My arm felt great," he said. "My breaking stuff wasn't very good today, but that's just another battle that everyone faces. Other than that, it felt awesome. … I'm ready. I don't know what the plan is, but I'm feeling great."
Hultzen pitched a few innings of instructional league ball last September at the end of his year-long rehab stint, but this was his first time seeing live hitters since then and he took it seriously.
"Even throwing as hard as you can in the bullpen or whatever it might be, there's nothing that can substitute for somebody actually standing in there," he said. "I'm just really happy to have that opportunity again."
Hultzen used the year off as best as he could. With no games or travel, he hit the weight room hard during his time rehabbing at the Peoria complex and put on about 10 pounds of muscle, now packing 220 pounds on his 6-foot-3 frame.
"My body feels great, my arm feels great and it's just good to be able to focus on just the actual baseball part and work on my pitches and not how my arm feels or how my body responds," he said. "It's awesome just to focus on getting people out."
Hultzen is expected to throw in Cactus League games at some point this spring, then likely will begin the year either at Double-A Jackson or Triple-A Tacoma.
Greg Johns is a reporter for MLB.com. Follow him on Twitter @GregJohnsMLB as well as his Mariners Musings blog. This story was not subject to the approval of Major League Baseball or its clubs.