Scioscia starts sorting through options at second
Rutledge, Giavotella, Green and Featherston hope to win starting job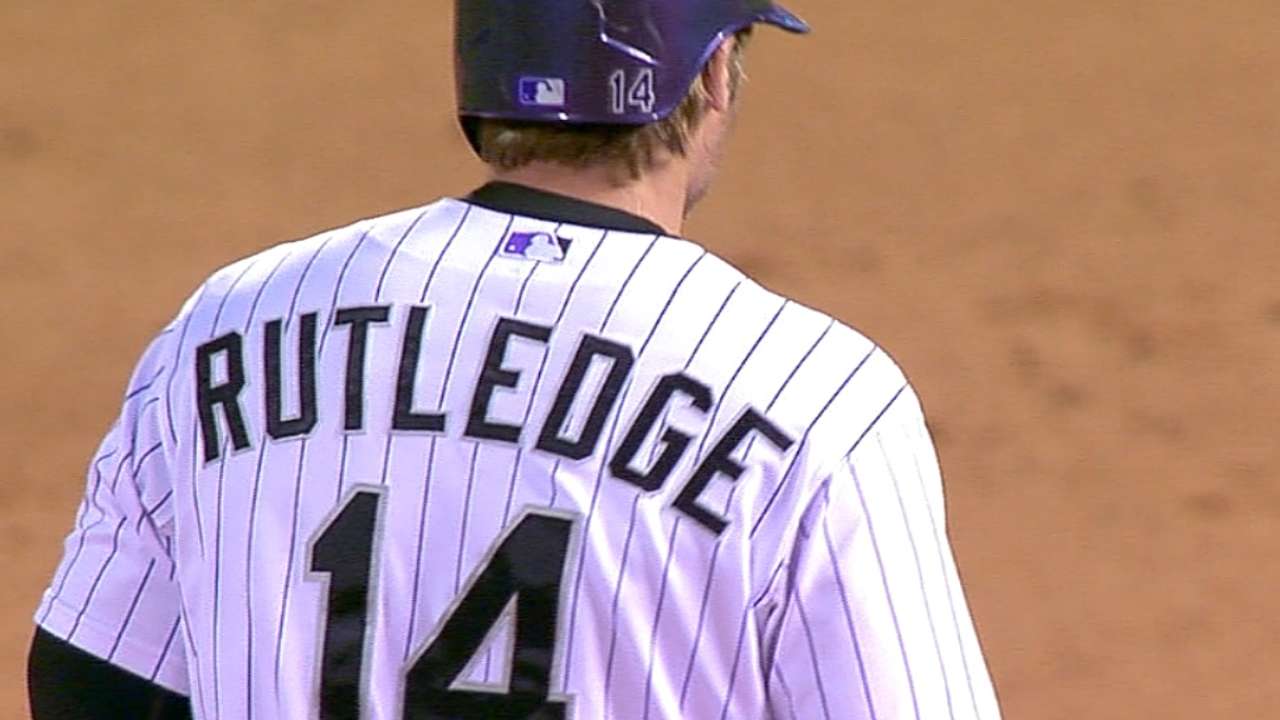 TEMPE, Ariz. -- Second base is as wide open a Spring Training competition as the Angels have had for an everyday role in quite a while, with Josh Rutledge, Johnny Giavotella, Grant Green and Taylor Featherston all having a legitimate opportunity to act as Howie Kendrick's replacement.
They're all right-handed hitters between ages 25 and 27, with between zero and 266 games of Major League experience. None of the candidates have done much in the big leagues, but each has hit well in the Minors.
Mike Scioscia's challenge is figuring out how much weight he'll place on Spring Training performance.
"A lot of it is to see what the best fit is for your group of guys, what your lineup needs are," the Angels' manager said. "There's an absolute to people winning jobs at Spring Training. Probably not at the analysis you're looking at -- 'Oh, he hit .340 in Spring Training' -- but there are a lot of things we're looking at as to how a guy fits in our lineup. You can make the team in spring, for sure, with the things that you show."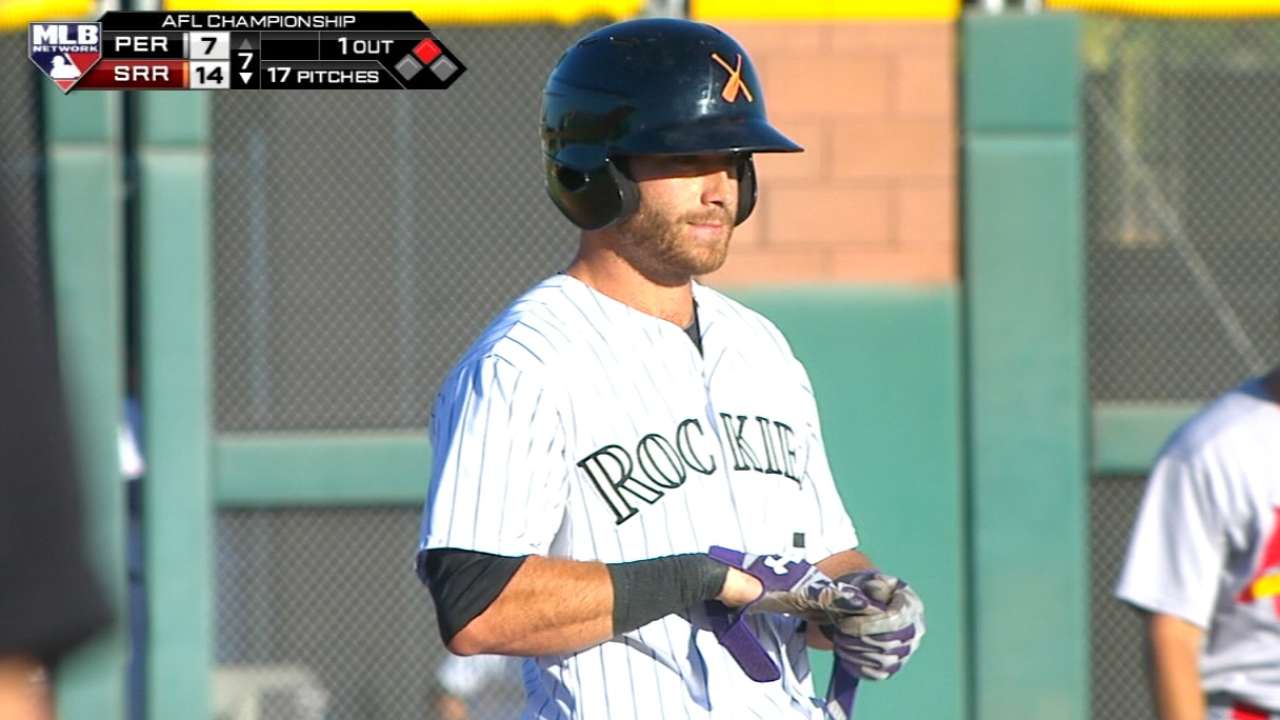 Erick Aybar turned double plays with Kendrick for the better part of the last 10 years, but Scioscia said his veteran shortstop won't have input on who wins the job. In the days leading up to Cactus League action, the Angels have started working on fundamentals, and one of the biggest tasks was figuring out how to handle cutoffs and relays relative to the strength of the second basemen's arms.
Rutledge has the most Major League experience and has been hitting with the starting infielders pretty much all spring, but Scioscia hasn't ruled out the possibility of a timeshare at second base.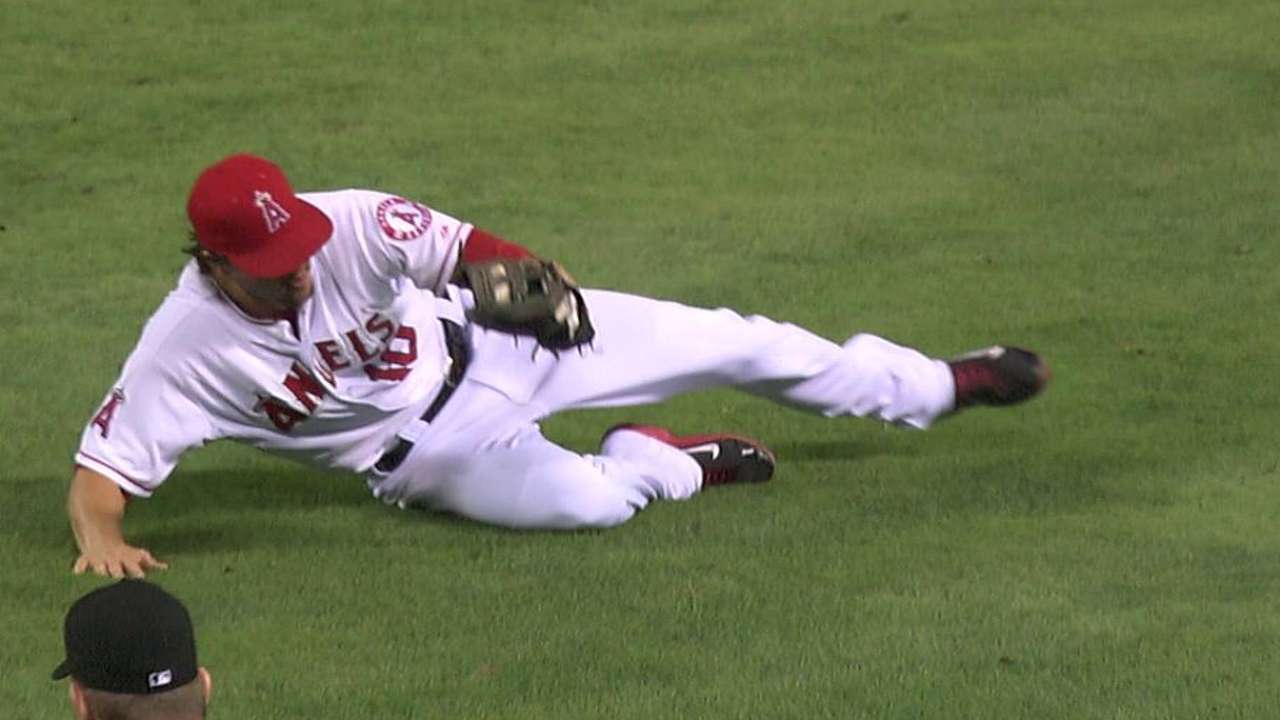 "That's one of the options," he said. "There are guys that have the ability to go out there and do what we need to do on the defensive end and the offensive end, and we'll see who emerges and who gives us the best look."
• Scioscia has yet to announce who will start Thursday's Cactus League opener against the Brewers, but Mike Trout says he plans to play.
• Garrett Richards is slated to throw his sixth bullpen session on Wednesday, after throwing No. 5 on Sunday.
• To the delight of players and coaches, Scioscia, 56, acted as a runner and hustled down the first-base line during an infield drill, almost beating out a simulated double play.
• The Angels will have their annual meeting with the Major League Baseball Players Association on Wednesday morning.
Alden Gonzalez is a reporter for MLB.com. Read his blog, Gonzo and "The Show", and follow him on Twitter @Alden_Gonzalez. This story was not subject to the approval of Major League Baseball or its clubs.