V-Mart hopeful he'll be ready for Opening Day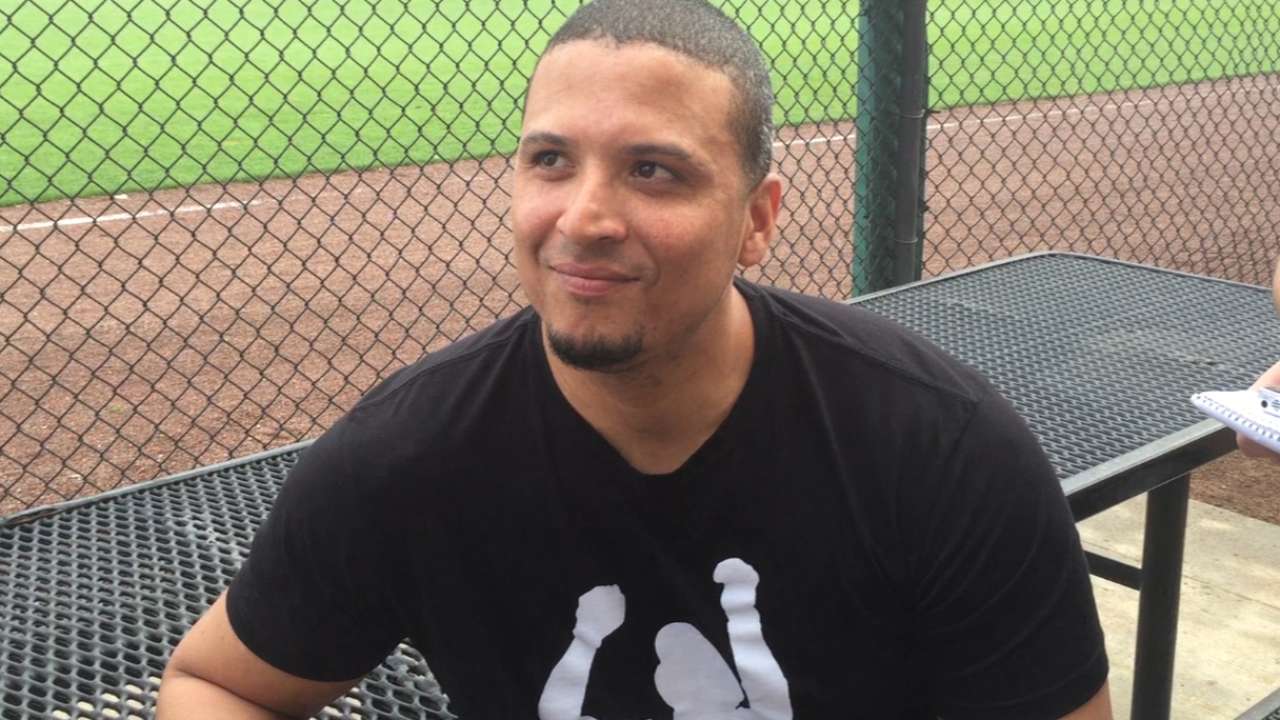 LAKELAND, Fla. -- Victor Martinez was thinking what most Tigers fans were probably thinking.
When his left knee gave out on him in January -- playing catch, of all things -- he thought back to a few years ago.
"The first thing I had in my head was, 'Not again, not again, not again,'" Martinez recalled Tuesday in his first interview since undergoing surgery on his left knee a few weeks ago. "It was hurt, and the first thing that came to my head was 2012. It was painful. The knee got swollen, it never came back again.
"I was like, 'Why? I'm trying to just get ready.' If I'm being lazy, OK, whatever. I'm just working to get myself in shape to help the team win."
Until orthopedic surgeon Dr. James Andrews went into the knee and clipped the meniscus, Martinez was fearing season-ending surgery again. Three weeks later, he is hopeful about Opening Day.
"Everything's looking [like] we're on track," Martinez said. "Hopefully, everything stays nice and smooth."
Martinez reported to Lakeland for workouts on Monday, when he took 50 swings total off the tee, 25 from each side of the plate. He'll gradually raise that total each day while picking up the intensity on the Alter-G anti-gravity treadmill. None of it has brought on any swelling in the knee.
V-Mart's hope is to return to game action in time to get a decent number of at-bats in. While most hitters consider Spring Training way too long for their purposes, claiming they can be ready in short order, Martinez has tended to get more at-bats than most veterans over the years.
"You know what, in my whole career, I always take from 50 to 70," he said, "but I'm the kind of guy I need a lot of repetitions to get going. We'll see. I think maybe two weeks playing maybe every day, it'll get me to that point."
It's a good amount of work to try to get after surgery, but his Spring Trainings have tended to be safer than his offseasons.
"I was just playing catch with my brother in front of my house," he said of his injury. "When I planted, [the knee popped], went straight to the ground. …
"You know what, I'm starting to think [about] not doing anything [in the offseason]. I might show up the next three, four years, 30 or 20 pounds overweight, but healthy. This is the second time. Like I said, 'Man, it's not fun.'"
Jason Beck is a reporter for MLB.com. Read Beck's Blog and follow him on Twitter @beckjason. This story was not subject to the approval of Major League Baseball or its clubs.