New delivery still a work in progress for Ubaldo
LAKELAND, Fla. -- Ubaldo Jimenez had hoped his new simplified delivery would lead to more success this season. It didn't start off well on Tuesday.
The inconsistent right-hander recorded four outs in his first Spring Training start against the Tigers, and he was charged with six runs (five earned) on two hits, two walks and two hit batsmen. Jimenez, whose throwing error resulted in a run one batter later, also had a wild pitch in the disappointing 42-pitch outing.
"He's only going to get better as we go," manager Buck Showalter said of Jimenez after his team's 15-2 loss. "I thought stuff-wise, he was pretty good. He was probably ahead of where he was last year at this stage. I know what it looks like statistically. A lot of guys struggled with that today."
Jimenez, in the second year of a four-year, $50 million contract, was removed from the Orioles' rotation last year down the stretch. He went 6-9 with a 4.81 ERA in 25 games (22 starts), issuing 77 walks over 125 1/3 innings, but he was able to find some consistency toward the end of the season after eliminating his overhead throwing motion.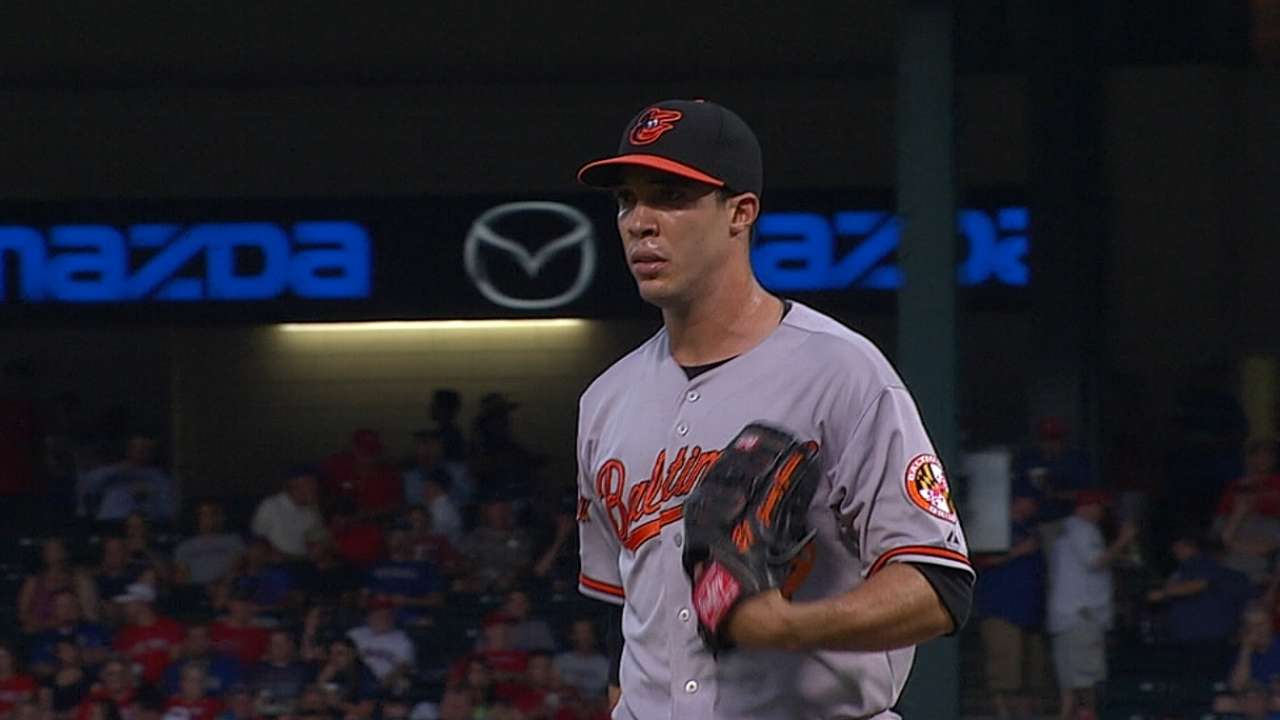 Asked if Tuesday's outing made him rethink anything, Jimenez said not at all.
"I don't have to change anything," he said. "I felt really good with the fastball, I had good command. Things just got out of control."
Jimenez said he realizes what fans back in Baltimore might think when they see the box score, but he reiterated that he wasn't upset with his spring debut.
"If you see the scoreboard, you're probably like, 'He was [bad].' But I wasn't," Jimenez said. "I felt like I had good control of the fastball, even though I hit two guys, but it was two pitches that got away. All of the other pitches were really close, probably at the home plate. The only thing I can control is try to do the best I can to get ready for the season."
To that end, the Orioles have set up Jimenez to get plenty of work to make sure he's ready. Showalter said the team wanted the right-hander to get the first start to ensure he gets a good workload this spring and is able to work on his new delivery.
"It's very evident to me that he did a lot of work this offseason," Showalter said. "[It was] probably a little frustrating for him the first day of spring. But his work days, his stuff has been a lot crisper. So I have confidence it will play out as we go forward here."
Brittany Ghiroli is a reporter for MLB.com. Read her blog, Britt's Bird Watch, and follow her on Facebook and Twitter @britt_ghiroli. This story was not subject to the approval of Major League Baseball or its clubs.