MLB.com Columnist
Richard Justice
Opportunistic J.D. never lost faith in himself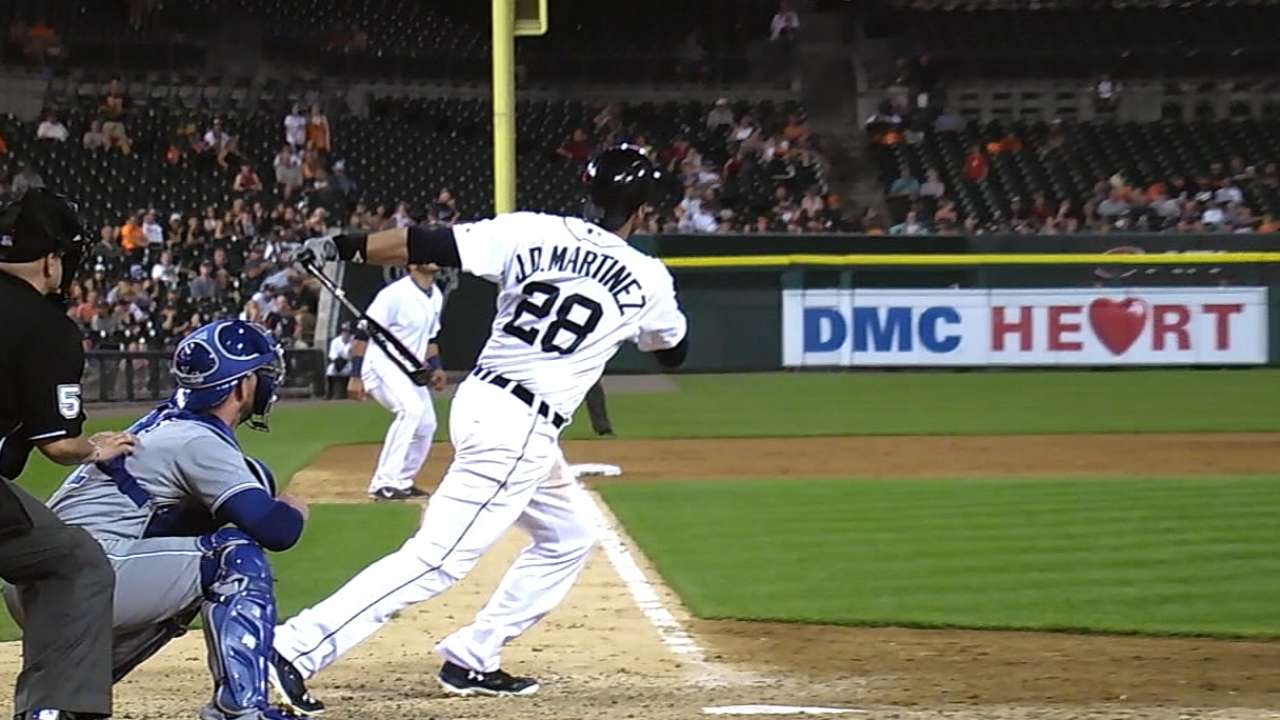 LAKELAND, Fla. -- This remarkable success story began almost two years ago during a disabled-list stint.
"I was bored at the time," Tigers outfielder J.D. Martinez said. "Really, I had nothing to do."
As trips to the disabled list go, Martinez's may be the most productive in baseball history. It would set the stage for a 2014 season in which he would hit .315, with 23 home runs and 30 doubles. His manager, Brad Ausmus, calls him "one of the game's elite power hitters."
First things first. Back during that 2013 stay on the disabled list, Martinez, then with the Astros, was frustrated, not just about having a small ligament tear in his hand but about his career in general.
"I'd hit a point where I had to make an adjustment," Martinez said. "If not, I'm not going to be here much longer."
So he went into the video room at Minute Maid Park and started watching video of other hitters, beginning with his former teammate, Astros catcher Jason Castro.
"He was having an unbelievable season," Martinez said. "We were kind of like the same hitter coming up. We both had success in the Minors, and then got to the big leagues and struggled."
When Martinez looked closely, he saw that Castro's swing in 2013 was significantly changed from earlier in his career.
"It looked so different," Martinez said. "But I didn't think too much of it. I left the video room thinking, 'OK, that's just him.'"
And then a day or two later, Martinez was watching television highlights of the Brewers' Ryan Braun. Suddenly, something hit him.
"When I looked at Braun, I saw he was doing some of the same things Jason was doing," Martinez said.
He returned to the video room and began looking at other hitters, from Albert Pujols to Allen Craig to Miguel Cabrera. All of them did certain things the same way, certain things different from the way Martinez had been doing them. He would slow the video down and count how long their bats were in the hitting zone.
"I see all these same commonalities in all these hitters," Martinez said. "When I looked at the side angle and counted how many clicks their bats were in the zone, that was my 'ah ha' moment.
"My bat was two or three clicks in the zone. Jason was four to five. Braun and Miggy were seven to eight. I was like, 'Whoa, this makes so much sense.' They don't have to be as perfect. They can get fooled and still have a chance to hit the ball hard somewhere."
So he began to pick Castro's brain about hitting.
"The thing about J.D. is that he's always willing to learn," Castro said. "He's not afraid to ask guys what works for them."
When the 2013 season ended, Martinez went to work reworking his swing.
"I didn't have an offseason," he said. "I just went to work. I had to lower my hands. I had to work my hips a different way. I also had to stride to get the power. I'd alway been a standstill hitter and had to generate power from my upper body."
That's all?
"It was a lot of little things," Martinez said, "but basically, I had to change everything I was doing. It was really difficult. I thought it might be my last shot, so I put everything into it. I worked on it for about three weeks, and then I took it all to Venezuela."
He hit .315 in 105 plate appearances in winter ball.
"I was like, 'This is what it's supposed to feel like,'" he said. "I realized how much it's different, how much more I can be off and yet still be on the ball if that makes sense."
When he showed up at Spring Training last season, he believed he was about to jump-start his career. The Astros had other ideas. Martinez started only a handful of games, got just 18 at-bats and was released after hitting .167.
His confidence was unshaken.
"I was depressed for a good 40-50 seconds," he said. "Actually, it was kind of an out-of-body experience when they told me. 'Did I really just get cut? What's next?' As they're talking, all I'm hearing is 'Blah, blah, blah.'
"I've got all these things in my mind. When I zoned back in, I thought, 'OK, this is going to be good. I have to get a shot somewhere.' All I wanted was an opportunity."
He couldn't have known it, but at that very moment, he was being talked about elsewhere. Tigers third-base coach Dave Clark, who'd worked for the Astros, went to Ausmus and said, "We should get this guy."
Tigers assistant general manager Al Avila had long been a fan of Martinez's as well.
"A couple of teams called, but the Tigers were really impressive," Martinez said.
He was more than willing to accept an assignment to the Minors. When he got off to a fast start at Triple-A Toledo, the Tigers summoned him to the big leagues in late April to be a power bat off the bench.
"He slowly forced me to play him," Ausmus said. "I don't know if he was even sure of himself at the get-go, because he hadn't had success at this level. I would say by August he was starting to believe, 'Hey, I can do this.'"
Over the final five months of the season, Martinez ranked in the American League's top five in slugging and OPS and in the top 20 in home runs, hits, doubles and RBIs. He finished with a .315 batting average, with 30 doubles, 23 home runs and a .912 OPS.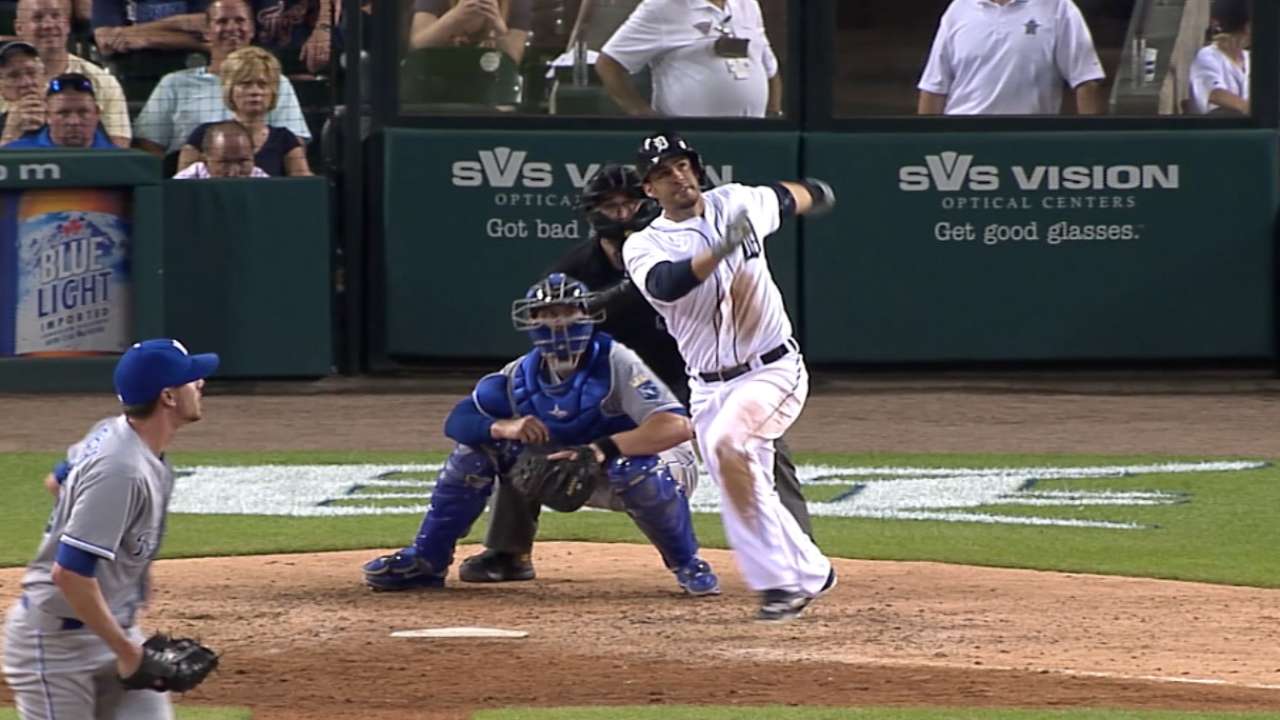 "The first thing I noticed when he got called up was in batting practice," Ausmus said. "You notice the power. It's tough to teach power like that. He's an elite power hitter. He can drive the ball out of any part of the park in the country. That power is something you don't find very often."
Martinez is a reminder that it's a mistake to underestimate the smart guys, the curious guys, the ones who believe in themselves when almost no one else does.
That's the bottom line with Martinez. Funny thing is, when he looked back on his 2014 season, he didn't have the feeling he thought he might have.
The Tigers had won the AL Central for a fourth straight year, but they got swept by the Orioles in the AL Division Series.
"I saw my season as a blessing from God," he said, "but I didn't feel satisfied -- as crazy as it sounds. I always knew I could do it. I wasn't satisfied because we went to the playoffs, and we didn't show up. We didn't play well. It's crazy how different the playoffs are. I'll never forget the adrenaline and energy from that series. I want to go farther. I was heartbroken for a month. People come up and tell you, 'Great season,' and all I can think about was that."
Someone mentions that his career goals have changed dramatically in a short amount of time, from just hoping to have a career to being focused on playing in a World Series.
"That's the thing about humans," he said. "Once you get a little bit, you always want more. I definitely want more."
Richard Justice is a columnist for MLB.com. Read his blog, Justice4U. This story was not subject to the approval of Major League Baseball or its clubs.