Fredi: Spring competitions beneficial to club's growth
LAKE BUENA VISTA, Fla. -- Though he is not among the many players in Braves camp fighting for a roster spot, Jonny Gomes will not simply be going through the motions as he collects plate appearances and reunites himself to the left-field position during the Grapefruit League season.
"If these Spring Training games didn't count, we wouldn't play them," Gomes said. "It's pretty simple. I could have stayed at home with my family in Scottsdale [Ariz.] and gone down to the putt-putt and thrown some tokens in the fast pitch and said I'm ready."
This is the kind of attitude Braves manager Fredi Gonzalez hopes all of his players will take into the Grapefruit League season, which begins Wednesday with a 1:05 p.m. ET game against the Mets at Champion Stadium.
"First of all, you've got to get these guys ready to play a baseball season, get some at-bats and get the timing right," Gonzalez said. "At the end of the day, you want to win those games. You don't want to risk injury to win a Grapefruit League game. But there is some competition there."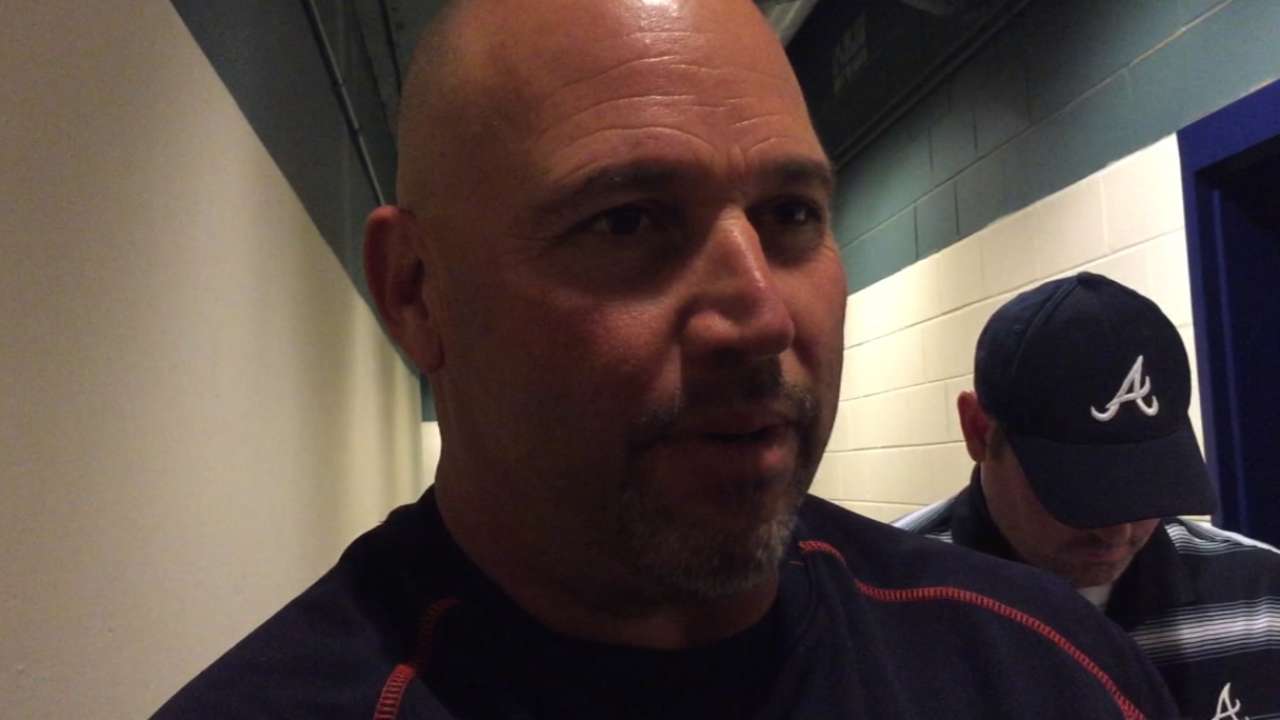 Actually, there will be a lot of competition as the Braves spend the next month progressing through the spring slate. Gonzalez has said that first baseman Freddie Freeman, shortstop Andrelton Simmons and right fielder Nick Markakis might be the only everyday members of his lineup -- other than Christian Bethancourt, who is targeted to serve as the club's primary catcher.
But Simmons will miss at least the first few days of the spring season as he slowly works his way back from a sore left oblique muscle. And Markakis, who underwent neck surgery in December, is seemingly more than a week away from being cleared to begin playing in games.
Thus, Gonzalez will have even more opportunities to audition Jace Peterson, Phil Gosselin, Alberto Callaspo, Eury Perez, Eric Young Jr., Zoilo Almonte and some of the other members of his club who are in the midst of position battles that will influence the makeup of the Opening Day roster.
Though Callaspo's most recent mandated weigh-in showed that he has lost three pounds since reporting to camp overweight last week, the Braves do not seem to be inclined to give him a roster spot simply because he signed a one-year, $3 million deal in December. Thus, Callaspo, Peterson and Gosselin are all battling to be the club's starting second baseman.
With Melvin Upton Jr. sidelined until at least May with a left foot injury, Perez, Young and Todd Cunningham stand as the top candidates to fill the void in center field.
Young will serve as the starting center fielder in Wednesday's game. But this might not be an indication that he is the favorite to win that spot as much as it is a reminder that of the three candidates, he is the one who must prove he is capable of handling the position from a defensive perspective.
"I think this exhibition season is going to be fun because there is a lot of competition going on," Gonzalez said. "Competition is good. So it's going to be fun watching that materialize."
Mark Bowman is a reporter for MLB.com. This story was not subject to the approval of Major League Baseball or its clubs.