MLB.com Columnist
Jonathan Mayo
MLB Pipeline checks in from Red Sox camp
Top two prospects -- Swihart, Owens -- look fit, determined at Spring Training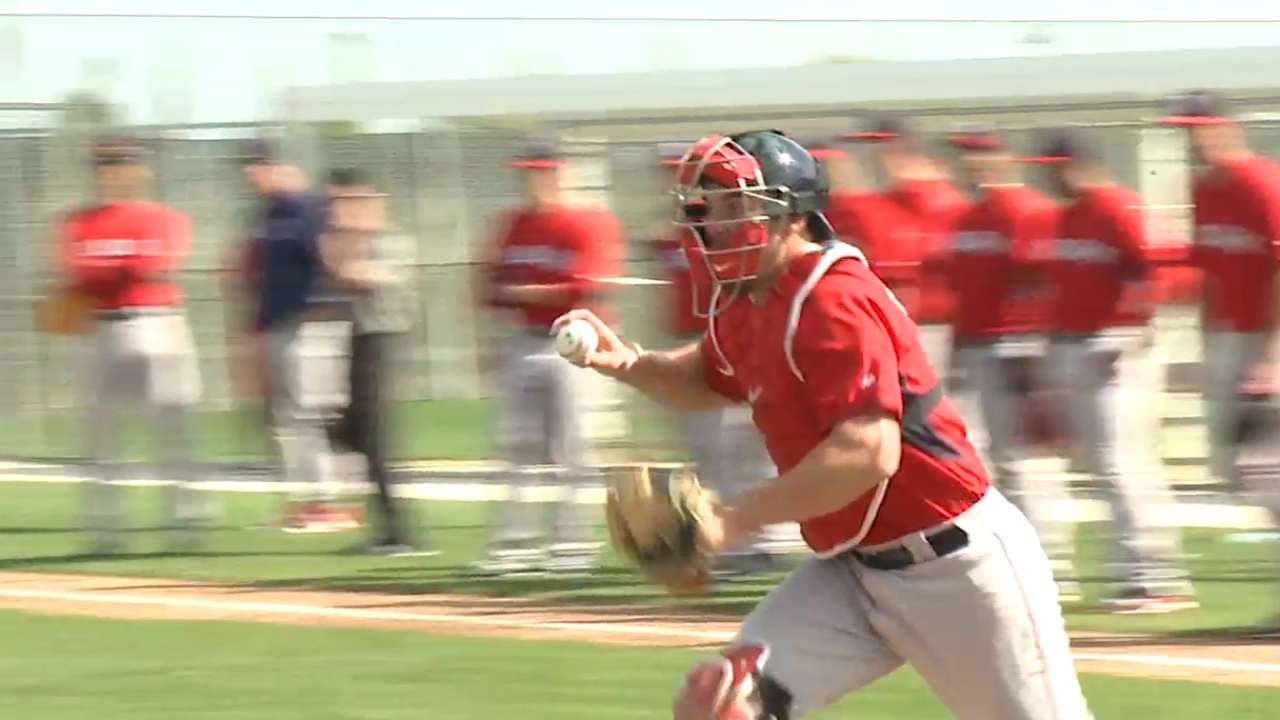 Every Spring Training, prospects get a chance to show what they can do as they prepare for the season ahead. Some are competing for jobs in big league camp, while others are prepping for the season as they vie for spots at Minor League affiliates throughout the team's system. MLBPipeline.com is visiting all 30 camps this spring. Today, we check in on the Boston Red Sox.
FORT MYERS, Fla. -- Sometimes, the rich get richer.
The Red Sox, already with the reputation of having one of the top farm systems in baseball, are on the cusp of adding to their prospect coffers with the impending signing of Yoan Moncada. But even without the Cuban infielder, Boston not only has a ton of talent, it has a good amount of it at the upper levels of the system.
"You hope for depth throughout, from top to bottom, so guys are readying themselves for the big leagues each and every year," Red Sox farm director Ben Crockett said. "Certainly, there is a pretty good group of guys at the upper levels. Some made their debuts last year. Others are approaching that time. We're certainly not satisfied with where we are, but we have a lot of talent that we're excited about and we have quite a few guys who will have the chance to impact us in the future."
MLB Pipeline Spring Training Reports
Camp standouts
Every year, the Red Sox staff can't wait to see what kind of shape catcher Blake Swihart reports in. Every year since he was drafted in 2011, Swihart has come in stronger than the year prior. It's a big reason he's considered the top catching prospect in the game.
"He does as good a job as anybody we have adding strength while maintaining speed and flexibility," Crockett said. "His gift is his athleticism. It's a huge part of his game. He's smart enough to understand that. Not only does that help him behind the plate defensively, but it's a key for him with his swing and on the bases."
Lefties Henry Owens and Brian Johnson also arrived in Fort Myers with some added strength. Johnson, in particular, has opened eyes with how well conditioned he is.
"He's probably had the best offseason he's had so far to date, on both sides, in terms of physical conditioning and strength," Crockett said. "Having gone through a full year at the Double-A level and throwing more innings than he's ever thrown before, he had a good idea of the physical toll it takes. He was was able to turn that into a very productive offseason."
Breakout candidates
Manuel Margot, OF: Just 20, Margot has jumped on the radar screen a bit more, cracking the Top 100 for the first time. The center fielder started out just OK in the South Atlantic League in 2014, hitting .262/.333/.379 in the first half, then he took off and hit .317/.381/.537 in the second half before earning a promotion and continuing to rake at Class-A Advanced Salem. The Red Sox think Margot will pick up where he left off in 2015.
Trey Ball, LHP: If you look at the 2014 stats from the No. 7 pick in the 2013 Draft -- 5-10, 4.68 ERA, just 6.1 K/9 and 3.5 BB/9 -- you might be worried. But the 6-foot-6 lefty had a 3.36 ERA in 13 second-half starts, finishing with a 4-1, 2.03 ERA August.
"Once he gained the feel for his changeup, he was really impressive the last two months of the season," Crockett said. "He's a guy who could make some significant progress."
Three questions with Brian Johnson
Johnson, a two-way star at the University of Florida, was selected in the first round of the 2012 Draft as a pitcher.
MLBPipeline.com: You were named the Red Sox Minor League Pitcher of the Year in 2014. With all of the success you had, mostly in Double-A, what do you think you need to work on to build off of that?
Johnson: I think the biggest thing is fastball command. If you can command No. 1 and show the hitters that you can throw strikes, you put them in a swing mode. That allows you to start throwing other pitches in fastball counts, and vice versa. If you establish the strike zone, and get them in an offensive mind, that's when you can manipulate the ball.
MLBPipeline.com: Were you able to learn from being around other lefties in the system, like Henry Owens?
Johnson: I think Henry really helped me out with my changeup last year. Not even talking about it, just watching him pitch. There had been times, in 2013, when they were forcing me to throw my changeup. I had to throw this many changeups, just to get me to throw it. Last year, it was, "OK, you need to throw more fastballs. You're starting to throw your changeup too much." It was kind of cool how one year can change. I attribute some of that to Henry, because I would watch him throw three changeups in a row, and he was getting results. It's easy to say "Do this or do this," but when you see it happen live, it's a confidence booster. Henry doing that, without even knowing it, really helped me out, because I had the pleasure of charting him all year.
MLBPipeline.com: You won the John Olerud Award as college baseball's best two-way player in 2012. Do you miss hitting?
Johnson: I miss hitting when I'm shagging flies during batting practice.
Jonathan Mayo is a reporter for MLBPipeline.com and writes a blog, B3. Follow @JonathanMayoB3 on Twitter. This story was not subject to the approval of Major League Baseball or its clubs.