No target date set for Votto's Cactus League debut
Price wants his first baseman to be completely ready before getting into lineup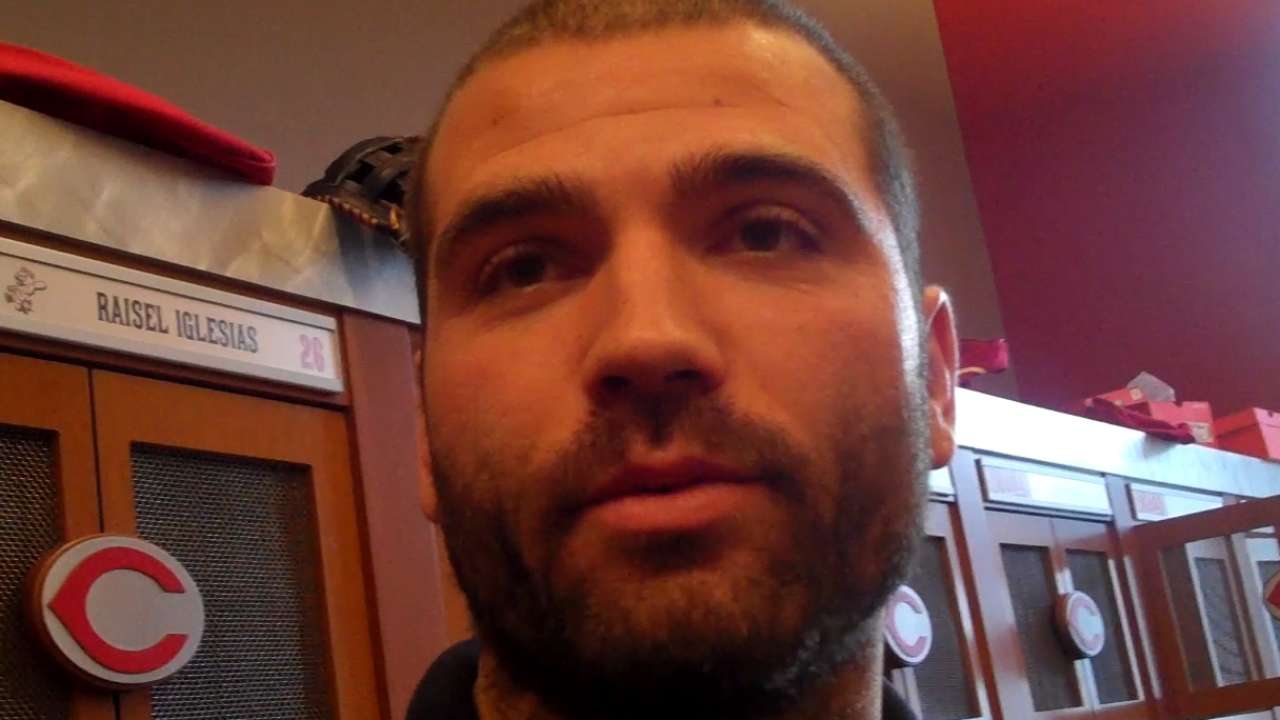 GOODYEAR, Ariz. -- To contend in the National League Central, the Reds will be counting heavily on contributions from a healthy Joey Votto during the regular season. But the club will not rush its first baseman into the starting lineup during Spring Training.
Votto, who missed 100 games last season with a distal strain of his left quadriceps, does not currently have a target date for making his Cactus League debut.
"I don't anticipate it being in the middle of the schedule, it's really hard for me to say an exact date," manager Bryan Price said Tuesday prior to the Reds' spring opener vs. the Indians. "It really comes down to getting enough reps to where we're comfortable enough to put him out there and letting him play.
"It's not like we're going to see a huge separation between him and the rest of the guys. He's come this far, he's put in all the work to do this. It just didn't make sense between the medical staff and myself until he gets as many ground balls and the opportunity to slide and cut and do all the drills and do all the things he wasn't able to do before he got to Spring Training."
On Tuesday vs. Cleveland, non-roster invite Josh Satin was in lineup to start at first base in place of Votto.
After Tuesday's lineup was posted Monday afternoon without his name, Votto proclaimed that he felt "really good" when he was asked how his camp had been going to this point. Vott has been able to hit, field and run without noticeable limitations, but he hasn't done some of the drills that were viewed as "the little things," like some of the agility work or sliding.
Since he spent his offseason focused on rehabbing his quad, Votto and the club conceded that he was behind schedule in getting into "baseball shape."
"We wouldn't have guys come to Spring Training having just started doing baseball work on Feb. 1 and then fire them in games," Price said. "These guys are really doing a bunch of strength training, No. 1, but they're getting much more involved in their baseball work at the beginning of the new year, as far as taking ground balls and swinging the bat and things of that nature. Those are things he started later than the rest of the guys.
"We're just making sure we get off on the right foot from a durability standpoint. Beyond the injury ... the fatigue played a large role in not being able to be on the field last year -- fatigue and pain. We just want to build him up to the appropriate strength and build him up like the rest of the guys."
Mark Sheldon is a reporter for MLB.com. Read his blog, Mark My Word, and follow him on Twitter @m_sheldon. This story was not subject to the approval of Major League Baseball or its clubs.