Marlins opt to hold Stanton out of UM exhibition
Slugger gets at-bats in sim game, should be 'ready to roll' for Grapefruit opener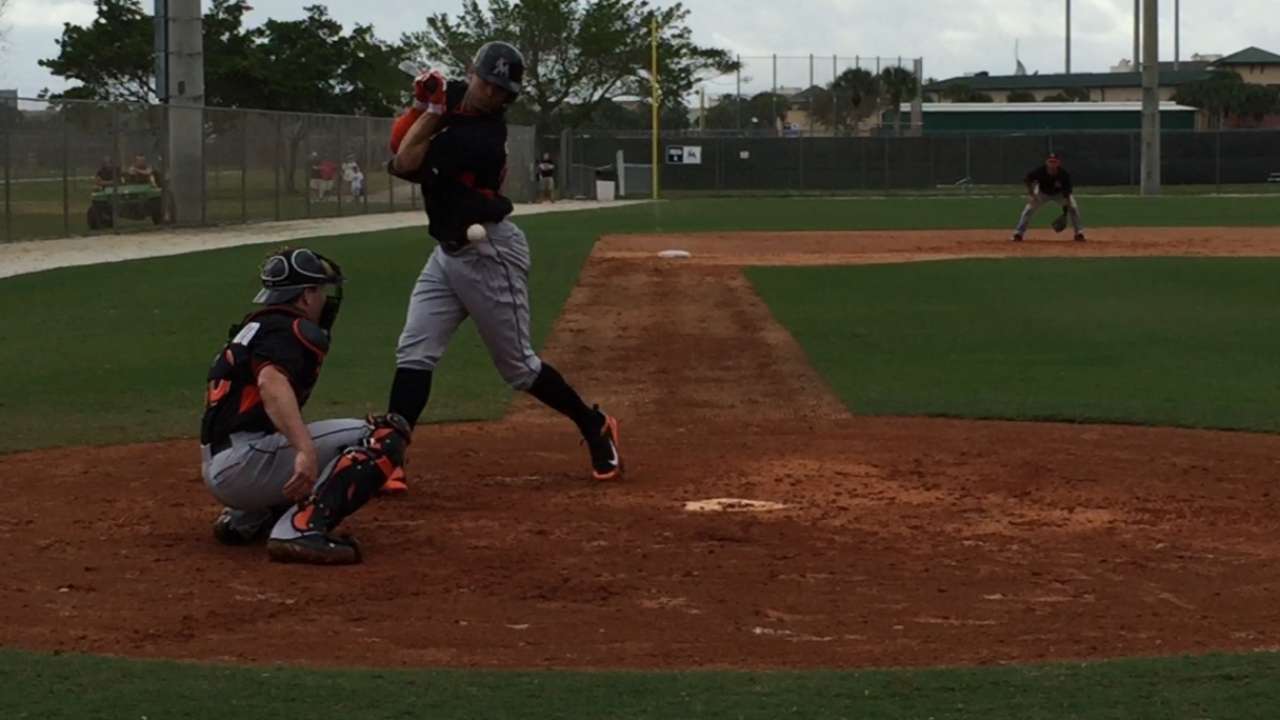 JUPITER, Fla. -- After consideration, the Marlins decided to keep Giancarlo Stanton out of the lineup on Tuesday against the University of Miami. Instead, the 25-year-old slugger participated in simulated games on the back fields at the Roger Dean Stadium complex.
The initial plan was for Stanton to be the designated hitter and get one at-bat against the Hurricanes on the main field.
"He can get more at-bats on the back fields," manager Mike Redmond said Tuesday morning. "We have simulated games going on back there. It just made more sense for him, instead of going over there for one at-bat, to keep him back here. He can get more at-bats and work done, and then he will be ready to roll for Thursday."
The Marlins open their Grapefruit League schedule on Thursday against the Cardinals.
Stanton is expected to play right field and hit. He will immediately be challenged by a hard thrower, as the Cards are starting Carlos Martinez.
Miami is easing its two-time National League All-Star back into playing shape after Stanton missed the final few weeks of 2014 after he was struck in the face by a pitch.
Stanton has had a limited amount of at-bats against live pitching. In the simulated games, he can get four or five at-bats.
Even though Stanton was not in the lineup, most of the Marlins' regulars faced UM.
The Marlins went with:
1. Dee Gordon (2B)
2. Christian Yelich (LF)
3. Martin Prado (3B)
4. Michael Morse (1B)
5. Marcell Ozuna (CF)
6. Ichiro Suzuki (RF)
7. Reed Johnson (DH)
8. J.T. Realmuto (C)
9. Adeiny Hechavarria (SS)
Right-handed prospect Jose Urena was the starting pitcher.
• Miami has set up its rotation for the first four Grapefruit League games. Dan Haren will start things off on Thursday against the Cardinals. The plan is for the right-hander to throw two innings. On Friday, at Fort Myers, Tom Koehler is matched up with Boston's Justin Masterson. Henderson Alvarez will make his first appearance on Saturday against the Mets. Jarred Cosart will go on Sunday against the Cards.
• Prado has switched jersey numbers to 14, which is the number he's worn for much of his career. The first few days of camp, Prado was No. 24. Bench coach Rob Leary had been wearing 14, but he agreed to let the veteran third baseman have it.
• All players in Marlins camp have officially signed. The club announced Tuesday that it reached one-year contracts with 23 players, including Jose Fernandez, Ozuna and Yelich. Two players, Hechavarria and Sam Dyson, had their contracts renewed. All 40-man roster players are now signed.
Joe Frisaro is a reporter for MLB.com. He writes a blog, called The Fish Pond. Follow him on Twitter @JoeFrisaro. This story was not subject to the approval of Major League Baseball or its clubs.