Camp notes: Maybin likely to lead off spring opener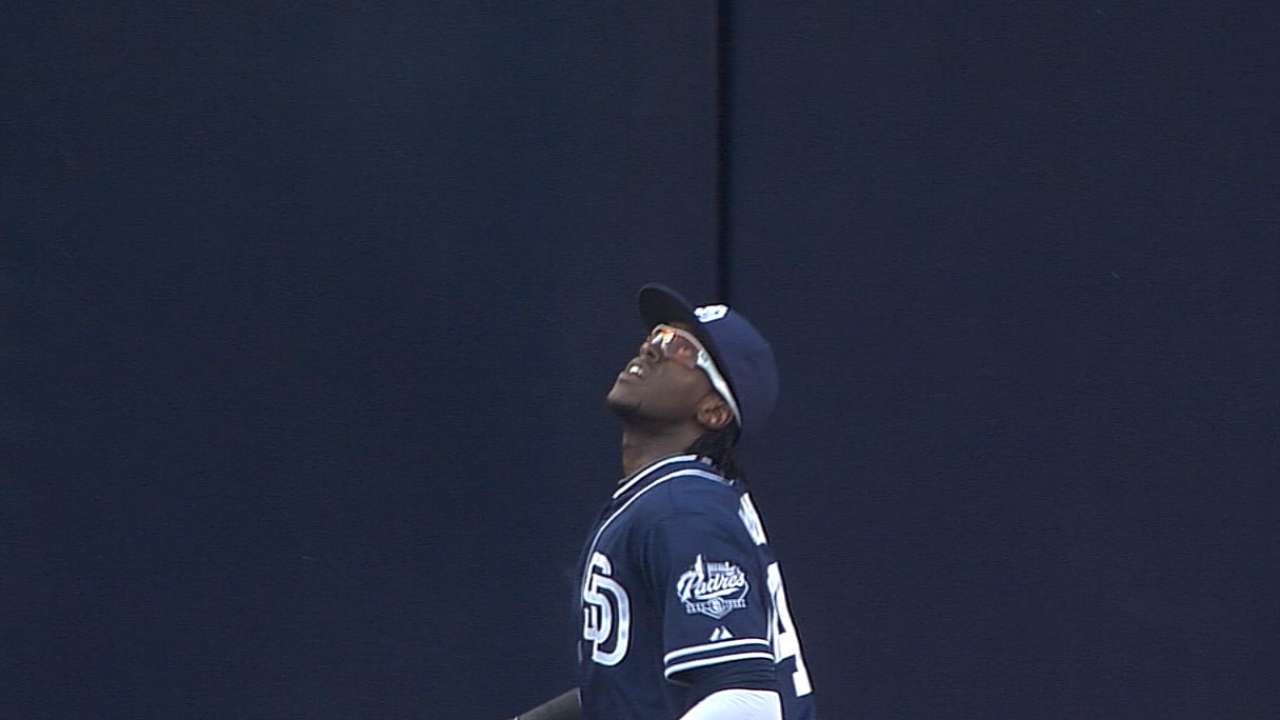 PEORIA, Ariz. -- Cameron Maybin may be the forgotten man in the Padres' outfield, following a busy offseason. But there's a good chance he'll get the first at-bat of the spring for the club.
Manager Bud Black all but confirmed Maybin will start and hit leadoff when the Padres face the Mariners in their Cactus League opener on Wednesday. Black wouldn't make anything official because of his policy to let the player know first.
Maybin is competing for the starting center-field job, and he said earlier in camp that it's "put-up-or-shut-up" time, now that he's fully healthy.
The offseason acquisitions of Matt Kemp, Justin Upton and Wil Myers would seem to leave Maybin as the odd man out. But Maybin is clearly a better defensive option in center than Myers, who would presumably start there if Maybin doesn't.
The 27-year-old Maybin played in 95 games last season and posted a .235/.290/.331 slash line.
• Monday was photo day at Padres camp -- and it was puppies, rather than players, stealing the spotlight.
The Padres posed for their inaugural puppy calendar, in conjunction with the Helen Woodward Animal Center. Among those taking part were Kemp, Tyson Ross, Andrew Cashner and Black.
Up early with our favorite team for more puppy meet-and-greets! #PadresST @Padres pic.twitter.com/6dOrsuMonF

- Helen Woodward (@HWAC) March 2, 2015
• With rain pouring at Peoria Sports Complex, the Padres spent the day doing "a lot of classroom-type work," according to Black.
The Padres' skipper said that entailed going through both offensive and defensive signs, as well as reinforcing roles on different defensive and bunt situations.
As far as the workout itself, the Padres weren't able to do anything defensively. The pitchers got their work in from the covered mounds, while the batters tracked a few of those pitches (no swings) and hit in the cages.
QUOTABLE
Black on Joaquin Benoit growing into his role as closer:
"I think he's always had the ability to pitch late in games based on his talent, based on his stuff and his repertoire of pitches. The mindset of a closer doesn't happen overnight for a lot of guys. I think he's developed later in his career. ... But I think where he is now -- experience, wisdom, age -- he's maintained his stuff. The clearness of thinking, how to get those last three outs, heartbeat, are all where they need to be."
AJ Cassavell is a reporter for MLB.com. Follow him on Twitter @ajcassavell. This story was not subject to the approval of Major League Baseball or its clubs.