Zimmerman puts in extra work at first base
Veteran infielder learning how much time he has during plays at new position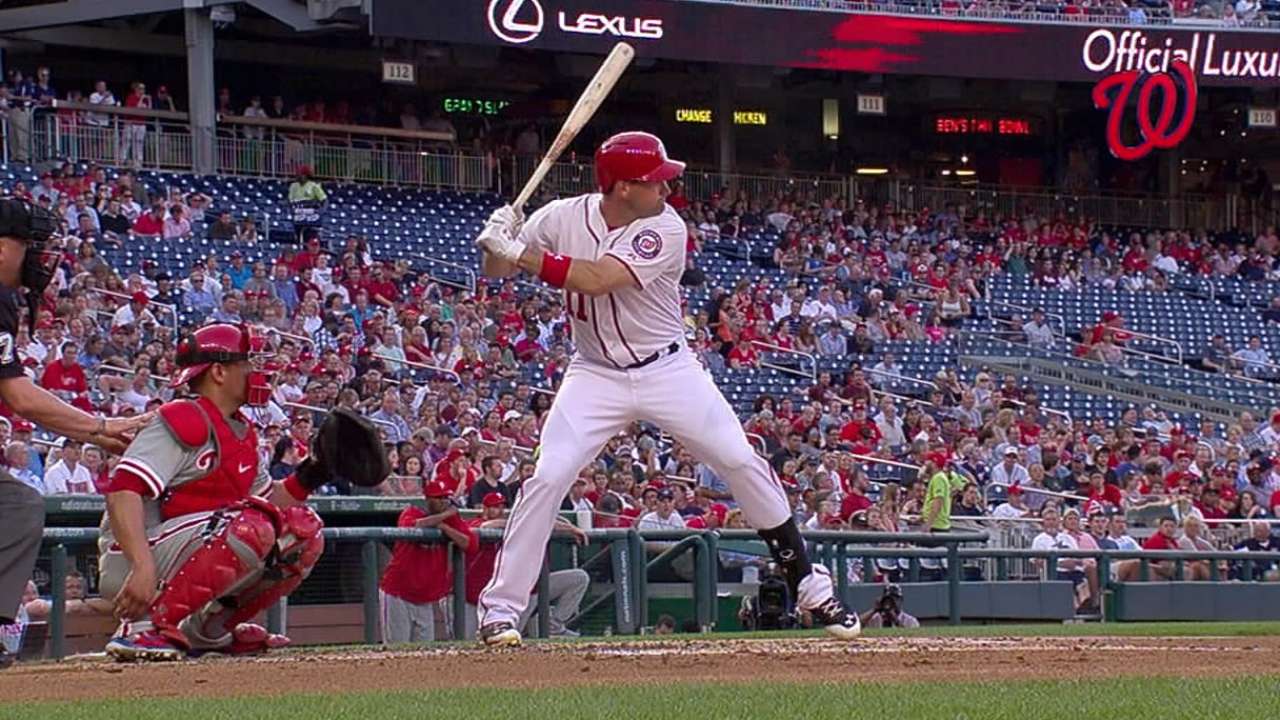 VIERA, Fla. -- After the Nationals completed their workout on Monday, Ian Desmond and Ryan Zimmerman went to Space Coast Stadium to get some extra work in the infield with manager Matt Williams and defensive coordinator and advance coach Mark Weidemaier.
"Hold on skipper," Weidemaier said. "I'm going to put a timer on it."
"Average Major Leaguer gets down that line in 4.1 [seconds]" Weidemaier said as Williams slapped a ground ball toward Desmond.
Desmond ranged quickly to his left and fired the ball toward Zimmerman at first, who caught it cleanly and looked over his shoulder at Weidemaier, who was standing down the first-base line.
"How fast was that?" Desmond asked.
"3.9," Weidemaier said.
Drills like these are increasingly helpful for Zimmerman, who is making the transition from third base, where he has appeared in 1,133 games during his 10-year Major League career, to first base, where he has appeared in five (all last season). The goal was to help Zimmerman build a mental clock of sorts in his head so he knows how much time he has to react on each play.
"He'll have a better sense of timing on at what point he needs to get to the bag, how quickly he needs to get there, what his timing is on throwing the ball to second base to return it to first to turn a double play," Williams said.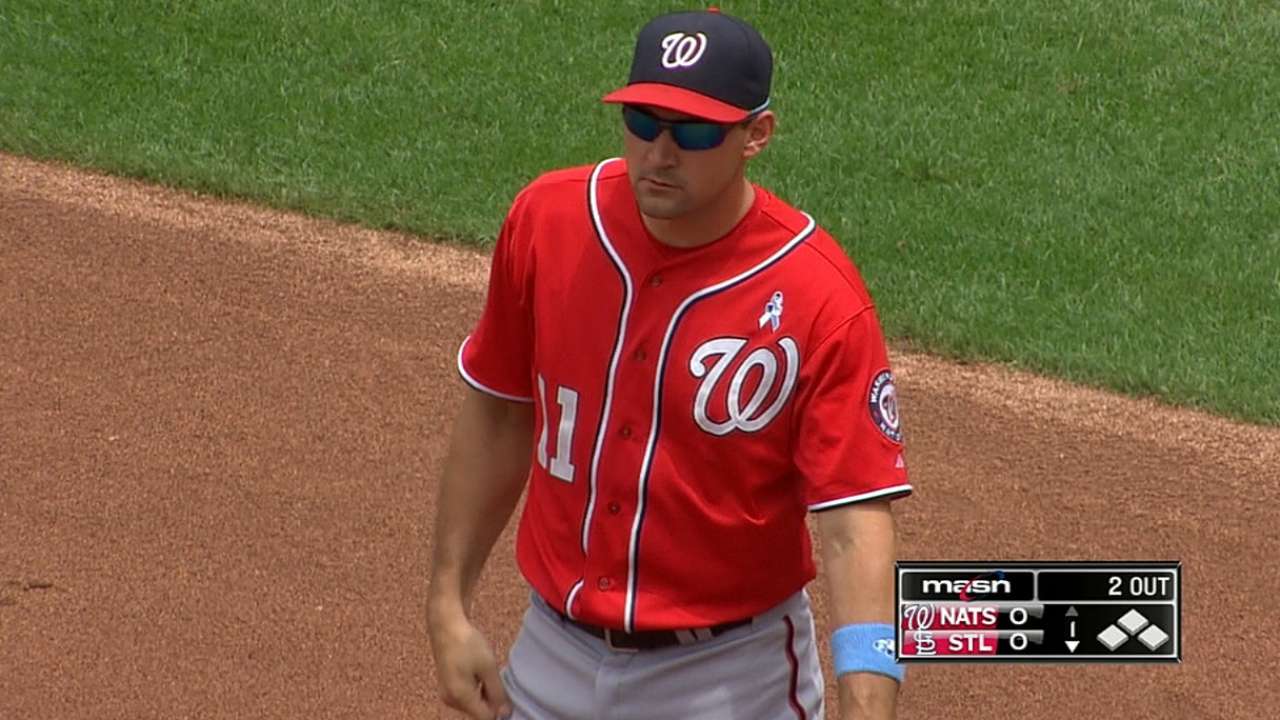 On Monday, Zimmerman showed flashes of why the Nationals believe he will make the transition smoothly. He picked each of Desmond's throws in the dirt. He showed off his range to his right, making the throw to second base with ease and returning quickly to first for a would-be double play. His footwork is quickly improving.
"It's just comfort level for him," Williams said. "I'm always impressed by his athleticism and what he can do with his glove."
The real test will come in games, where even in Spring Training the intensity is increased by more than a timer. While the extra work has been helpful, Zimmerman acknowledged that there are only so many situations the Nationals can simulate without him needing to experience it in real time.
Zimmerman, however, does not like to play many games during Spring Training. Usually a hitter's playing time will depend on the number of at-bats he needs before he is ready for the season, and the last thing Zimmerman wants is to peak too early. He said he could go play extra games with the Minor League team if needed because that would give him the opportunity to play the field without having to hit.
"I hate being ready with two weeks left," he said. "You want to feel that way with four or five games left."
But for now, Zimmerman will take all the extra reps he can get, especially if he can work with another member of the infield to get more comfortable with their preferences.
"His ceiling is endless," Desmond said. "He already has a Gold Glove, I don't see why he can't get another one."
Jamal Collier is a reporter for MLB.com. Follow him on Twitter at @jamalcollier. This story was not subject to the approval of Major League Baseball or its clubs.