Versatile roster will keep Padres' infield in motion
Black has multiple options across diamond when filling out lineup card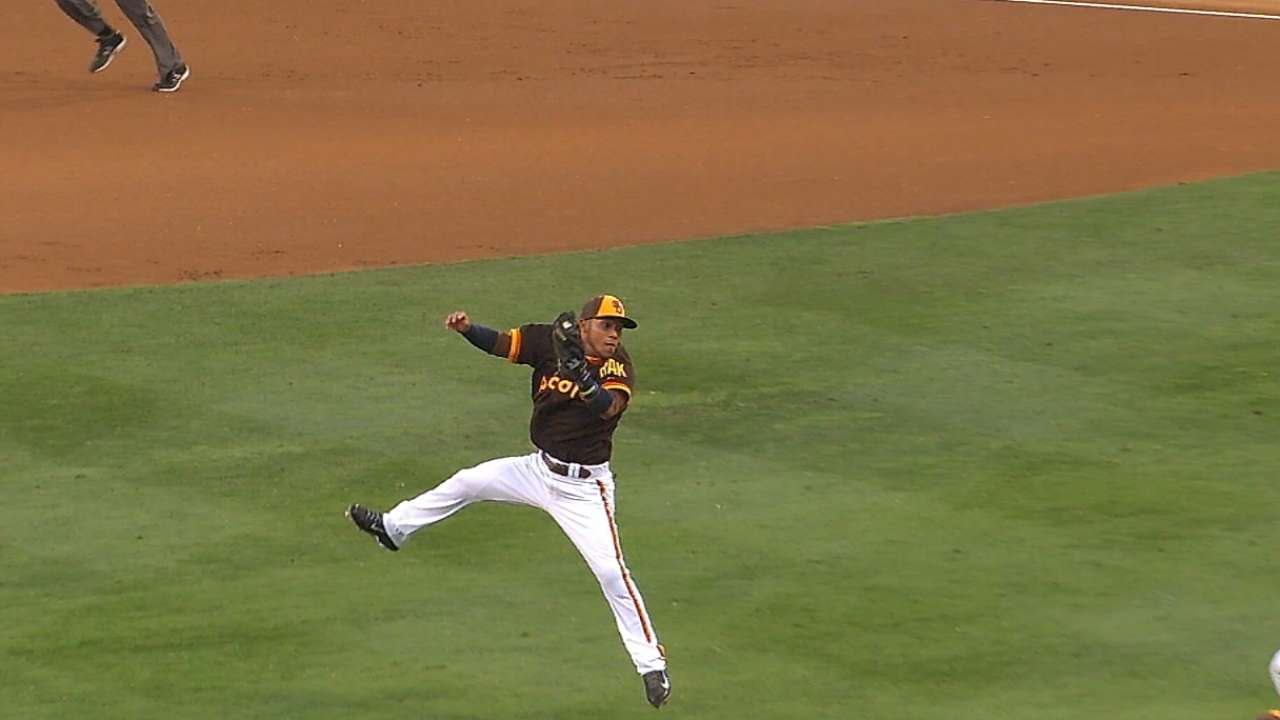 PEORIA, Ariz. -- Yangervis Solarte is a third baseman who also plays plenty of shortstop and second base. Clint Barmes spent parts of last season playing all four infield spots across the diamond. And Alexi Amarista has played at least five different positions in each of the past three years.
Sense a trend in San Diego? Just about every infielder expected to break camp on the Padres' roster can play multiple positions -- and play them competently. Even Jedd Gyorko, who is firmly entrenched at second for the Friars, came through the Minors as a highly touted third baseman.
"We have a big group of guys who are all capable of playing at the big league level and at different positions," said Will Middlebrooks, a third baseman who will see time at first base, too. "I'm sure there will be plenty of different lineup cards. ... Late innings in the NL, you never know what can happen with pitchers moving around. So I'll be prepared to step in anywhere."
Having such versatility in the infield is a luxury for manager Bud Black -- in terms of both lineup selection and in-game decision-making.
Within their versatile infield, the Padres also have a nice mix of hitters from both sides of the plate, most notably the potential platoon of the right-handed-hitting Barmes and the left-handed-hitting Amarista at short.
"Our infield opens up a lot of opportunities against different pitching," Middlebrooks said. "When you can match up righties and lefties, it's very important."
In the case of the right-handed-hitting Middlebrooks, he could spell Yonder Alonso at first base against tough lefties. He could also move to first late in games, should Black opt to pinch-hit for Alonso. Solarte would then slot in nicely at third.
That doesn't mean Middlebrooks is anything but a third baseman by trade. It simply means he's a versatile one.
Black recently channeled a his inner Yogi Berra during a conversation with Middlebrooks. According to Middlebrooks, he was asked "to take 100 percent of your reps at third base -- and 20 percent at first."
The math might not add up there, but the premise certainly does.
"We're just trying to open up the possibility to these guys that this could happen, just so that it's not completely foreign when it does," Black said.
AJ Cassavell is a reporter for MLB.com. Follow him on Twitter @ajcassavell. This story was not subject to the approval of Major League Baseball or its clubs.