MLB.com Columnist
Mike Bauman
Marlins' formula makes quick turnaround feasible
As players from 100-loss team developed, club signed Stanton, added complementary pieces
JUPITER, Fla. -- Two years ago, the Miami Marlins lost 100 games. Now, without a hint of exaggeration, they can be projected as a postseason team.
What happened? This was a winning combination that started with a talented young core of players developing as hoped. That made possible a series of extremely astute acquisitions this winter.
The touchstone for the offseason activity was the signing of Giancarlo Stanton. To the rest of the world this may have looked mostly huge -- $325 million over 13 years. To the Marlins, it was very big in another way. It provided them with certainty that the emerging superstar would be with them for 13 years, not two years.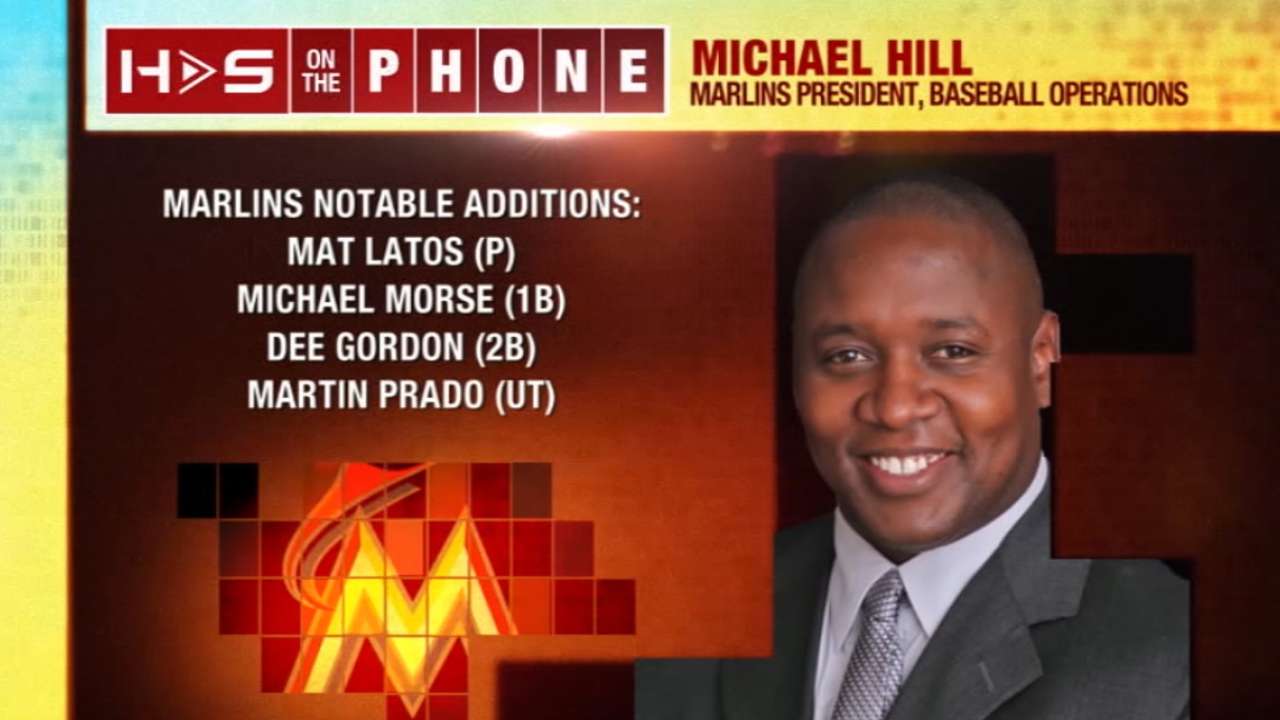 On the day of that signing, Michael Hill, Marlins president of baseball operations, sent a mass email to members of the organization. Hill congratulated all aspects of the organization -- scouting, player development, the Major League staff. Stanton had come out of heavily scouted southern California, and yet, the Marlins' understanding of the talent and the Draft allowed them to select a player of this sort of epic potential in the second round.
The Stanton contract may have supplied numbers that everyone else could talk about. But it gave the Marlins the certainty that they could move forward with the transformation of this team.
"It was at the top of list," Hill said Monday at Roger Dean Stadium. "It was the No. 1 priority of our offseason, because it set up everything else to follow.
"I think the industry as a whole recognized the growth that we'd had in 2014, the growth of our young core players," Hill said, referring specifically to left fielder Christian Yelich, center fielder Marcell Ozuna and shortstop Adeiny Hechavarria. "I think it was recognized that there was good talent here. So, from a clarity standpoint in the direction of our offseason, once we knew that the big man was under contract, we could truly focus on other areas to improve our club.
"It's incumbent upon the young players to take the necessary steps to grow in the game and have the success that you think they can have. We know that we took a number of lumps in 2013, a 100-loss season, but we were able to start that process."
Jose Fernandez established himself as a genuine ace. He subsequently had to undergo Tommy John surgery. But he now appears to be on schedule for a return anywhere from mid-June to the All-Star break.
Another young starter, Henderson Alvarez, was impressive enough to be named to the 2014 NL All-Star team. A third young starter, Nathan Eovaldi, did not progress as hoped, and he was packaged in a trade to the Yankees. In that deal, the Marlins got the talented and versatile Martin Prado, who will play third, along with pitcher David Phelps.
Beyond the Stanton deal, Hill said, the Marlins were primarily looking to improve their production at first base, stabilize their situation at second base and add to the starting rotation.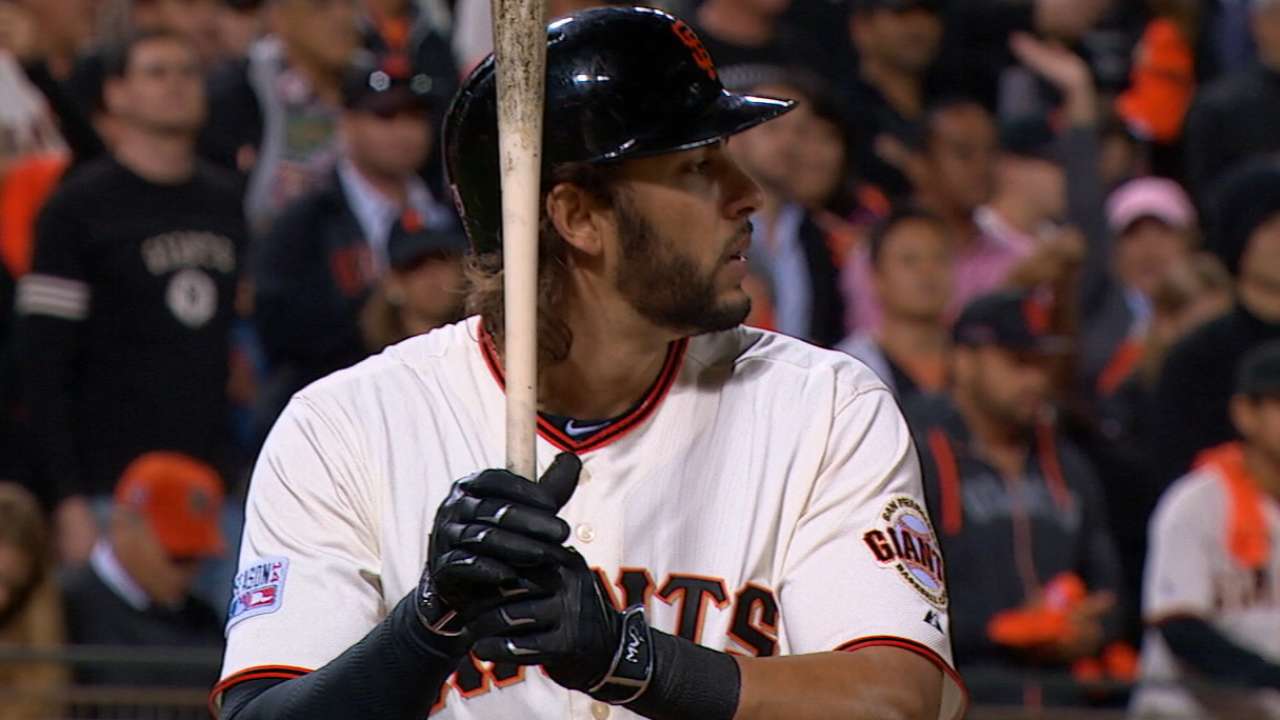 Check, check and check. Michael Morse brings a power bat at first. At second, Dee Gordon brings a dynamic game with his speed. Dan Haren adds a veteran presence to the rotation, while Mat Latos, although injured for a portion of last season, is undeniably talented.
We asked Prado, who is known not only for his versatility, but for being a terrific teammate and a positive clubhouse presence, how this Marlins club looked to him. With the understanding that this is barely March, he said it looks very good.
"What I see here is a group of guys who are willing to learn, man, willing to work hard every day," Prado said. "They're young, but they know how to play the game. They respect the game, and that's the most important thing.
"Everybody's got an open mind to play as a team. And when you do that, you can accomplish a lot as a team. They got so much energy, they make you go. I have it, too, but seeing it in them makes you go."
This operation is tied together, by a manager, Mike Redmond, and a coaching staff that has the complete trust of the organization.
120 Sports: Can Miami make playoffs?
"I don't know if coaching staffs get enough credit when you talk about how teams overperform or overachieve, but last year they played with a chip on their shoulder," Hill said of the Marlins. "They've taken on the personality of our manager who was an overachiever in his own right, playing for as long as he did. There's no staff that is going to outwork our guys, and a lot of success -- if not all of it -- is due to the effort that they put in. I'm thankful that we're all in this together."
The Marlins share a hope with 29 other franchises -- becoming one of 10 clubs to reach the postseason. I know, I know, they're in the same division as the Nationals. But even though the Marlins may still be a work in progress, projecting them as an NL Wild Card team would not appear to be any sort of a reach.
This organization, of course, is intelligent enough not to get caught up in projections, predictions, prognostications.
"We have infinite confidence in the group of players we have," Hill says. "We never give you finite numbers, because we don't want to put any limitations on ourselves. We're preparing here in Spring Training to play with that same energy, that same focus, that same attention to detail that allowed us to improve by 15 games in 2014."
Another 15-game improvement would get the Marlins to 92 victories. With this team, that sort of thing seems now to be a question of when, not if.
Mike Bauman is a national columnist for MLB.com. This story was not subject to the approval of Major League Baseball or its clubs.