Bucs set to open Grapefruit slate vs. old friend
Kang, Alvarez facing former teammate Martin, Blue Jays to begin spring slate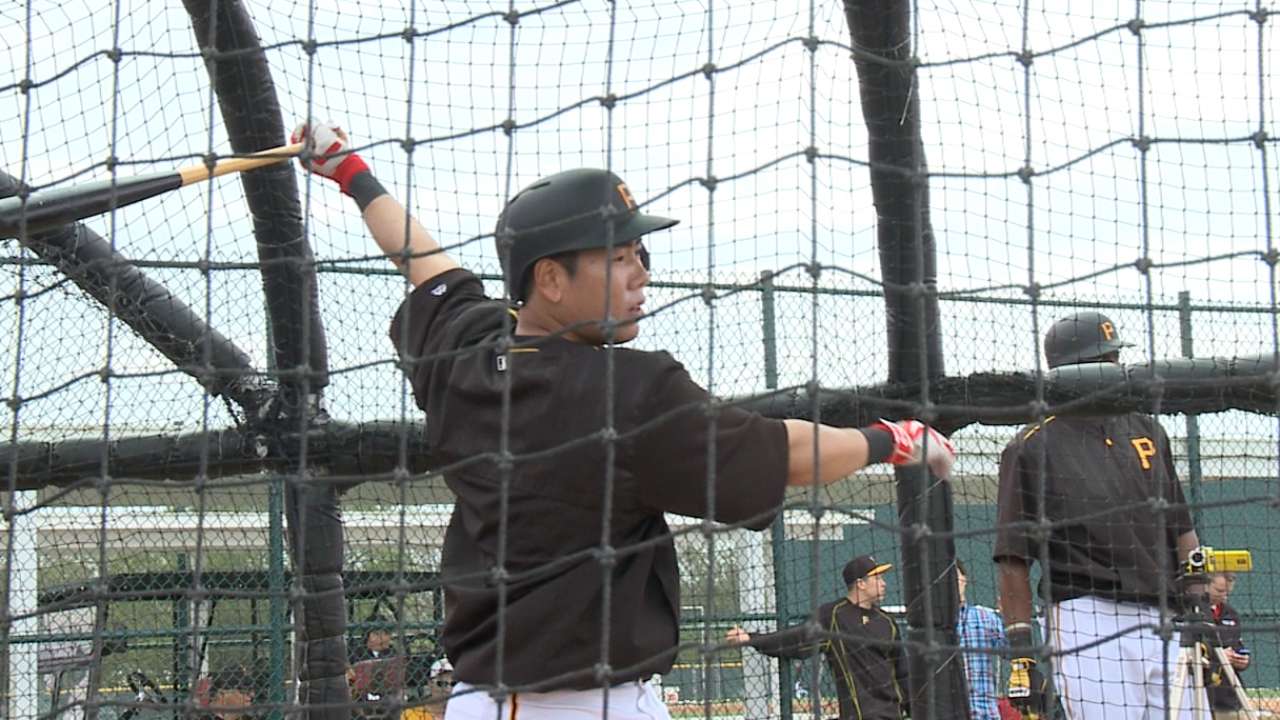 BRADENTON, Fla. -- Starting the prelude to a new season, the Pirates will run into an old friend. They inaugurate Grapefruit play on Tuesday against Russell Martin and some other Toronto Blue Jays.
It is an ironic beginning to their Grapefruit League, because the loss of Martin through free agency has been the one caveat to the otherwise rosy predictions for the Bucs.
The reunion in Dunedin will be an excuse to revisit Martin's importance to the 2013-14 Bucs.
"It was fun being part of the team that had been under .500 for some 20 seasons," Martin said on Monday. "I guess I helped solidify that team a little bit."
A little bit?
"He impacted this organization all over the place," acknowledged manager Clint Hurdle. "We wish him well. He has a great opportunity with a good team close to home. We'll root for him from afar."
Tuesday, they'll get their first of four up-close looks at him this spring, in the Bucs' typically American League-heavy preseason schedule. Only five of the Bucs' 30 Grapefruit League games will be against National League teams.
"It'll just be fun to see the guys," Martin said. "I'm never really concerned about the other team, but it'll be good to see the all of those guys. … I had a great time in Pittsburgh. The clubhouse was great, and that whole [pitching] staff was fun to work with. I've got nothing but praise for those guys."
Casey Sadler is the guy who gets the first ball. The right-hander was 11-4 with a 1.19 WHIP in Triple-A Indianapolis last season, which included his Major League debut with six relief appearances for the Bucs. Stolmy Pimentel, Bobby LaFromboise, Rob Scahill and Brad Lincoln are scheduled to follow Sadler's two innings.
Pedro Alvarez, scratched from one lineup in Monday's Black and Gold game just as part of shuffled plans, will start at first base and bat fifth -- one spot ahead of shortstop Jung Ho Kang.
However, Corey Hart was scratched from Monday's other squad with a foot injury. Hart suffered a cut that required three stitches while emerging from the whirlpool at Pirate City on Sunday, and will remain out for a few days.
This will be a unique preseason for Hurdle, who begins with a set starting lineup, only one vacancy on his bench and only a couple of openings on the pitching staff.
"We want to play good baseball. There's guys we want to evaluate," the manager said. "When we get on base, we'll be looking for those extra 90s. We want battle at-bats. We'll try to get a little bit better all over the park every day we're at the park."
Tom Singer is a reporter for MLB.com and writes an MLBlog Change for a Nickel. Follow him on Twitter @Tom_Singer. This story was not subject to the approval of Major League Baseball or its clubs.