Carpenter plans to be aggressive, but smart
Cardinals' leadoff hitter seeks balanced approach at the plate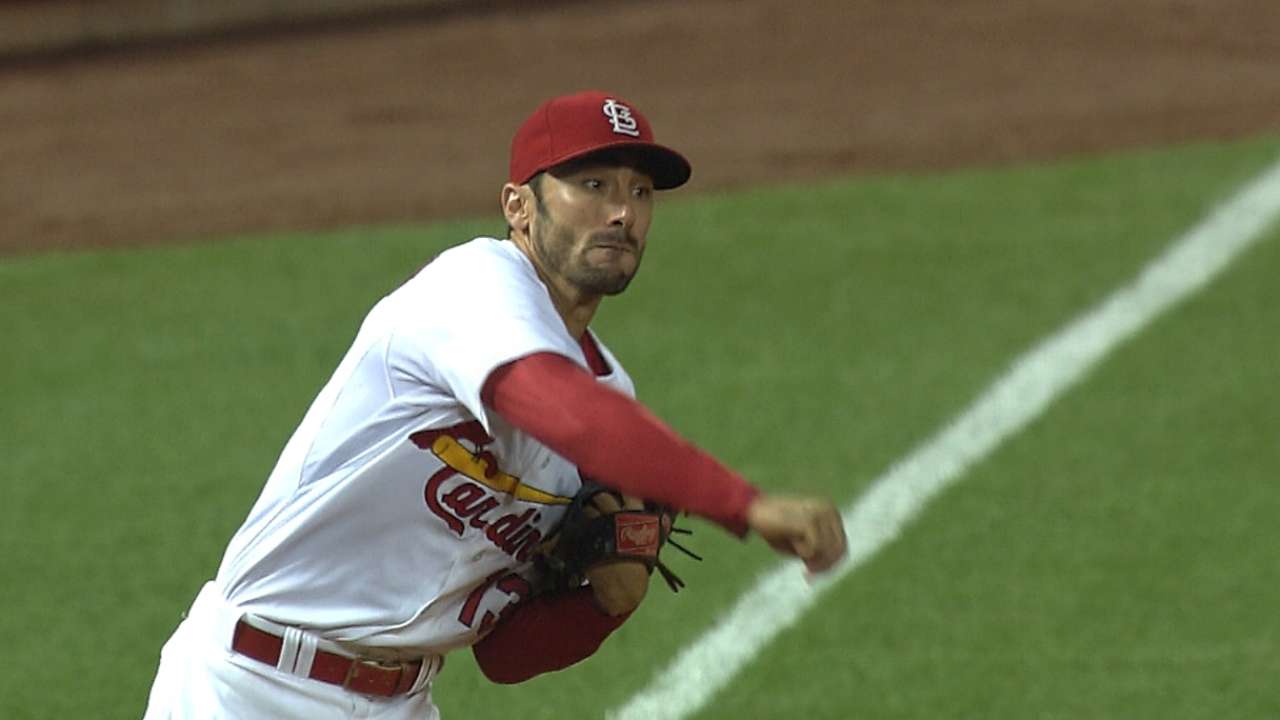 JUPITER, Fla. -- The Cardinals have shown no indication that they plan to change Matt Carpenter's placement in their lineup. However, if Carpenter accomplishes what he has set as a season goal, he'll take a different look back into the familiar spot atop the batting order.
Calling his 2014 postseason "an awakening," Carpenter hopes to take pieces of who he has been each of the last two seasons and mold himself a little differently in his third full season as a starting infielder. The ambition is lofty given that it's coming from a player on the heels of consecutive All-Star seasons.
"I've had both extremes of it," Carpenter explained. "I've had it where I've led the leagues in walks [2014], and I've had where I've led the league in hits [2013]. I'm trying to search for that perfect balance where you're aggressive, but you're still patient.
"In the postseason, I felt that I was more aggressive than I had been at any point in my career, but at the same time, I wasn't flailing at balls. I didn't lose anything. Now, it's finding the perfect balance to where I'm swinging the bat, I'm being aggressive, I'm trying to do damage, but at the same time, I'm a guy who can walk a lot, get on base and set the tone as a leadoff hitter. I think that's part of growing up as a baseball player. You learn and you adapt and you continue to try to figure out who you are as a hitter."
Though Carpenter has been one of the Cardinals' most productive hitters over the last two seasons, the output has differed. His slugging percentage dropped from .481 in 2013 to .375 in '14, largely due to hitting 22 fewer doubles last year. In turn, he drew more walks and saw more pitches, averaging 4.37 pitches per plate appearance, third most in the Majors. That was up from the 4.12 pitches per plate appearance he posted in 2013.
Why the shift?
"I think the slow start for myself and our group as a whole, I was trying to really, really get things going and really try to extend at-bats and really try to grind out," Carpenter said. "For whatever reason, 2014, from an offensive standpoint, both individually for myself and for all of us, it felt like a grind. It felt like you had to do more to make things happen."
Carpenter had some of his most notable success making things happen when he stopped feeling the need to grind so much. Nowhere was that more evident than during the postseason, when Carpenter, who had eight regular-season homers, went deep four times and hit four doubles in nine playoff games.
His first two home runs came on the first pitch of the at-bat, including a Game 1 shot in the National League Division Series against Clayton Kershaw. He called the change in approach "100 percent intentional," the genesis of it coming from his struggles in the 2013 postseason when he realized too late that he wasn't going to be so successful extending at-bats when pitchers were constantly coming at him with their best.
"I wanted to take that aggressiveness to them," Carpenter said. "I'm not saying that I went up there to hit homers. But I definitely wanted to be more aggressive and do more damage."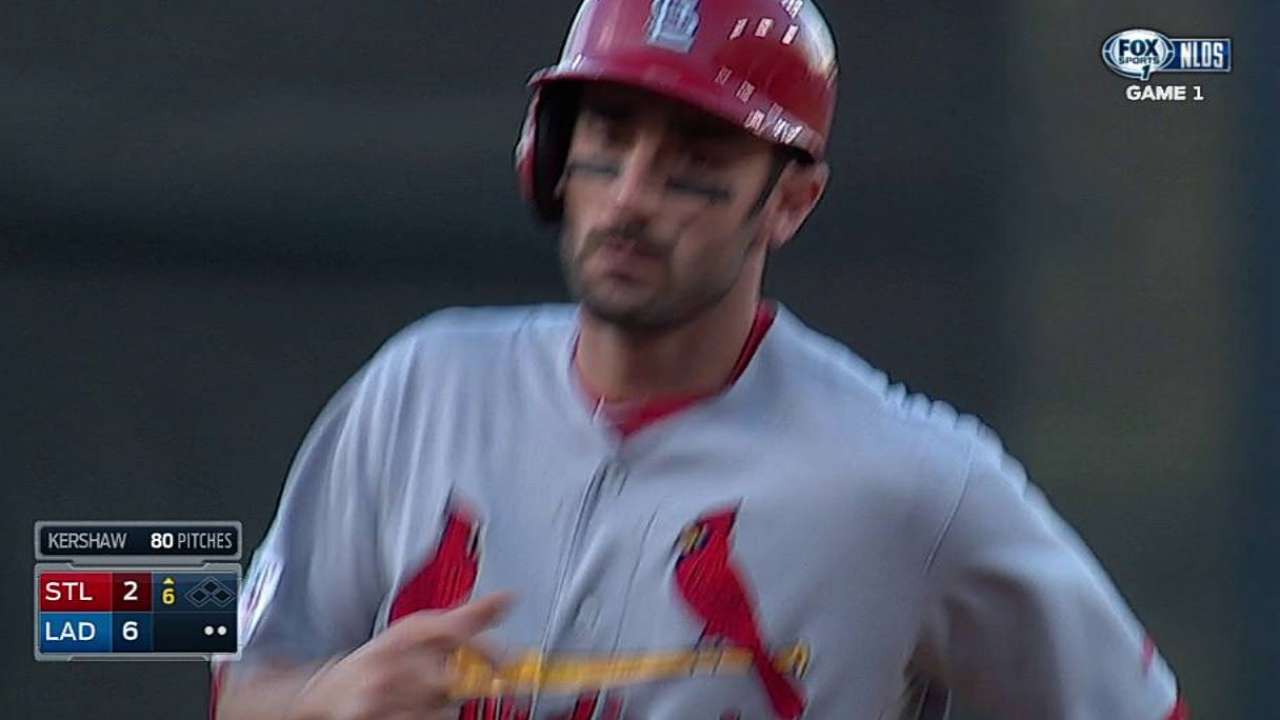 Seeing his capability as a run-producing hitter has Carpenter looking to tap into that aggressive approach with more regularity this season.
"I think he's a smart enough guy to do it because he knows what he does really well," hitting coach John Mabry said. "That's what you take pride in -- those guys who put in all the work to get to where they are and then say, 'I'm not happy.' They want to put in the extra work to get to that next step, the next level."
Carpenter's success in making the personal transformation will hinge largely on his ability to best choose when to take which approach.
"That is part of the cat-and-mouse game that the opposition is going to be faced with," manager Mike Matheny said. "I think him going out there and taking the first two pitches down the middle sometimes may work to our advantage, his advantage, and there are other times, like we saw in the postseason, where coming out with a different ambush approach could really set a different tone for our club. He has both in his arsenal."
Jenifer Langosch is a reporter for MLB.com. Read her blog, By Gosh, It's Langosch, follow her on Twitter @LangoschMLB and like her Facebook page Jenifer Langosch for Cardinals.com. This story was not subject to the approval of Major League Baseball or its clubs.