Ryan would gladly mentor Torii as future GM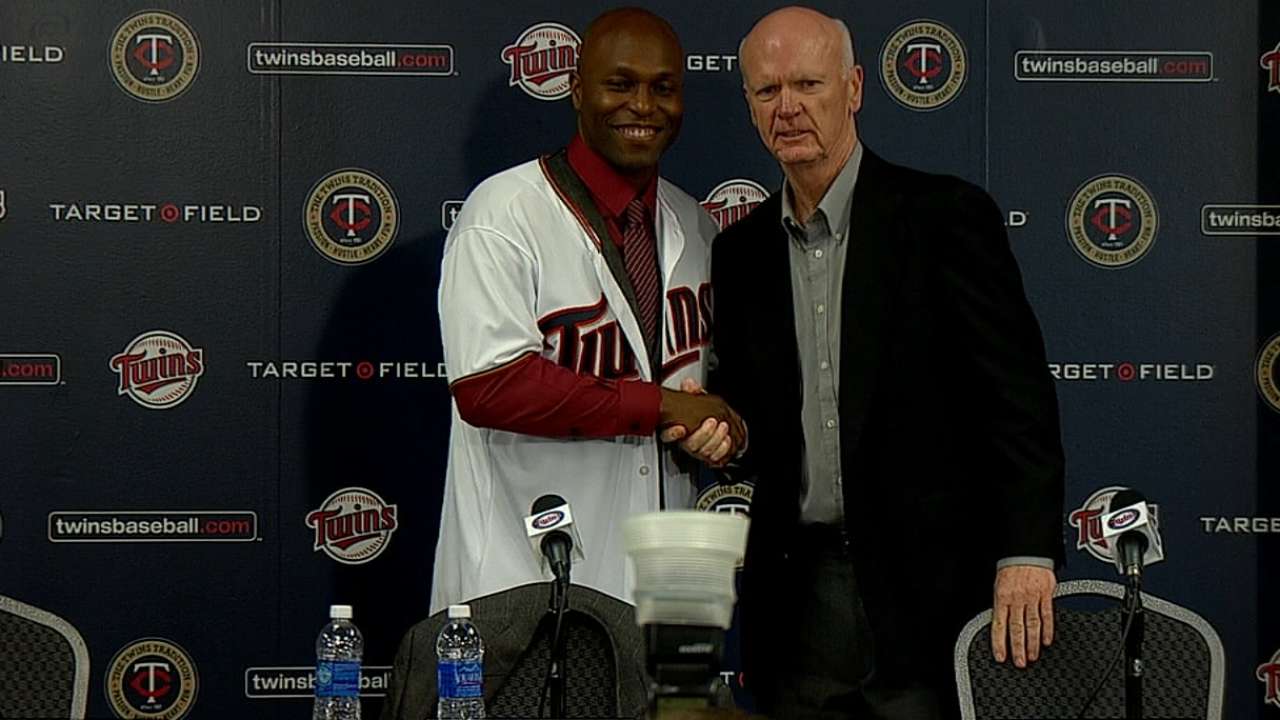 FORT MYERS, Fla. -- Some day, Torii Hunter would like to go from signing contracts to offering them. Hunter, one of the longest tenured players in the Major Leagues, told USA Today recently that he'd like to be a general manager one day, and he has some influential figures in his corner.
Twins executive vice president and general manager Terry Ryan has always had a soft space in his heart for Hunter, and he brought the veteran back for one last tour with Minnesota this year. And if Hunter would like to some day take over a team, Ryan would love to help him.
"He's thought about his career after his playing days, like most players should," Ryan said on Monday. "He's got a good baseball mind and I'm happy to hear he wants to be a GM. That's good."
Hunter, one of the league's most engaging personalities, has done just about everything short of winning the World Series during his career. He's a five-time All-Star and he's won the Gold Glove Award nine times, and he even earned the Branch Rickey Award for his humanitarian work in 2009.
But Hunter, who will turn 40 right after this year's All-Star Game, doesn't want to leave baseball when his playing days are done. The Arkansas native has spent nearly half his life in the Major Leagues, and he said recently that he'd love to help mold future pennant-winners for the Twins.
"I really want to get into that front office, make some changes, and build a team that I want to build,'' Hunter told USA Today last week. "I'd love to learn everything from Terry. He'll be a mentor. One day, that's my goal, to be GM of the Twins.''
And it can happen. Ryan was working in player personnel for the Twins when they selected Hunter in the first round of the 1993 First-Year Player Draft, and he served as general manager for the outfielder's first 10 seasons in Minnesota. Ryan briefly stepped down from the GM's perch in 2007 and then came back in '11, and he said on Monday that Hunter has the makings of a fine baseball executive.
"He's a good person, No. 1," Ryan said of the qualities that would serve Hunter well in his post-playing career. "He's got a good work ethic and he understands the inner workings of baseball, and the ascension from high school or college into the pro game, and from the pro game into the Major Leagues. And then from the Majors to being able to stay there. All that stuff is good stuff."
Hunter ranks eighth on Minnesota's all-time home run list (192), and he can vault up to sixth if he hits 15 for the club this season. Hunter has said that he will continue playing if he's able to have a stellar season, and Ryan said on Monday that he's thrilled that Hunter wants to work for him one day.
"I've heard that, but I'm more interested in telling him to play the game until he's ready for that type of opportunity," the GM said. "There will be opportunities for him once he gets done in a lot of areas."
Spencer Fordin is a reporter for MLB.com. This story was not subject to the approval of Major League Baseball or its clubs.