Martin set to open Grapefruit action vs. former club
Blue Jays hope new catcher can give them the same boost he did Bucs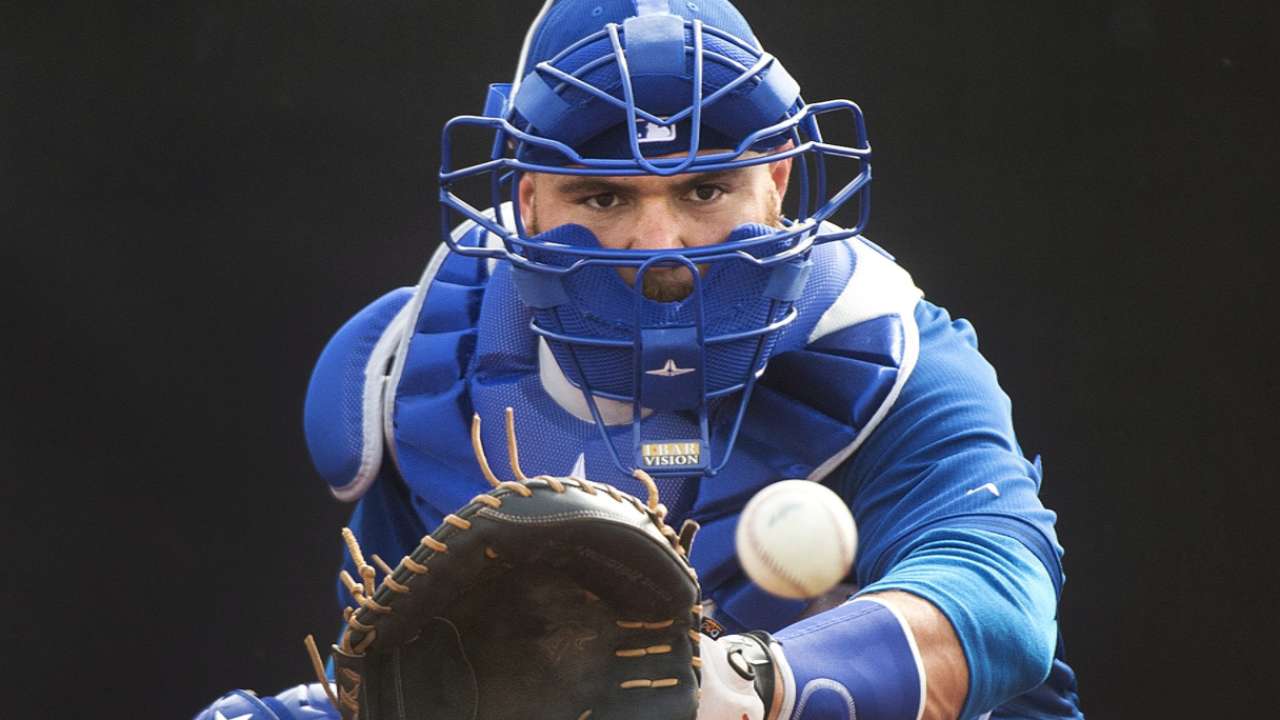 DUNEDIN, Fla. -- Russell Martin will see a lot of familiar faces on the other side of the diamond when the Blue Jays open their Grapefruit League season vs. the Pirates on Tuesday afternoon at 1:07 p.m. ET.
Martin spent the past two seasons in Pittsburgh before signing a five-year contract with Toronto in November. He played an integral role in helping the Pirates end a 20-year drought in the postseason and hopes to have a similar impact with the Blue Jays.
Toronto hasn't been to the postseason since 1993, which is the longest streak for any team in major professional sports leagues across North America. Considering Martin has made the playoffs in all but two of his nine seasons in the big leagues, his personal expectation is to return there again this year.
"It was fun being a part of that team and going from a team that was under .500 for 20-plus seasons," Martin said of the Pirates. "That's not the same guys obviously. That core was doing good things, and even the previous year, they just fell short towards the end a little bit, and I guess I helped to solidify that team a little bit.
"But making it to the postseason is fun. I remember [Derek] Jeter said, you've 162 games of practice before the real games start, and hopefully we get that opportunity to play in October this year."
The postseason drought was a major topic of conversation in Pittsburgh before the club finally broke through in 2013. A similar storyline will emerge in Toronto this season if the Blue Jays put themselves within striking distance during the second half of the season.
Despite the prolonged stretch of disappointment, Martin said it's not something the Blue Jays have talked about a lot internally. There is turnover every year, and there's only a handful of guys who have been around for more than a few years.
"There's not one player that's in this room who has been on this team for 20 years and was a part of that," Martin said. "It's a new team, it's a new beginning. You can't control what's happened in the past, but you can control how you prepare and the effort you put out in the game.
"At the end of the day, you go out there and compete, you try your best and you live with the results that happens and you just prepare day to day. For me, it's the only way to go about it. Otherwise, you can just go crazy thinking about other stuff."
The Blue Jays' spring opener will be broadcast on MLB.TV and Sportsnet. It'll be a reunion of sorts for Martin, and there's no doubt that his former teammates have felt his absence.
"He impacted this organization all over the place," Pirates manager Clint Hurdle said. "I called him when he signed with the Jays, but his mailbox was full so I couldn't leave a message, so I texted him. We wish him well. He has a great opportunity with a good team close to home. We'll root for him from afar."
Gregor Chisholm is a reporter for MLB.com. Read his blog, North of the Border, and follow him on Twitter @gregorMLB. This story was not subject to the approval of Major League Baseball or its clubs.