A-Rod sees time at DH in intrasquad tilt
Yankees play final game before Grapefruit action starts Tuesday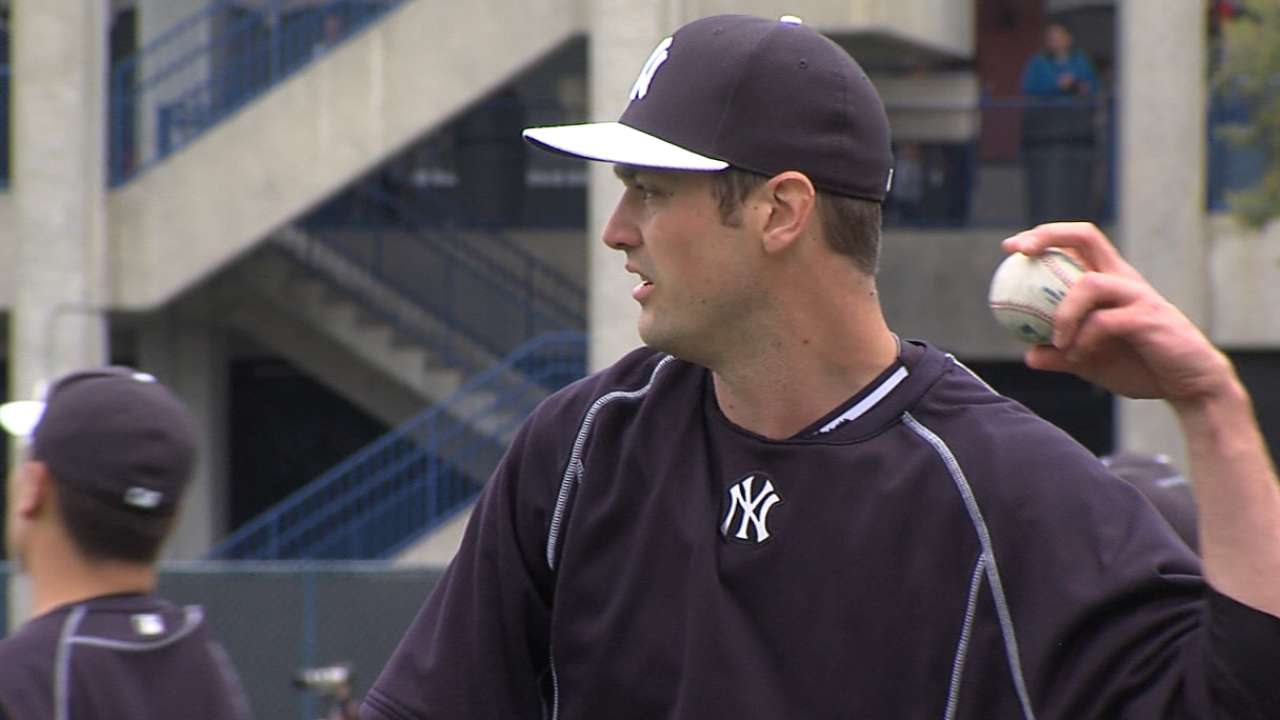 TAMPA, Fla. -- The Yankees closed out the workout portion of Spring Training with a combination intrasquad game/simulated game Monday at George M. Steinbrenner Field. A pitching machine was used instead of real pitchers and situations were created. For example, both halves of the first inning began with a runner on first.
"It's hard to get the situations you want with the pitchers on the mound. We could throw the ball in the dirt when we wanted. Throw strikes. Guys can make contact. You just get a lot more out of it," manager Joe Girardi said, explaining the decision to go with "Iron Mike."
Shortstop Didi Gregorius, who was acquired from the D-backs to replace the retired Derek Jeter at shortstop, made a noteworthy play by going deep into the hole in the first inning to rob Brett Gardner.
Much of the focus from the sparse crowd on hand was on Alex Rodriguez, who started at designated hitter. It was the first time he's played under game conditions in 17 months after being suspended for the entire 2014 season for his connection to Biogenesis.
Rodriguez's first time up, he grounded out to third on the second pitch he saw. In his second at-bat, he flew out to shallow right.
Girardi said he hasn't noticed much difference in A-Rod.
"I think his work and his approach is fairly the same as it used to be -- the rounds that he takes and what he's trying to accomplish," said Girardi. "Alex was never a guy looking to put on a show in batting practice. He wants to get his work in. And that's what he's been doing. I don't think you'd say there's a huge difference from what I saw a year-and-a-half ago. But we really have to see where he's at in four weeks. That's the important thing.
"I think you'll look at the progress he's making from day to day, week to week. How his at-bats look Day 10 as opposed to Day 1. Some guys come out swinging really great, but it's usually the young guys, for whatever reason. So I think you just look at the progress more than anything."
Girardi said that there's no set date by which he'd like to see Rodriguez in the field, and he added that he still believes there's a chance A-Rod can come back and be a productive hitter.
"That's what our hope is. That he can provide some offensive punch to our lineup. I know it's a tall order. I mean, he's 39 1/2-years-old. Two hip surgeries. But I don't ever count anyone out," Girardi said.
A-Rod will not play in the Yankees' spring opener on Tuesday, but he's slated to see his first game action Wednesday.
Paul Hagen is a reporter for MLB.com. This story was not subject to the approval of Major League Baseball or its clubs.