Morrow aims to claim final spot in Padres' rotation
Right-hander signed this offseason before offense's overhaul, brings bullpen experience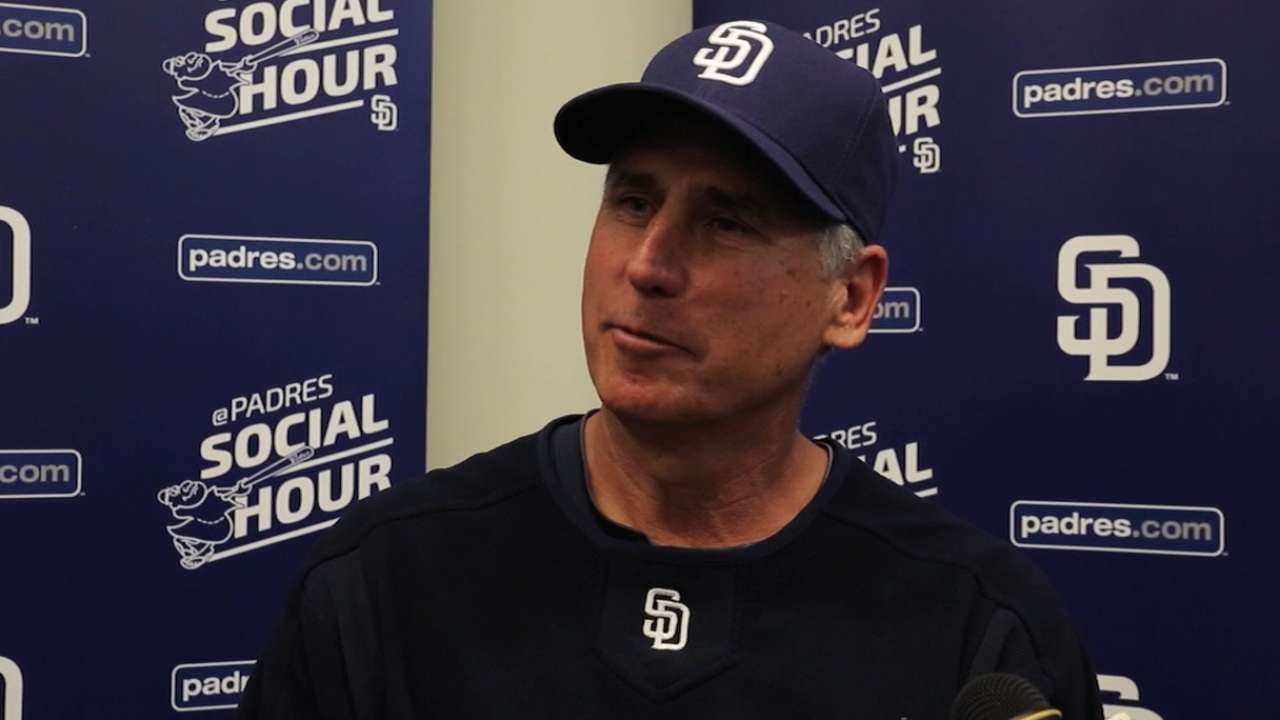 PEORIA, Ariz. -- When Brandon Morrow was considering signing with the Padres this winter, he received assurance there were big changes on the way in San Diego. Sure enough, the Padres delivered.
"They told me they were going to aggressively improve the offense," Morrow said. "But they went way beyond the expectations of what I thought they could probably do. And then to do it without getting rid of the starting pitching that was already here -- that's big."
The flurry of moves, however, also thrust the former Blue Jays right-hander into a fierce competition for the No. 5 starter spot. Not only did general manager A.J. Preller keep his rotation in tact -- he added veteran James Shields, meaning the Padres already have four-fifths of their rotation in place (with right-handers Andrew Cashner, Tyson Ross and Ian Kennedy).
The final spot is likely to come down to Morrow and Odrisamer Despaigne, though Robbie Erlin also figures to be in the mix.
Padres Spring Training: Tickets | Ballpark | 40-man roster | NRIs
"I told him on the phone when we were talking with him that we were going to give him the opportunity [to start]," said Padres skipper Bud Black. "He goes, 'Great.' He wants that responsibility that the starting pitcher has every fifth night, to be the guy."
If Morrow doesn't win the job, he's a prime candidate for a bullpen spot. That's not an especially appetizing prospect for Morrow, who chose the Padres in part because he was given a chance to start. But he does have experience as a reliever, having spent his first two seasons -- and seven games last year -- working out of the 'pen.
Morrow, a veteran when it comes to these Spring Training battles, says there's really no competition just yet.
"The last three starts are when it will be more competition mode, I guess," Morrow said. "Right now, I'm still trying to get my arm and body in shape and easing into that. I'm not going to try and go out and blow it out in live batting practice."
Morrow's arsenal remains mostly a fastball-slider mix, but he's become more reliant on mixing speeds within those pitches. At 30, his fastball velocity of around 94 mph hasn't started to decline yet, but he still feels like a different pitcher.
"Rather than just trying to strike everybody out, I'm going out there and doing some pitching," Morrow said. "It's still the same repertoire and still mostly the same approach. But it's taking some speed off here, adding it here."
Morrow made just 16 starts for the Blue Jays across the past two seasons, a product of forearm and hand injuries. He struggled mightily as a result, posting a 5.65 ERA.
To pre-emptively combat similar injury troubles, Morrow has taken to a "pre-hab" program, which he says is "basically doing what you're doing in rehab, but doing it before you get hurt." That means additional minor exercises and stretches, on top of what he's already doing in camp.
Based on the nature of the injuries -- they weren't structural, affecting the elbow or shoulder -- Black thinks Morrow has put them in the rearview mirror. Black has also been impressed by Morrow's approach to handling those ailments, and to his overall approach on the mound.
"I like his delivery, I like his arm action, I like his stuff," Black said. "First of all, I think he's got a good head. We're still getting to know him. We've only known him less than two weeks. But we like what we've seen."
AJ Cassavell is a reporter for MLB.com. Follow him on Twitter @ajcassavell. This story was not subject to the approval of Major League Baseball or its clubs.