MLB.com Columnist
Lyle Spencer
Righetti a quiet constant in Giants' success
Pitching coach entering his 16th season in role with San Francisco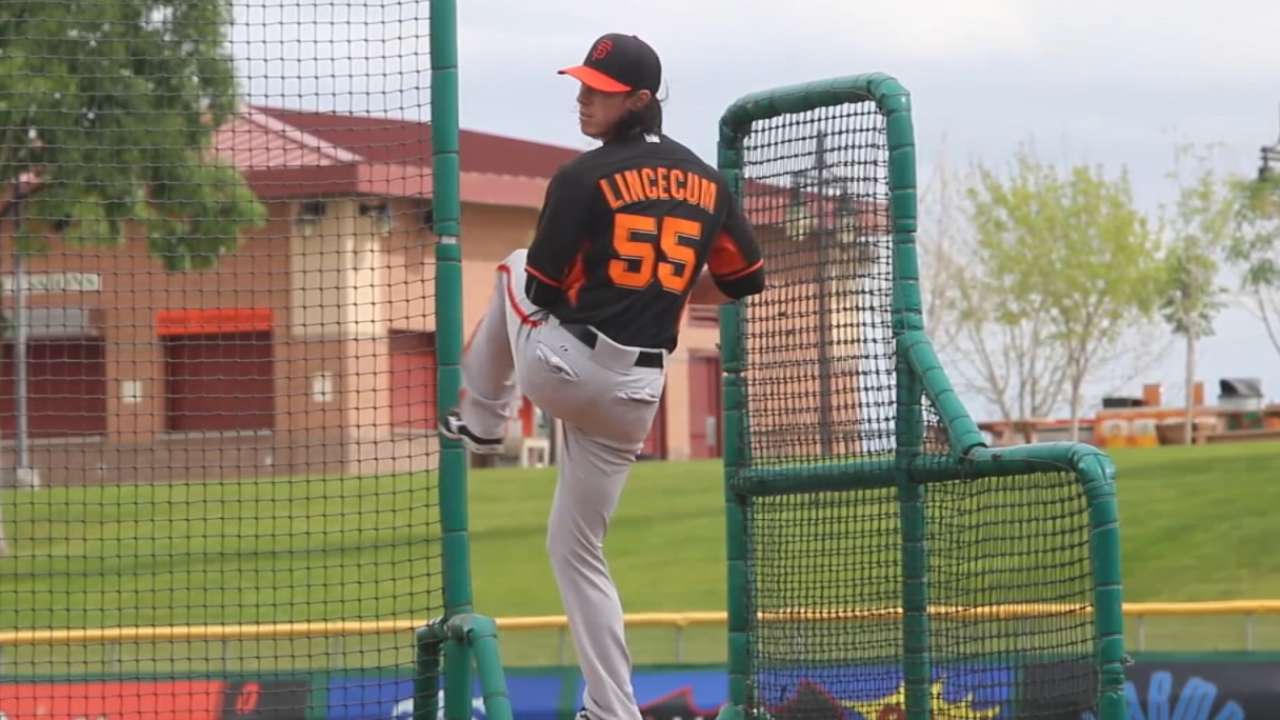 SCOTTSDALE, Ariz. -- Asked early Monday morning if he ever wonders why he still seems to fly under the national radar as pitching coach of the three-time World Series champion Giants, Dave Righetti grinned, winked and said, "That's the idea."
Bruce Bochy, distinguished manager of the reigning champs, doesn't hesitate in freely praising Righetti. The Giants lost one vital coach to retirement this season with former third-base coach Tim Flannery taking his guitar to the beach, but "Rags," as he's been known in clubhouses for years, is still at Bochy's side.
"I rely on him in so many ways every day -- before games, during games, after games," Bochy said. "There's nobody better than Rags. I'd hate to think what it would be like without him. He's everything you could want in a pitching coach. He works as hard as anybody and has the respect of the players."
The Giants have won championships with rotating aces (Tim Lincecum, Matt Cain, Madison Bumgarner) and different closers (Brian Wilson, Sergio Romo, Santiago Casilla). The constants have been Buster Posey behind the plate, Jeremy Affeldt and Javier Lopez setting up and Bochy, Righetti and bullpen coach Mark Gardner pushing all the right buttons.
Never one to beat his own drum, as a sterling southpaw in his time or now as Bochy's right-hand man, Righetti jumps right into character when he transfers credit to the Giants' catchers, notably Bengie Molina and Posey, for their work with a pitching staff that always seems to rise to the challenge.
"Bengie was so good, so popular with his teammates," Righetti said, "it wasn't easy for Buster when he took over [in July 2010 with the trade of Molina to the Rangers]. I worked through Bengie to talk to the [pitchers], just as I'd done with [Benito] Santiago and the other catchers we've had. The more engrossed the catcher gets with his pitchers, the better off we are.
"Buster, from the day he got here, has been a total professional. As good as Bengie was, it wasn't a tough transition because of Buster's personality and work ethic. Guys like Bengie and Buster are everything to a pitching coach."
During games, Righetti stays out of view of the probing television cameras. He's in conversation with the catcher or bench players when the Giants are hitting, intently studying his pitcher when the team is on the field.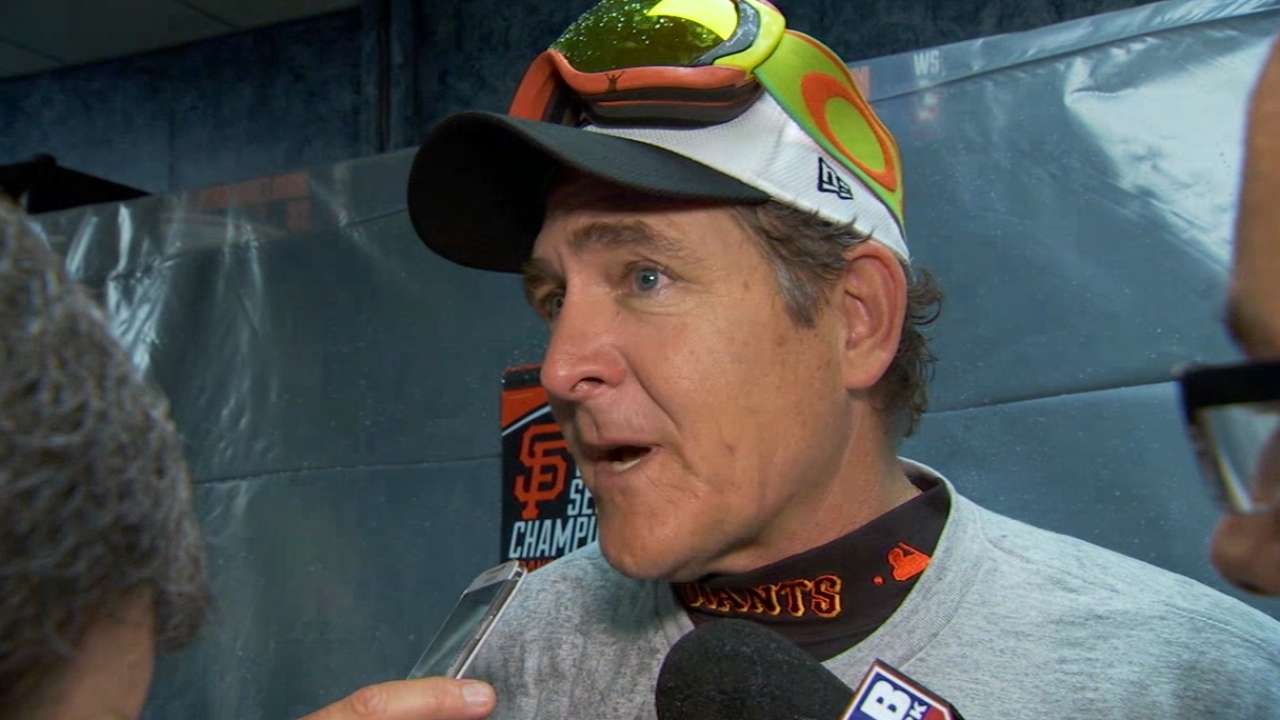 "I've always been into the game," Righetti said. "I get emotional at times, so it's a good idea for me to be sitting down. I don't want to be visible yelling on the field.
"It's been my mantra since I started coaching to be there for my guys individually. You've got to care about each guy regardless of his role."
A dominant starter for the Yankees at 22 as the 1981 American League Rookie of the Year, Righetti moved to the bullpen at the club's behest after three superb seasons in the rotation.
He became a closer in 1984 at a time when relievers threw multiple innings. Leading the league with 46 saves in 1986, Righetti threw 106 2/3 innings, a workload well beyond what closers today deliver.
A Californian, born and raised in San Jose, he signed a free-agent contract with the Giants after the 1990 season and spent three-and-a-half years with his hometown team before finishing his career with brief stints with the A's, Blue Jays and White Sox.
The longest tenured pitching coach in the Majors in his 16th season with the Giants, Righetti is ably assisted by Gardner, in his 13th season as bullpen coach.
Like Gardner, who won 99 Major League games with four clubs, Righetti speaks from a deep well of experience clearly valued by his pitchers.
Righetti was 3-0 with a 2.12 ERA in four postseason outings in 1981, allowing one run in 15 innings against the Brewers and A's before facing Fernando Valenzuela in Game 3 of the World Series. Righetti threw a no-hitter against the Red Sox at Yankee Stadium on July 4, 1983, and finished fourth in the AL Cy Young Award balloting in '86.
Giants starter Tim Hudson, who leads active Major League pitchers with 214 wins, feels Righetti's background "gives him an understanding of any job or situation a pitcher can face. The good ones have done that. Very rarely does a guy come in as a starter and stay in that role his whole career.
"To be successful at this level," Hudson continued, "a pitching coach has to have the ability to relate to guys. Understanding mechanics is one thing, but it's your ability to be a friend, psychiatrist and sports psychologist all in one that makes the difference.
"Dave's a guy who's able to do all that. Your body of work speaks for itself. You shouldn't have to blow your own horn. There are some guys who blow their own horns and maybe get more credit than they deserve, and there are guys like Dave who just do their job."
Pitching coaches, such as Dave Duncan with the A's and Cardinals and the Braves' Leo Mazzone, occasionally become household names, but most often they labor in the shadows.
Dave Righetti belongs in the bright sunlight.
Lyle Spencer is a national reporter and columnist for MLB.com. Follow him on Twitter @LyleMSpencer. This story was not subject to the approval of Major League Baseball or its clubs.