Kang's shortstop debut in intrasquad tilt draws big cheers
Korean infielder plays three innings before Grapefruit opener Tuesday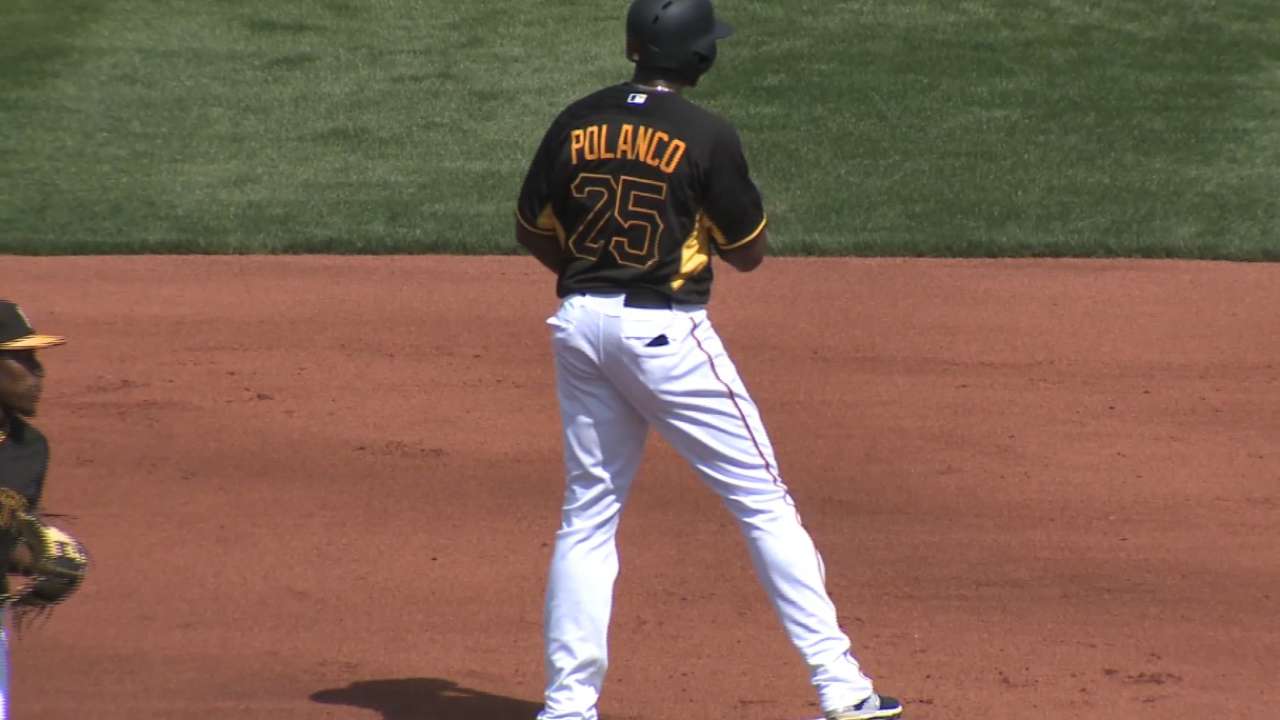 BRADENTON, Fla. -- The public unveiling of Jung Ho Kang was a popular hit. It was the only hit for Kang on Monday, as he played the first three innings of his Black team's 2-1 victory over the Gold team in an annual intrasquad game, but he nonetheless considered it a success.
Kang grounded out to short off Deolis Guerra in his only at-bat of the scrimmage, minutes after cleanly fielding a grounder off Justin Sellers' bat with one out in the top of the first.
"That's when I realized, 'Game on.' It helped a lot to get to play [before spring competition begins against other teams], to get a feel for it," said Kang, who felt the welcome from the McKechnie Field crowd of 3,012.
All proceeds from the game benefit the Lakeland Elementary School, GD Rogers Garden Elementary School and the Manatee County Education Foundation, all local to the Bucs' spring facility.
In pregame introductions of lineups that included such fan favorites as Starling Marte and Gregory Polanco, the first P.A. utterance of, "Your shortstop, Jung Ho Kang" elicited the loudest cheers from the crowd.
"I didn't expect that, but am glad I got it," Kang said. "I look forward to more."
As does everyone else following this developing Major League story.
Andrew Lambo (single) and Jose Tabata (sacrifice fly) drove in Black team runs, Polanco had two of the Gold team's four hits and seven of the day's nine pitchers put up a shutout inning -- but afterwards, Kang drew by far the largest media crowd.
"He wanted to play," said manager Clint Hurdle, "and I wanted to make sure and get him out there and get him involved, sooner [rather] than later."
There won't be a long wait for the next step in Kang's mission to become the first Korean Baseball Organization position player to make the move to the Majors. He is set to start in Tuesday's Grapefruit League opener in Dunedin, batting sixth and playing short against the Toronto Blue Jays.
The late-December revelation that the Pirates had made the top bid of $5,002,015 for Kang blindsided many who were unaware that the Bucs had even scouted him. Kang was among the most surprised.
"Ideally, we don't want our names out there. It doesn't mean we weren't doing our homework, we were just under the radar," said assistant general manager Kyle Stark. "We had a number of looks at him the last couple of years in different international events, did a ton of video work, did background diligence by talking to people who knew him."
Told by a regular batting practice observer, who had seen Kang tattoo the roof of the distant indoor batting cages with home run balls, that he could be the real deal, Stark smiled broadly and said, "Well, that's the idea. That's why we signed him."
Tom Singer is a reporter for MLB.com and writes an MLBlog Change for a Nickel. Follow him on Twitter @Tom_Singer. This story was not subject to the approval of Major League Baseball or its clubs.