Hinch lines up starters for first 5 spring games
McHugh, Oberholtzer, Keuchel, Feldman and Straily set to start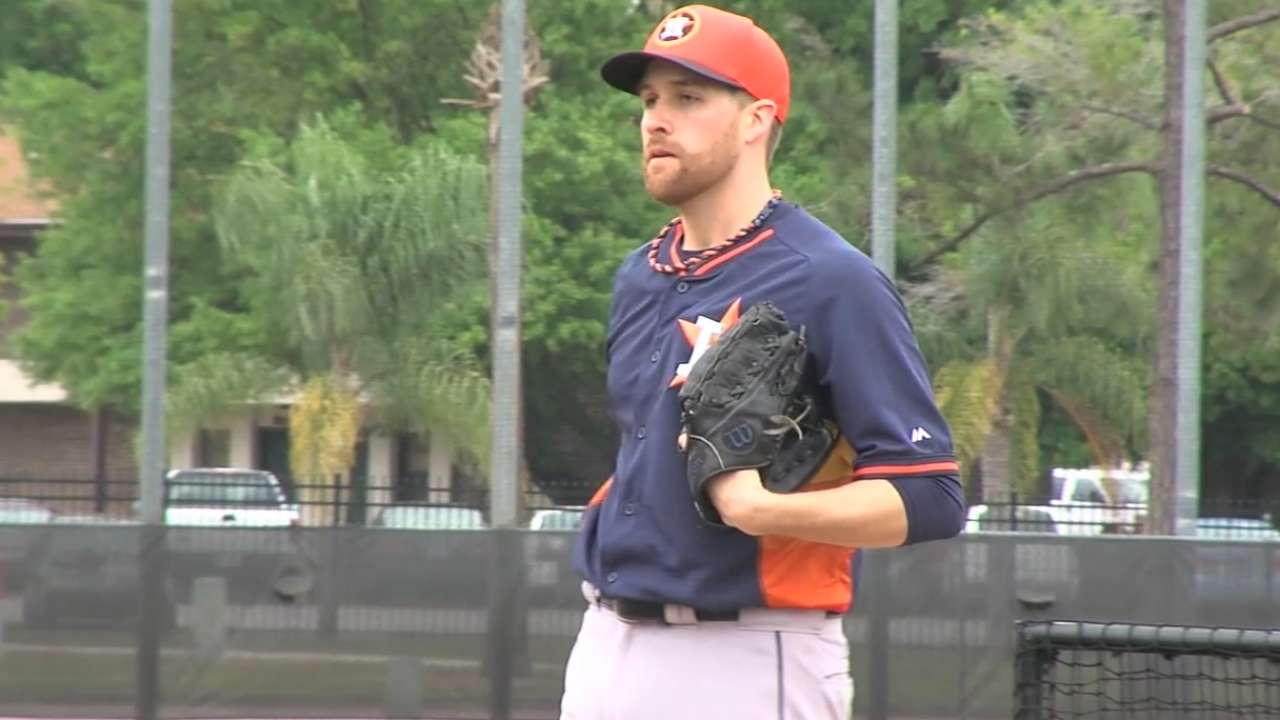 KISSIMMEE, Fla. -- Astros manager A.J. Hinch set up his starting pitching for the upcoming week of Grapefruit League games, confirming that right-hander Collin McHugh will pitch the opener on Thursday against the Phillies at Osceola County Stadium.
McHugh will be followed by left-hander Brett Oberholtzer against the Cardinals at Jupiter, Fla., on Friday, and left-hander Dallas Keuchel is slated to go back at home against the Yankees on Saturday. In Sunday's split-squad, it's Scott Feldman at Osceola against the Braves and Dan Straily against the Tigers in Lakeland.
Each will pitch two innings or 30-to-35 pitches, said the new Houston manager, who added that there's no real method to the early rotation.
"Not really. We've got to get them all up and going," Hinch said. "Obviously, McHugh, Keuchel, Feldman, and to some extent, Oberholtzer, are all in our starting rotation. And then we have an open competition for the fifth spot between Straily, [Roberto] Hernandez, and [Sam] Deduno, [among others]. We only have a certain number of games where you can start, so even if you throw second in a game, it doesn't mean you're not in the competition."
Complicating the situation is the fact the veteran right-hander Hernandez is still absent from camp. Hernandez is in the Dominican Republic awaiting the government to process his travel visa to the U.S.
Hernandez, formerly known as Fausto Carmona, was signed by the Astros as a free agent just prior to the opening of camp on Feb. 12.
"I'm expecting him to get here this week," Hinch said. "Games start. He has a locker. He's assured me he's throwing bullpens and he's ready to go."
Hernandez, 8-11 with a 4.10 ERA in 32 games (29 starts) for the Dodgers and Phillies, has also assured the Astros he's not having problems obtaining his visa.
"No visa problems, it's just taking a long time," Hinch said. "He's going to have no problem getting a visa. We signed him late and he has a lengthy process to go through. We're hopeful. We can't wait to see him."
Barry M. Bloom is a national reporter for MLB.com and writes an MLBlog, Boomskie on Baseball. Follow @boomskie on Twitter. This story was not subject to the approval of Major League Baseball or its clubs.