Weiss not too concerned over setting Rockies lineup
Manager knows he has plenty of strong options from top to bottom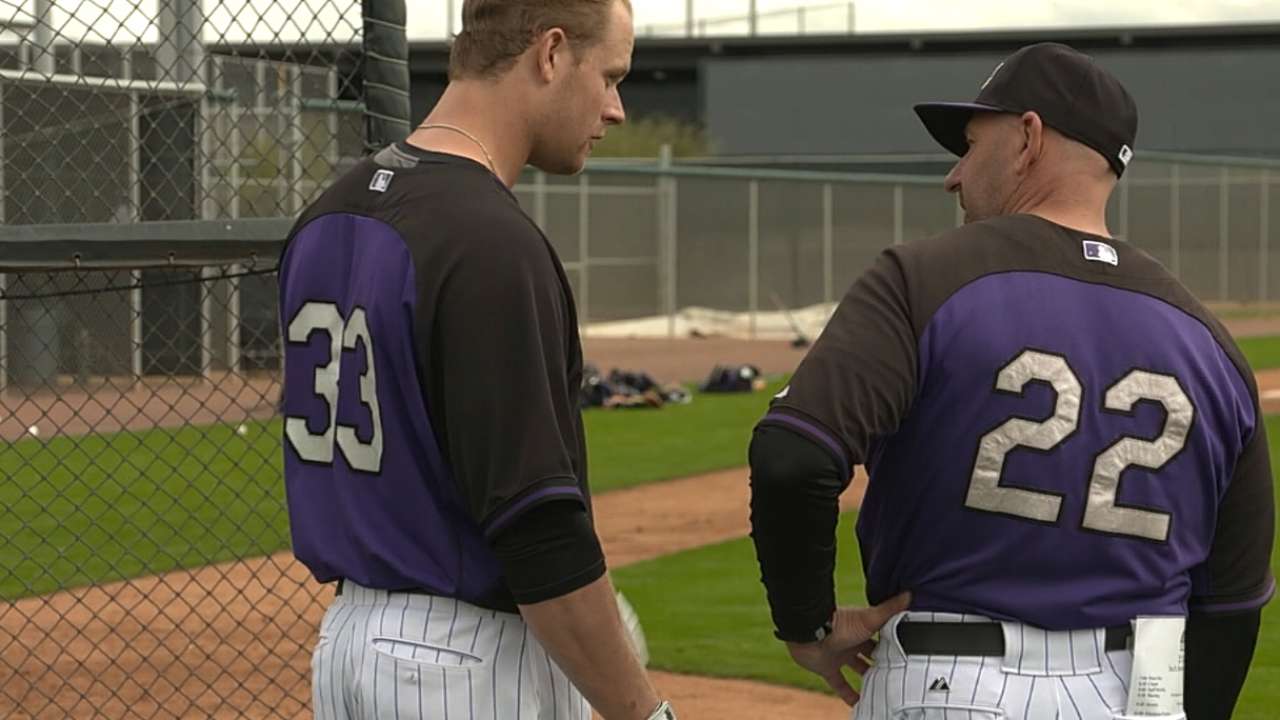 SCOTTSDALE, Ariz. -- Rockies manager Walt Weiss doesn't see the big deal in setting a lineup. But that may have to do with his options.
For all their faults last season, the Rockies led the National League in runs and batting average despite missing Troy Tulowitzki, Carlos Gonzalez, Michael Cuddyer and Nolan Arenado for large chunks of time. With the stars healthy (only Cuddyer, who signed with the Mets, is gone), and Corey Dickerson, Drew Stubbs and Charlie Blackmon coming off strong years, Weiss believes he doesn't have to lock into one lineup.
"I don't want to get too carried away; having the right lineup isn't the secret to success," Weiss said. "Because it's something you can manage and control in a world where there are very few things you can control, people overestimate the value of it. If your guys are healthy and they're in the lineup, it's a good lineup."
Blackmon hit mostly leadoff last year. Stubbs, a leadoff hitter with the Reds and Indians, hit mostly second in his first year with the Rockies but had limited leadoff chances. In the second spot, Weiss could go with DJ LeMahieu (although LeMahieu has been effective at No. 8), Dickerson or even Arenado.
Weiss doesn't want a slow base-clogger in the No. 2 hole, but he also was influenced by his first Major League manager, Tony La Russa, who used power guys such as Dave Henderson, Jim Edmonds and Larry Walker No. 2. Weiss was with the Rockies when then-manager Don Baylor used power-hitting Ellis Burks in the two-hole.
Gonzalez usually bats third and Tulowitzki cleanup, but they can be interchangeable. Justin Morneau and Arenado are threats in the middle of the lineup, and Dickerson is coming off a 24-homer season and can be used anywhere.
Weiss has mixed up lineups his first two years with the Rockies, although much of that had to do with filling in for injuries. He will not be locked into a lineup this year.
"I don't get too carried away, where if you have one guy out of a certain slot, you're going to lose," Weiss said. "You can create some small advantages with a lineup. We pay attention to it. It's a factor but I don't think it's as all-powerful as some people make it."
Thomas Harding is a reporter for MLB.com. Read his blog, Hardball in the Rockies, follow him on Twitter @harding_at_mlb, and like his Facebook page, Thomas Harding and Friends at www.Rockies.com. This story was not subject to the approval of Major League Baseball or its clubs.