Royals prospect Dozier aiming to bounce back
Last season's struggles may be valuable learning experience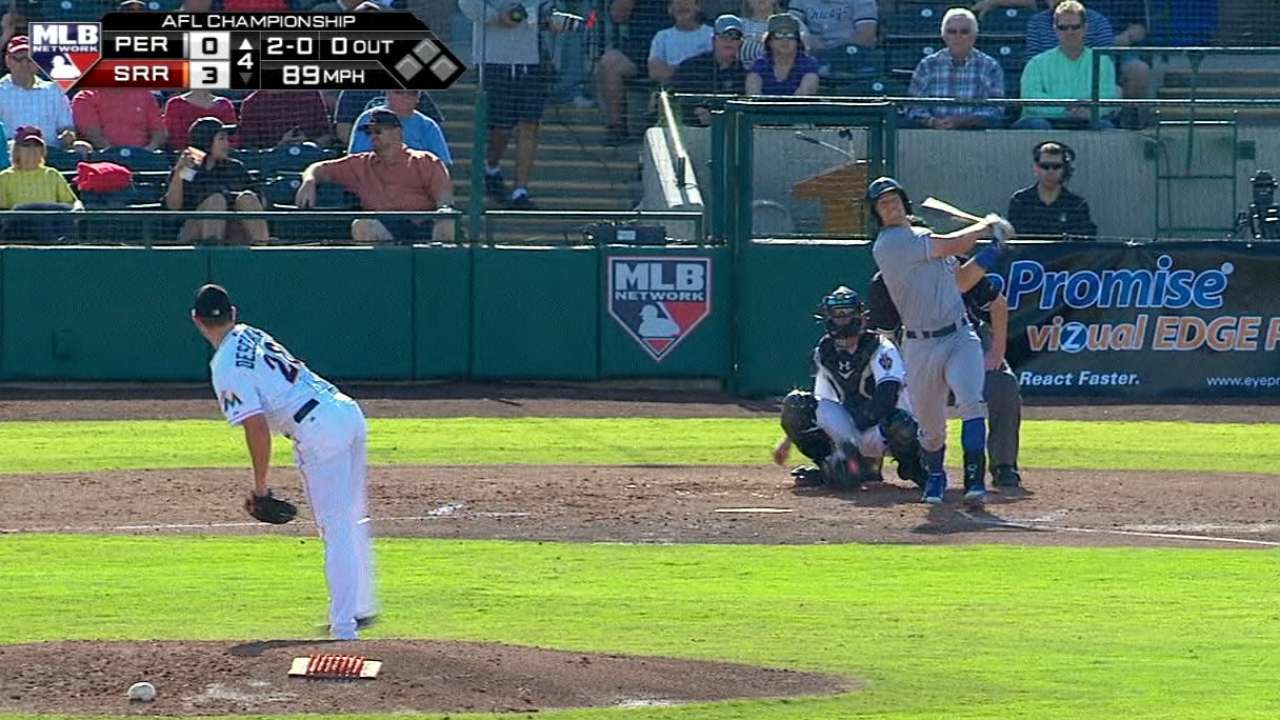 SURPRISE, Ariz. -- Hitting a baseball has never been an issue for third baseman Hunter Dozier, the Royals' top pick in the 2013 First-Year Player Draft.
Through Little League, high school, and college, where Dozier had a ridiculous 1.237 OPS his senior year at Stephen F. Austin State, he punished opposing pitchers.
Dozier, 23, continued to abuse pitchers in rookie ball for the Royals, hitting seven homers while posting a .912 OPS.
Even at Class A Advanced Wilmington in the Carolina League -- a pitchers' league -- Dozier managed an impressive .826 OPS last season before getting promoted to Double-A Northwest Arkansas.
After a decent start there, something strange happened to Dozier. He went through a slump, an actual, nasty two-week stretch in which he went 5-for-42.
Dozier was startled. He calls it the worst hitting slump of his young baseball life.
"I started out really well there and then ... I really struggled," Dozier said.
Dozier doesn't think it was necessarily the normal struggles a hitter might face as he climbs through the Minor Leagues.
"I think it would have happened anywhere, whether I was at high-A ball or Double-A," he said. "For some reason, I just started overthinking everything. I started looking for changeups when I shouldn't have. I should have just stayed with my normal routine."
Dozier recovered somewhat, but he still posted a career low slash line of .209/.303/.312 in 64 games at Northwest Arkansas.
Still, experiencing failure for the first time at the plate could turn out to be a positive thing, he said.
"It's good that I went through it," Dozier said. "Now I know how to snap out of one of those slumps. I know that I shouldn't change anything like my approach -- just stay with it, stay with the routine.
"The thing is, every hitter goes through it. It was good for me to go through it. I thought it was a good season overall."
And now, Dozier is looking forward to making bigger strides in 2015. He put on about 10 pounds of upper-body muscle in the offseason -- "I love the weight room" -- and he expects to keep rising through the Royals' system.
"I would love to get a callup, but that's up to them," he said. "I'll just continue to work hard and see what happens."
Jeffrey Flanagan is a reporter for MLB.com. Follow him on Twitter at @jflanagankc. This story was not subject to the approval of Major League Baseball or its clubs.