Sharp Harvey focuses on curve in live BP session
Mets batters largely unsuccessful as ace returns to original out pitch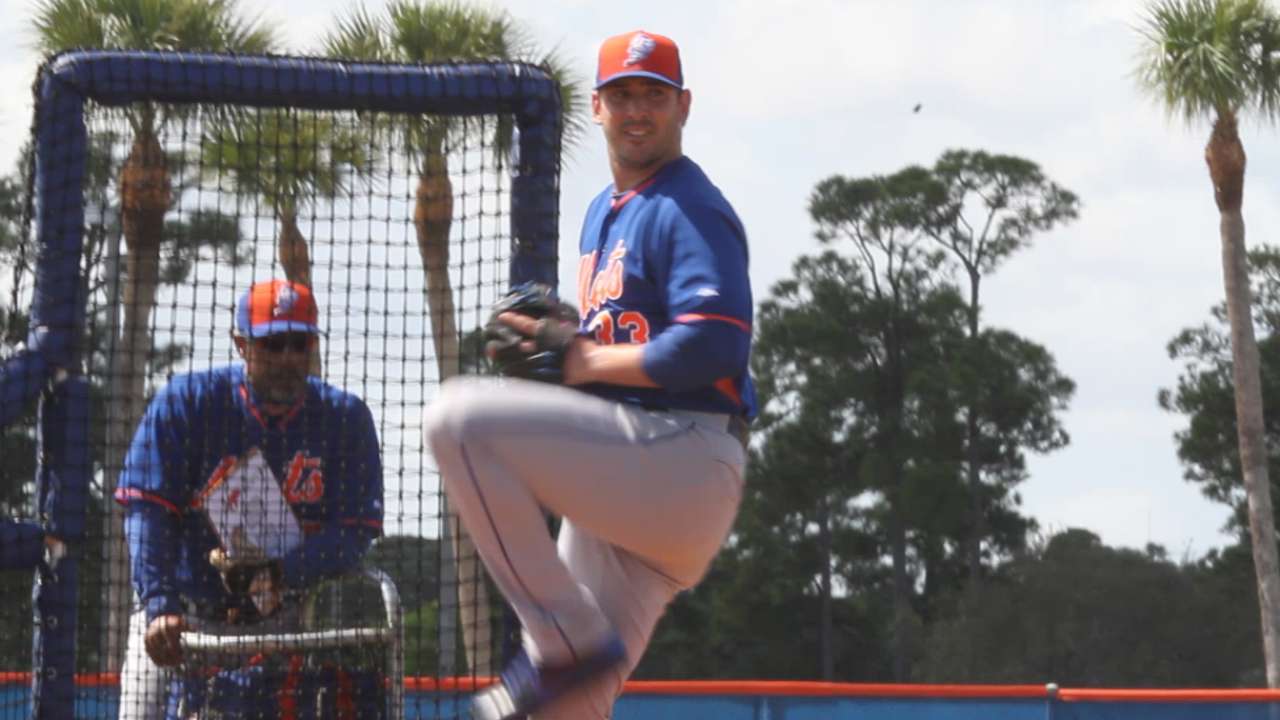 PORT ST. LUCIE, Fla. -- This early in spring, live batting practice is an exercise inherently stacked against hitters. David Wright calls facing a game-ready pitcher "impossible" at a time when he and his peers are simply trying to rediscover their timing at the plate.
So it was entirely unsurprising to Wright when Matt Harvey unleashed a tumbling curveball Monday and the third baseman not only swung through it, but dropped his shoulder, put his head down and half-whiffed, half-walked out of the batter's box.
Wright was not alone; for the first time this spring, hitters stepping into the cage regularly tried -- largely unsuccessfully -- to swing at pitches. Against Harvey, that resulted in several whiffs and a fair amount of weak contact.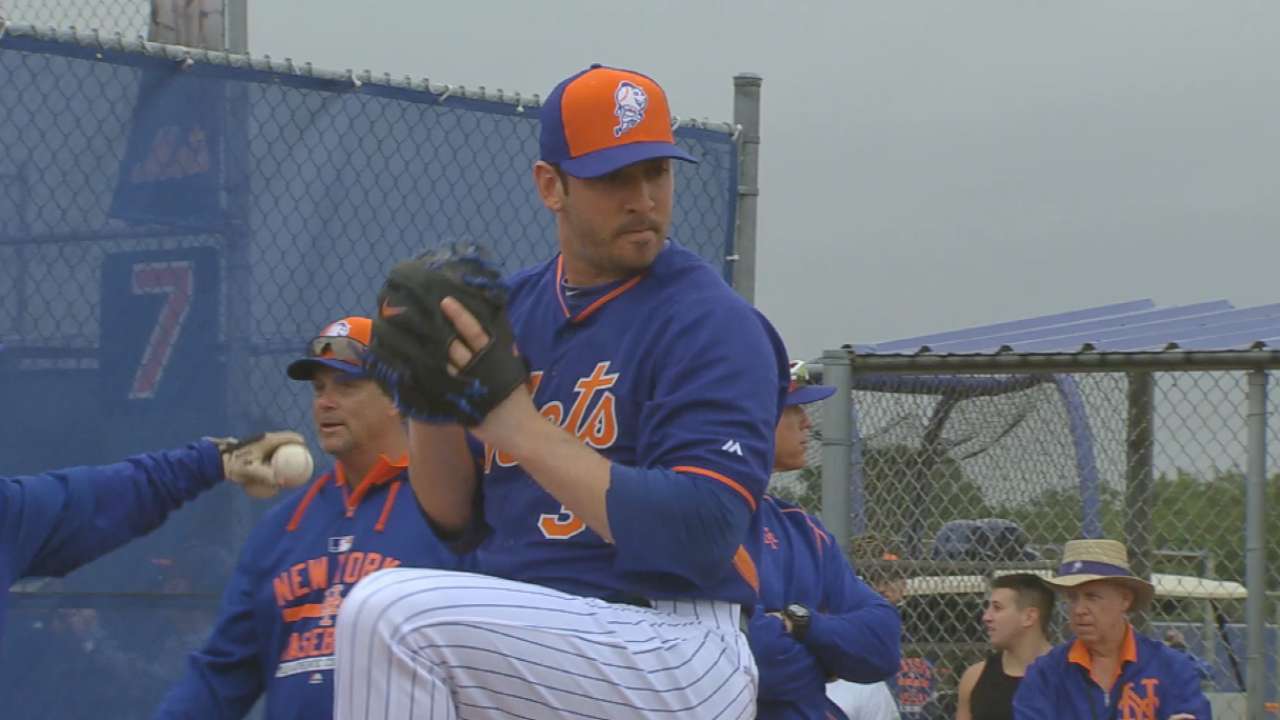 Harvey, in particular, focused on the curveball that was his primary out pitch in college before giving way to the slider early in his professional career. Coming off surgery, Harvey said, the curveball came easier to him, so he began throwing it more. And pitching coach Dan Warthen only encouraged it, noting that the curve places far less torque on his elbow than the slider.
"I'm a big believer in curveballs," manager Terry Collins said. "Sliders, obviously you can throw those a lot harder than you can a curveball. But the plane change on a curveball is a very, very good pitch. It takes less torque to throw a curveball. I always thought Matt had a very, very good one. I think it's a good pitch for him. It's a little something off his hard stuff that he can throw for strikes."
"It's a great combination to be able to throw a four-seam [fastball] up in the zone and come back with a curveball," Warthen said. "The delivery, everything is repeating itself beautifully right now."
Harvey, for his part, said he has no idea why the curveball came so naturally post-surgery, speculating that either his mechanics grew cleaner or "it just magically appeared."
"I always threw sliders," said Harvey, who threw approximately four of them for every three curves in 2013. "It's nice having that develop."
Still, though Harvey did his best to gauge the reactions of Wright, Curtis Granderson and others during Monday's session, a far more significant test will come Friday at Tradition Field. There, Harvey will face the Tigers in his first live game action since undergoing Tommy John surgery in Oct. 2013.
On the mound for Detroit will be left-hander David Price, who recently joined a growing chorus texting Harvey to offer support. The two met when Harvey was a student at the University of North Carolina and Price was pitching in nearby Durham. They kept in touch over the years, leading Price to contact Harvey with words of encouragement -- and perhaps a touch of trash talking.
At the time, it was a light moment between two of baseball's stars. Friday, it will be Harvey's job to brush aside Price and all other distractions, focusing instead on his continued development as March melts toward April.
"We still have a whole month to go," Harvey said. "I don't want to go out there and overwork or get too excited about one or two innings. I've been through Spring Training before. I realize there's still a lot of work to be done and still a lot of steps that need to be taken in order to be game-ready."
Anthony DiComo is a reporter for MLB.com. Follow him on Twitter @AnthonyDicomo. This story was not subject to the approval of Major League Baseball or its clubs.