MLB.com Columnist
Richard Justice
McHugh, Keuchel proving building blocks of success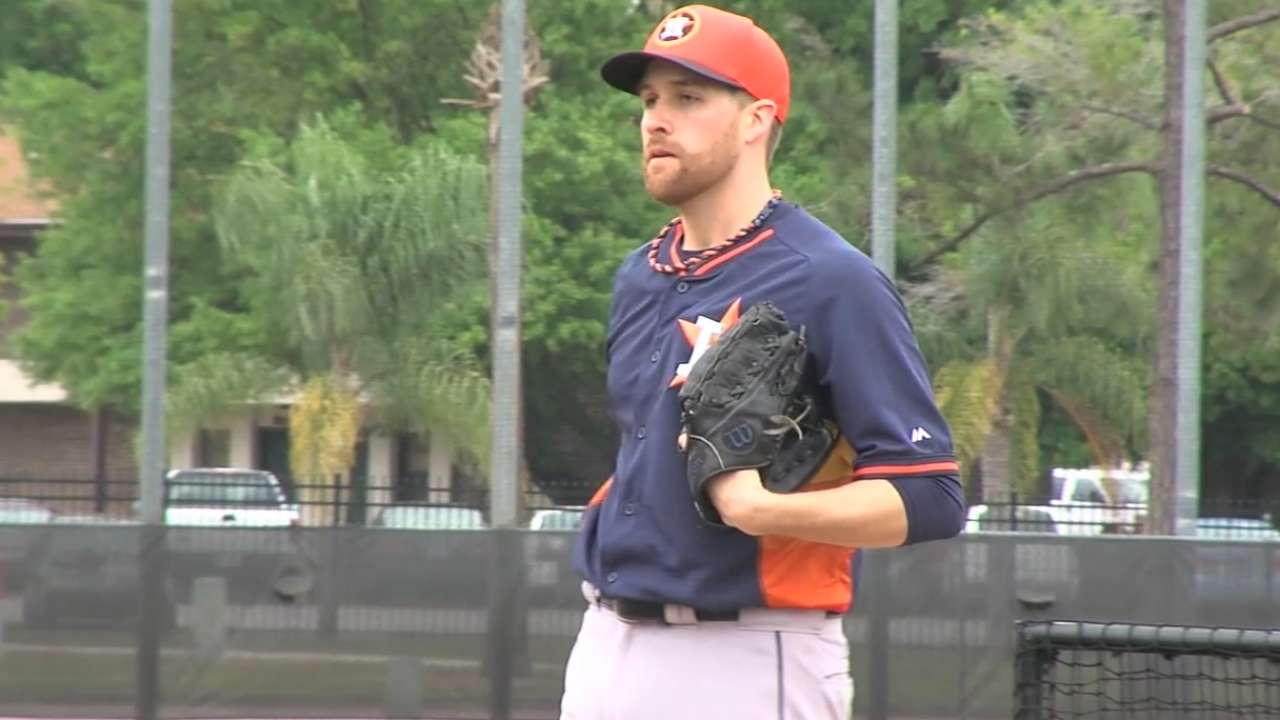 KISSIMMEE, Fla. -- The Houston Astros say it started with the two pitchers, Collin McHugh and Dallas Keuchel. They're the ones who deserve the credit for their success, because they were the ones who embraced change and executed every single pitch.
But it was more than that. It was a confirmation of how the Astros are doing business these days. It was the power of analytics identifying two pitchers with special gifts, and then offering a blueprint for success. It was also the work of a couple of really smart and innovative pitching gurus.
Here's the bottom line: The Astros got 354 2/3 innings, 54 starts and a combined 2.88 ERA from McHugh and Keuchel in 2014. Houston went 30-24 in their 54 starts, and 40-68 with anyone else on the mound.
In 63 big league appearances before last season, McHugh and Keuchel had gone 9-26 with a 5.82 ERA. Last year at this time, the Astros had no idea how much -- or if -- they would contribute.
Twelve months later, McHugh and Keuchel have made themselves part of the larger plan. They did it by changing their mechanics, pitch selection and mental approach. Keuchel dropped his curveball and polished a changeup. McHugh stopped throwing a two-seam fastball and went with a straight-as-an-arrow four-seamer.
Beyond the nuts and bolts, though, was an approach: Attack the strike zone, don't be afraid to throw above the belt and believe in your stuff. All of this work was a product of an analytics department that allowed the pitchers to emphasize what they did well and get away from what was getting them beat.
All in all, these two pitchers represent the kind of success stories that can help propel a team back into contention. On a personal level, two young guys -- both are 27 -- saw the careers they'd dreamed of having begin to take shape.
"Listen, they're the ones who did it," Astros pitching coach Brent Strom said. "As a Minor League coach, it's easy to go to a guy and demand that changes be made. It's different when guys are in the big leagues. This is their livelihood. They've made it to this point doing it their way. Sometimes, guys don't want to risk losing where they are."
Keuchel's success began with a remake of his delivery suggested by Strom and Houston bullpen coach Craig Bjornson.
"If you look back to his video in 2011-12, it was a completely different movement pattern last season," Strom said. "He's quicker to the plate."
Keuchel is so quick to the plate that he allowed just one stolen base in 2014.
"Dallas very rarely misses badly, and I think hitters realize that, so they're always on swing mode," Strom said. "He makes a lot of his pitches look like they're going to be strikes, and they end up being balls. And he makes balls look like strikes, which is what you want."
Keuchel became so consistent that he led the American League with five complete games and threw 200 innings for the first time in his career. In eliminating his curveball and focusing on his slider, he went back to the pitch that had played a role in his emergence in high school and at the University of Arkansas. Keuchel's attitude was also a factor.
"I wasn't afraid of contact," Keuchel said. "That's the biggest thing. That goes back to confidence. In hitter's counts, I wasn't afraid to use any pitch. I have some pretty good late sink on my fastball, and that helped out. Just being confident and throwing it in the count was huge."
McHugh was claimed off waivers from the Rockies. He remade himself by throwing straight fastballs, sometimes up in the strike zone, and challenging hitters. McHugh seldom throws 90 mph, but he was fourth in baseball last season in swings-and-misses inside the strike zone. Translation: Great control, deceptive delivery, willingness to change speeds.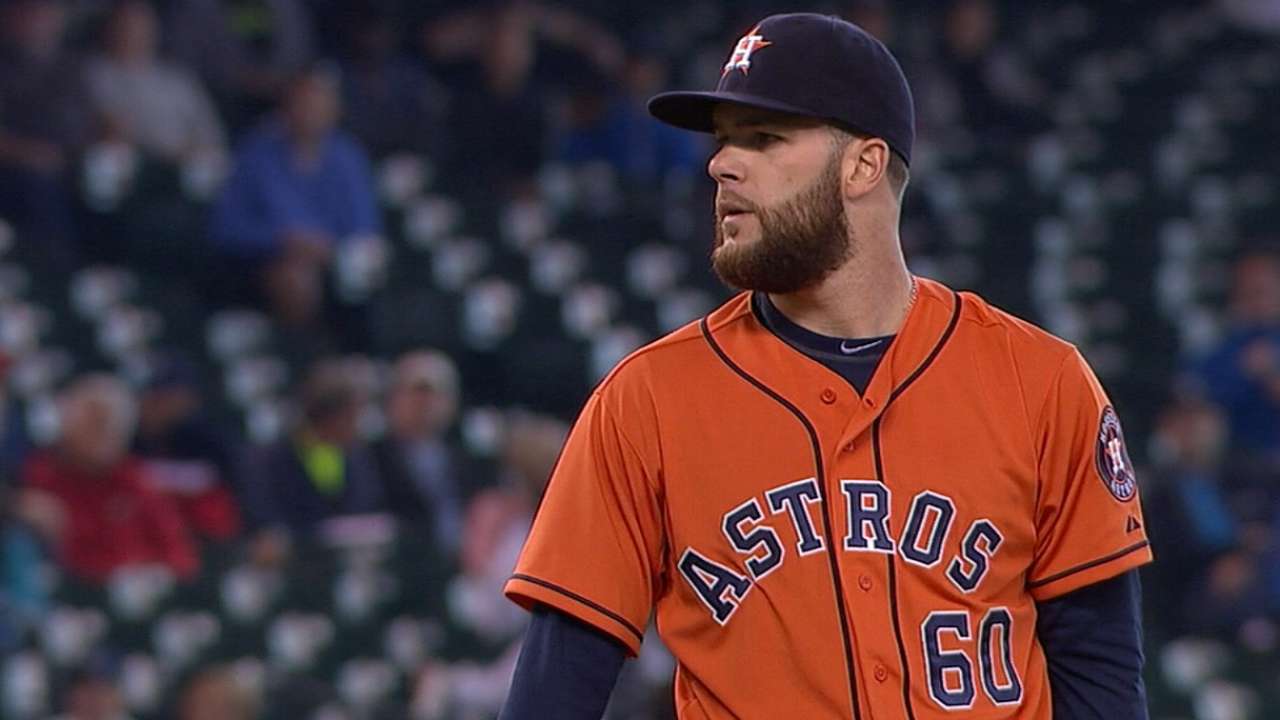 "Pitching above the belt is blasphemy in baseball," Strom said, "but by doing that, it opened up the bottom of the strike zone for his curveball. People say, 'Oh you can't throw the ball straight. You gotta get movement.' Not necessarily. He has this life to the ball up in the zone and it complements his big curveball, which is a plus pitch. Then he adds his cutter. This year, his changeup is much improved. That's his little go-to, is to develop the changeup more."
McHugh didn't get drafted out of high school and had just one scholarship offer -- to Division III Berry College. Because he's not physically imposing and doesn't throw hard, he's easy to underestimate. But McHugh's every start has become a clinic on throwing strikes, establishing tempo and keeping hitters off balance.
"Before, I was working more corners, getting behind in counts and putting myself in bad situations," McHugh said. "With the four-seamer, it's, 'Here it is, I'm coming right at you.' And I was able to spot the four-seamer a little bit better because it does have less movement. You're taught growing up to keep the ball down, keep the ball out of the middle of the plate. That's what I've always thought. But when you throw it up in the zone and see it work a couple of times, you're like, 'OK, maybe they're onto something.'"
McHugh and Keuchel's success has made them two more important building blocks in the reconstruction of the Astros. With an offseason focused on upgrading the lineup and bullpen, and with waves of young talent on the way, the future seems bright.
"I feel incredibly blessed to have gotten to this organization," McHugh said. "The Astros embrace a philosophy that says, 'We're going to take what these guys do well and make the most of it. We're not going to try and make everyone the same.' That attitude allows you to emphasize what you do and to grow."
Richard Justice is a columnist for MLB.com. Read his blog, Justice4U. This story was not subject to the approval of Major League Baseball or its clubs.