Berkman first of former Astros to lend hand at camp
Hinch has Bagwell, Biggio scheduled to help young Houston team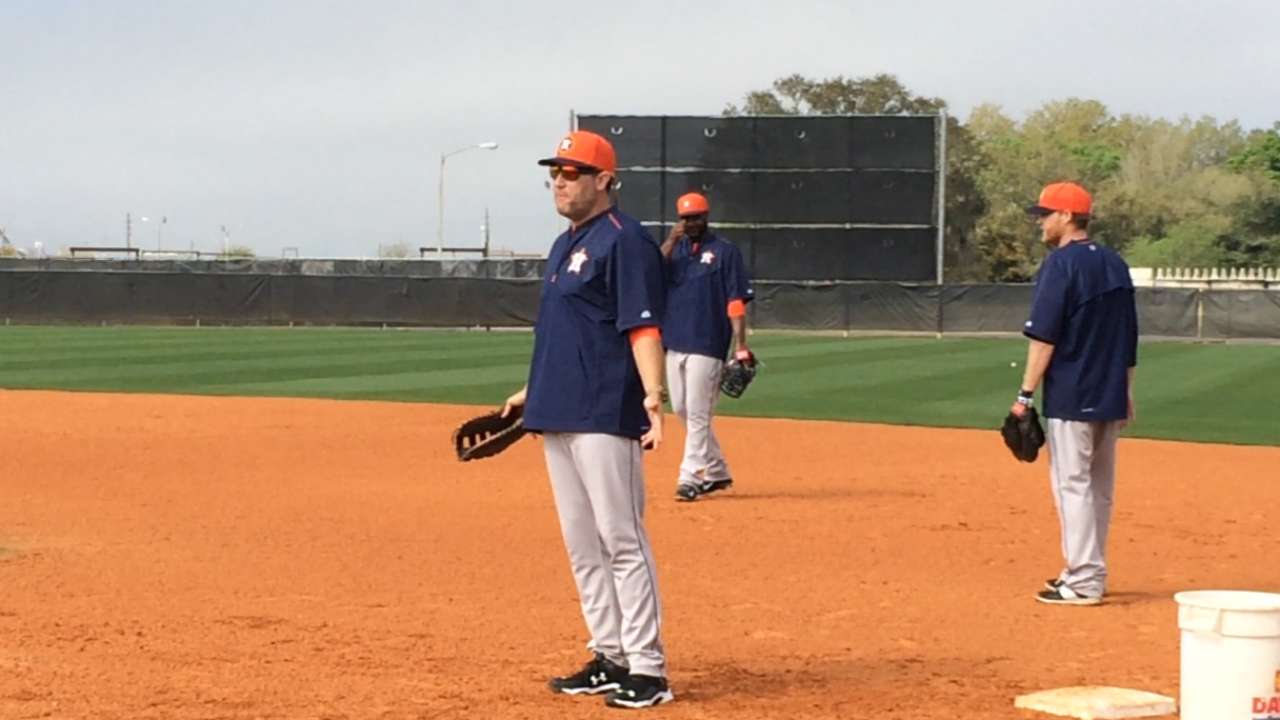 KISSIMMEE, Fla. -- The Astros have a long line of former players coming into training camp this spring at the urging of new manager A.J. Hinch. And first up on Monday was first baseman Lance Berkman, who played the bulk of his 15 seasons in Houston.
"This is exciting. It's awesome being back down here," said Berkman, who played for the Astros from his rookie season of 1999 until he was traded to the Yankees on July 31, 2010. "It's good to be back in the Astros uniform."
Berkman batted .296 with 326 of his 366 homers for the Astros and played for the team that was swept by the White Sox in the 2005 World Series, the only time in club history that the Astros have won the National League pennant. Berkman spent the morning on the backfields, hitting with guys off the tee and practicing positioning at first base. The latter was his first assignment.
"Working with pitchers on pitchers' fielding practice, feeding the ball to pitchers, things like that," he said.
The plan right now is to have Berkman followed into camp this spring by former teammates Jeff Bagwell, Craig Biggio and possibly Billy Wagner, plus previous generation Astros Enos Cabell and Nolan Ryan.
"That's a pretty strong contingent of former Astros, who are invested in the organization, who are invested in the game," Hinch said. "It's great to have them."
Biggio was elected to the National Baseball Hall of Fame earlier this year by eligible members of the Baseball Writers' Association of America and will be inducted at Cooperstown, N.Y., on July 26 along with pitchers Randy Johnson, Pedro Martinez and John Smoltz.
Biggio, who amassed 3,060 hits during his 20-year career -- all with the Astros -- made it in his third try on the ballot with 82.7 percent of the vote. And it was high time he did, Berkman said. Biggio missed by two votes in 2014. Any candidate for the Hall must be named on 75-percent of the ballots to be elected.
"Absolutely, it was about time," Berkman said about Biggio. "Who knows what individual voters were thinking? It just seemed to me that everyone knows he's a Hall of Famer. You just have some voters, they consider themselves guardians of the Hall, and so they want to make sure they put guys through the wringer before they get in there.
"But I thought he was a first-ballot Hall of Famer for sure. Should have been. I'm glad he's in there now."
Berkman said he's on spring break from classes at Rice University where he's only 12 units shy of earning his bachelor's degree in kinesiology -- the study of human movements. Thus, this week was the only time available this spring for him to visit camp. Once a coaching and teaching major, Berkman said he plans to utilize the degree if he decides to teach or become a college baseball coach. Rice no longer offers his former field of study.
"I told them whatever the easiest degree at Rice is that's what I want," Berkman said. "It's not really that easy, though. They don't have basket weaving or anything like that. They're kind of snobby intellectually."
Barry M. Bloom is a national reporter for MLB.com and writes an MLBlog, Boomskie on Baseball. Follow @boomskie on Twitter. This story was not subject to the approval of Major League Baseball or its clubs.