Missed out on Trout? 5 options for No. 2 fantasy pick
Stanton, McCutchen, Goldschmidt, Kershaw and Miggy each have strong cases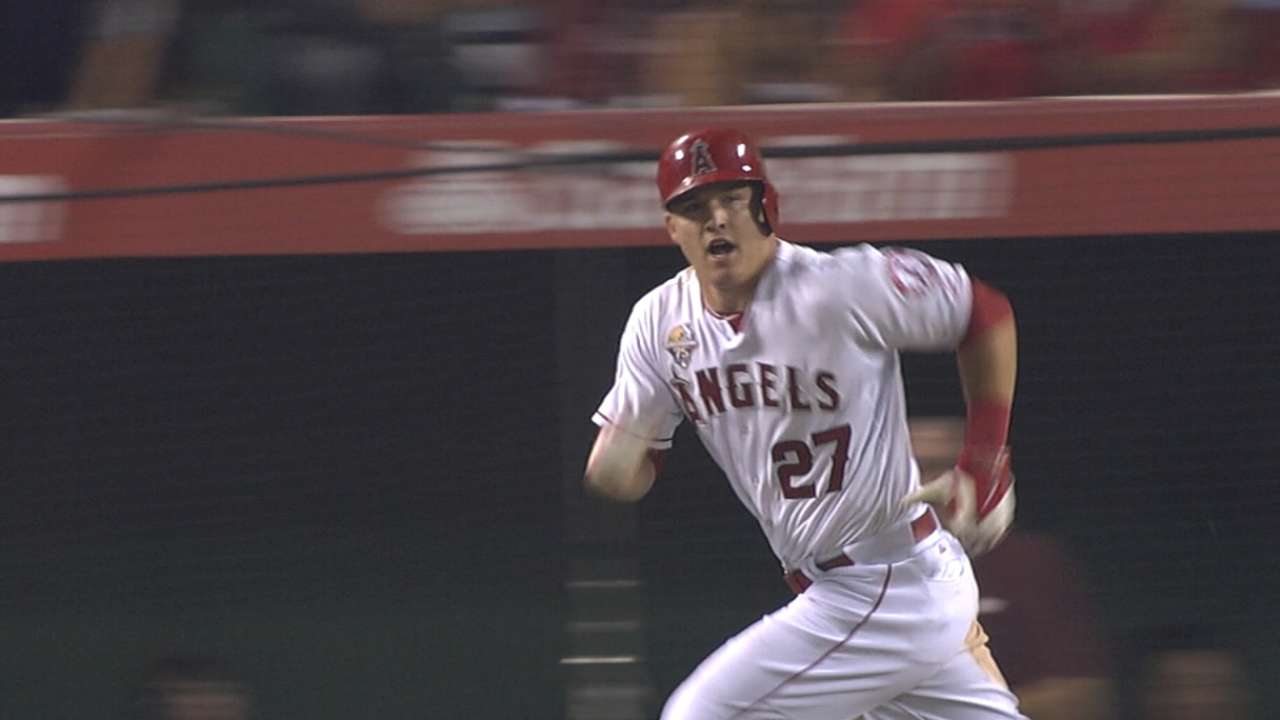 Mike Trout is dominating the fantasy baseball landscape as much as any player has in recent years. The Angels' center fielder will be selected first overall in nearly every 2015 draft, so the real debate begins once Trout is taken. The second-overall selection is full of intrigue, as five players have a legitimate claim to be pick No. 2.
History has taught us that approximately 40 percent of top-five selections do not produce first-round value in the upcoming season. Owners who pick from the two-hole will be among the last to make their second-round pick, so choosing wisely when picking the centerpiece of their rosters is essential. Here's a look at all five options for the second overall pick:
MLB.com Player Preview Projection: 40 HR, 96 R, 100 RBI, 9 SB, .282 average.
Reasons to choose Stanton: Power has become a premium commodity in recent seasons, and the Marlins slugger is the most likely candidate reach the 40-homer plateau in 2015. As he enters his prime years, Stanton -- who likely would have reached the 40-homer mark in 2014 had he not suffered a mid-September head injury -- could be on the verge of multiple home run crowns. The slugger also chipped in 13 steals last season, so he is not a one-trick pony.
Reasons to go in another direction: Stanton is coming off a serious head injury that occurred when he was hit with a pitch last September. He will wear a protective face shield this season, and it remains to be seen if the psychological or physical effects of the injury will affect him at the dish. Stanton hit .288 in 2014, but his average could slide if he cannot sustain an unusually high .353 BABIP. The 25-year-old is also a sizable injury risk, as he played in 123 games in 2012 and 116 games in 2013.
Zinkie's opinion: My fourth-overall choice, Stanton has as much upside as anyone not named Trout. The slugger is not without risk, however. I think he could easily hit 45 homers in 2015, but a .255 batting average would not shock me.
MLB.com Player Preview Projection: 27 HR, 92 R, 88 RBI, 22 SB, .306 average.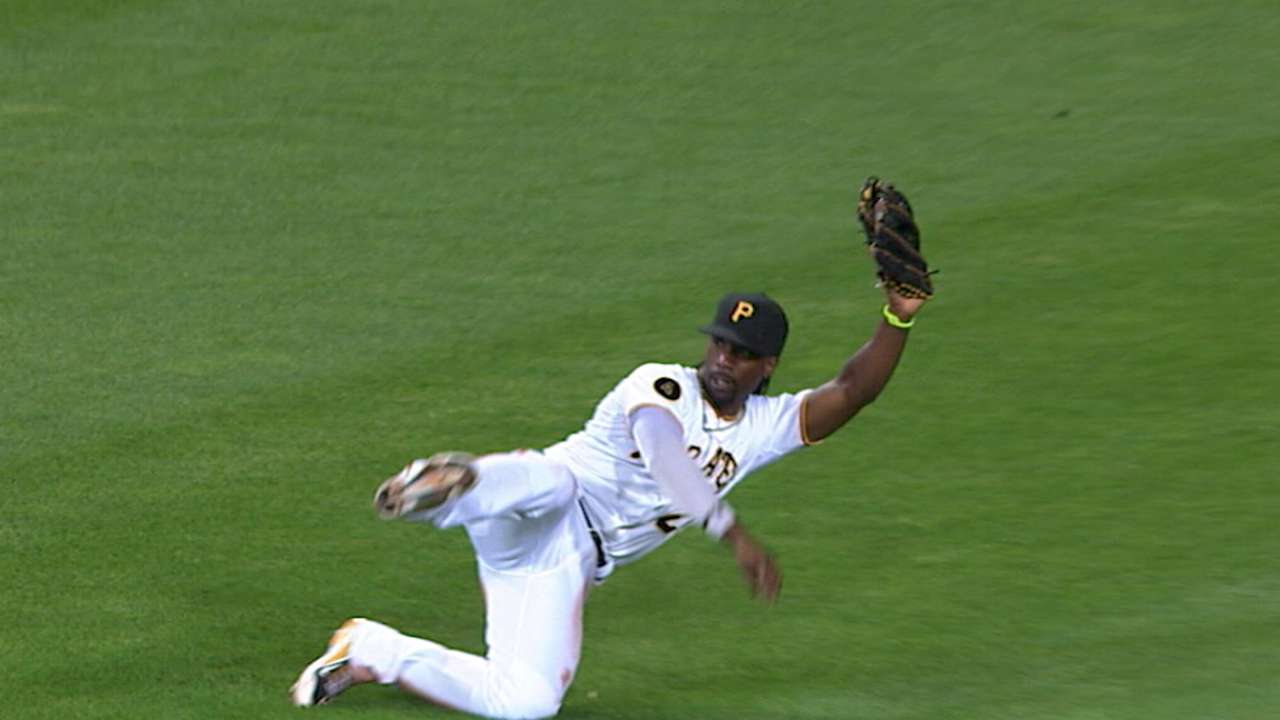 Reasons to choose McCutchen: The Bucs superstar is undoubtedly the safest option. McCutchen has missed a total of 38 games across the past five seasons, exceeded the 20-homer mark in four straight years and swiped at least 18 bases in all six of his Major League campaigns. Additionally, he has hit at least .314 in each of the past three years. At age 28, McCutchen should be in the midst of a memorable run of MVP-caliber seasons.
Reasons to go in another direction: Even though McCutchen is talented, athletic and durable, he is arguably a bit underwhelming as the No. 2 pick. The center fielder has just one 30-homer season and 30-steal campaign, and he did not accomplish either feat in the past two years. Furthermore, he has never recorded 100 RBIs in a campaign and has only once passed the century mark in runs.
Zinkie's opinion: I would rank McCutchen second overall, first after Trout. He may not have the upside of the other guys, but he is arguably the safest. Fantasy drafts can't be won in the first round. They can, however, be lost with a bad pick."
MLB.com Player Preview Projection: 31 HR, 100 R, 106 RBI, 12 SB, .296 average.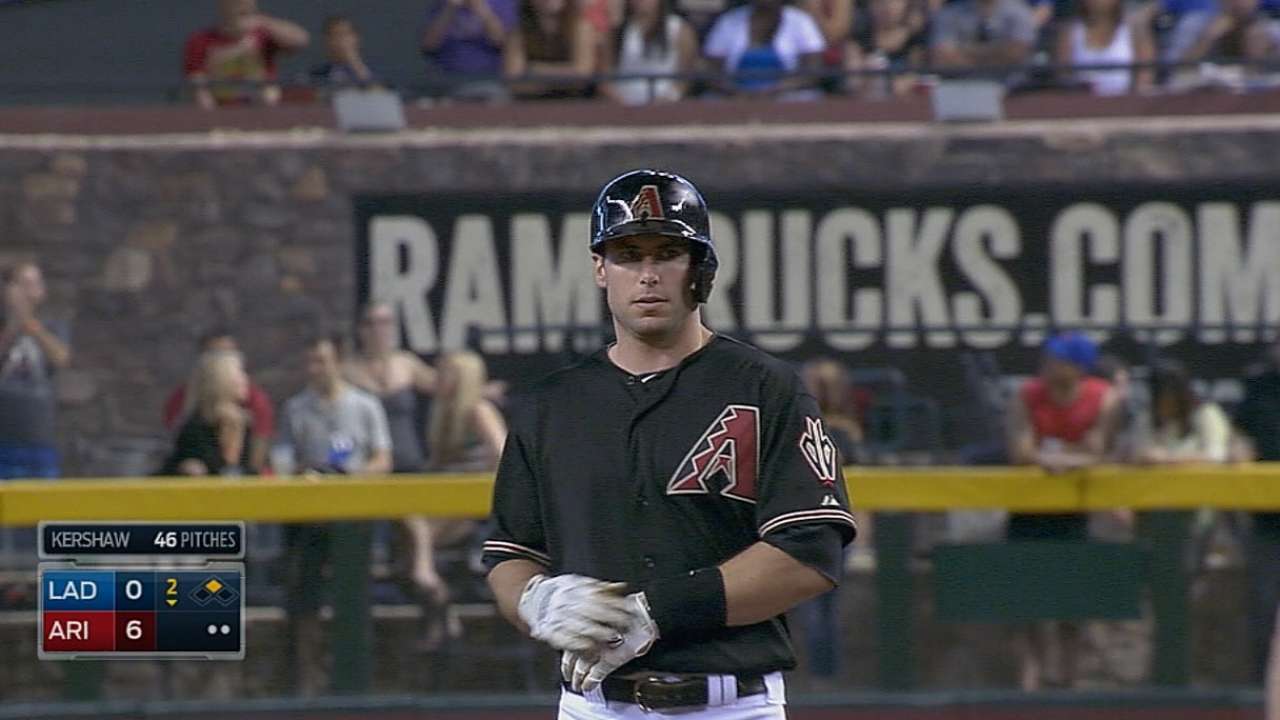 Reasons to choose Goldschmidt: The 27-year-old ranks only slightly behind Stanton among baseball's best young power hitters. Goldschmidt collected 36 homers and 125 RBIs in 2013, and he could challenge Trout for top-hitter status if he can repeat those numbers this season. The D-backs' stalwart also ranks alongside Stanton as one of the few top-tier sluggers who can reach double digits in steals.
Reasons to go in another direction: Goldschmidt was on pace for fewer than 30 long balls last season prior to suffering a season-ending hand injury in early August. The Delaware native will be a viable first-round option if he can emulate his 2014 pace, but he will need to come closer to his 2013 production in order to warrant the second-overall selection.
Zinkie's opinion: My fifth-overall selection, Goldschmidt has 30-35 homer, 12-15 steal, .300 average upside. With his hitter-friendly ballpark, Goldy could easily be the second-best pick in 2016 drafts.
MLB.com Player Preview Projection: 20-6, 2.02 ERA, 0.91 WHIP, 257 strikeouts.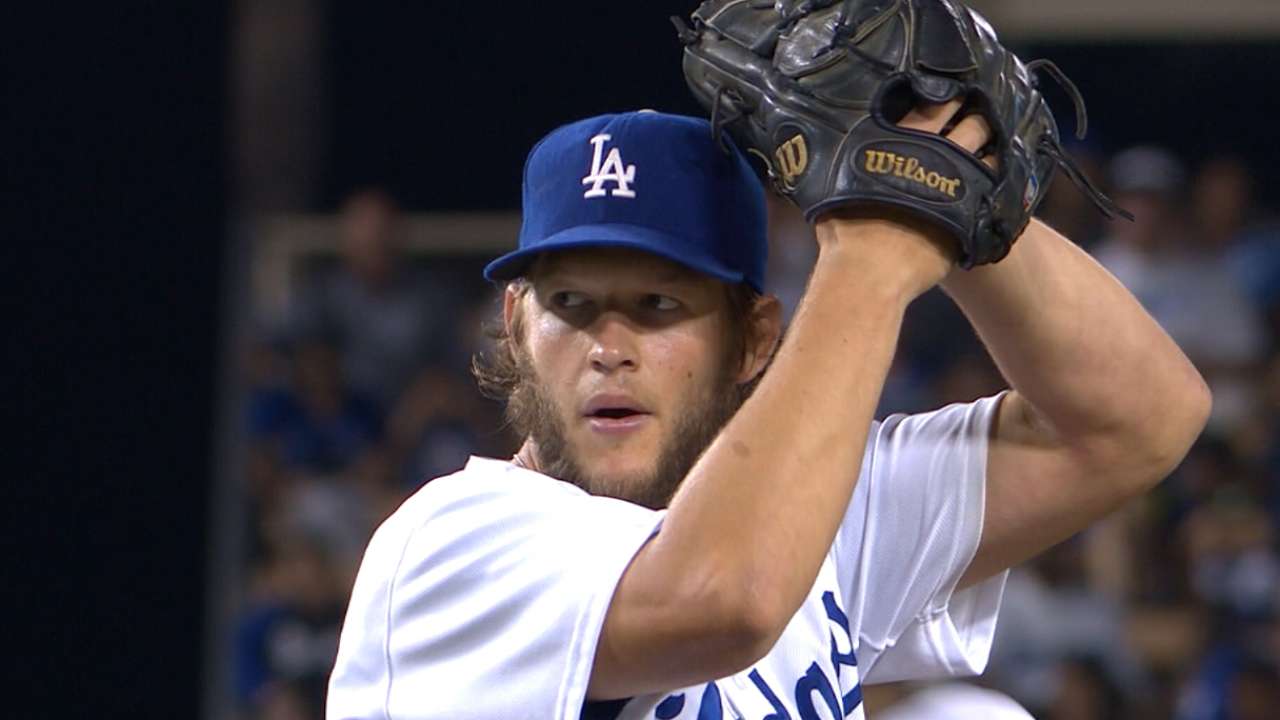 Reasons to choose Kershaw: Even in an era of outstanding pitching, Kershaw's back-to-back seasons with a sub-2.00 ERA and a sub-0.95 WHIP put him in a tier all by himself. Had the lefty not missed the entire month of April in 2014, he may have ended the season with 25 wins and 280 K's. The 26-year-old is entering his prime and has no history of arm issues, so he has a good chance to maintain his recent levels of dominance.
Reasons to go in another direction: The main reason to bypass Kershaw has little to do with his skills and more to do with the surplus of quality aces available in the third and fourth rounds of mixed-league drafts. Some fantasy owners could also be scared away from a major investment in a starting pitcher due to concerns that any minor injury could lead to a lengthy disabled-list stint.
Zinkie's opinion: My third-overall option, Kershaw is in the midst of an epic career peak. In a vacuum, he is definitely the second-best player in fantasy. But with the depth of pitching in the game today, I can't take him right after Trout.
MLB.com Player Preview Projection: 31 HR, 90 R, 107 RBI, 1 SB, .313 average.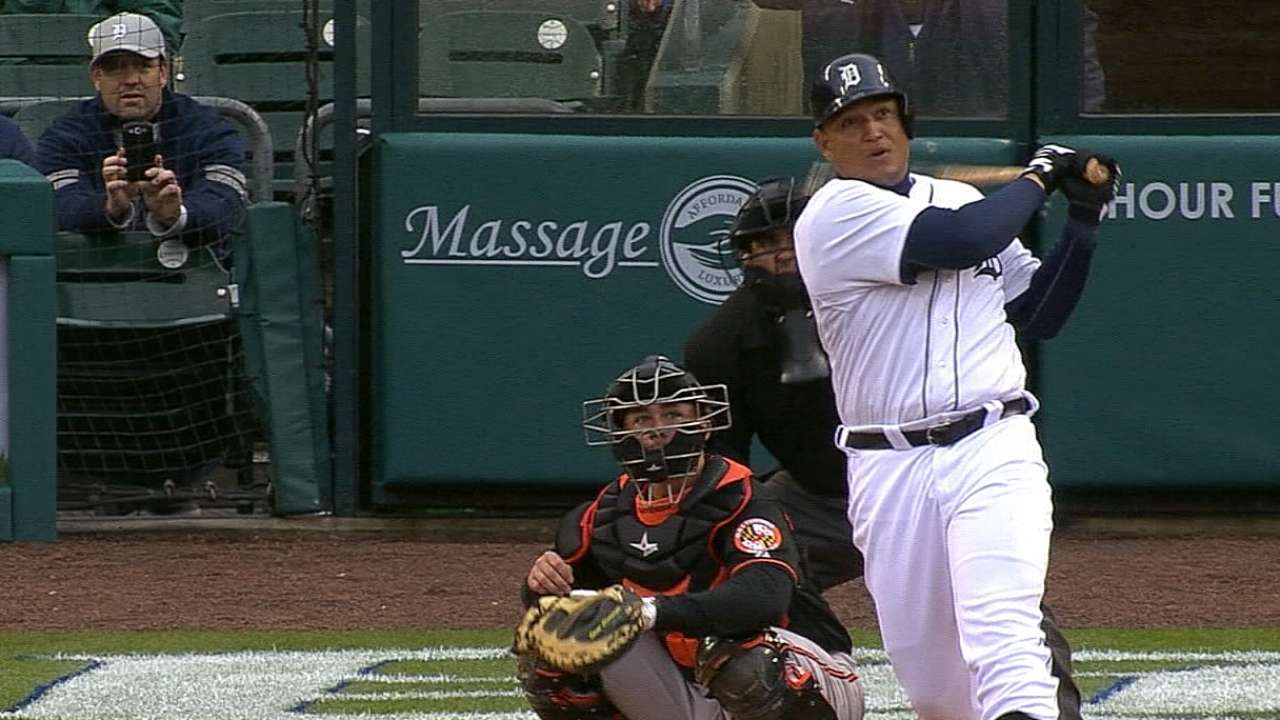 Reasons to choose Cabrera: No hitter in baseball can match Cabrera's ongoing track record for elite production. Across the past 11 seasons, the 31-year-old has never failed to reach 25 homers, 100 RBIs and a .290 batting average. During that streak, he has nine 30-homer campaigns, nine years with a batting average over .310 and eight 110-RBI efforts. Many fantasy stars have come and gone during the past decade, but Cabrera has continued to deliver first-round numbers.
Reasons to go in another direction: Even though Cabrera was great in 2014, his 25 homers represented his lowest total since his rookie year in 2003, and his .313 batting average was his lowest since 2008. The native Venezuelan could be in the midst of a dip from elite to merely excellent. Also, Cabrera is on the comeback trail from offseason foot surgery -- his second operation in as many offseasons -- so his ability to play sans injury should not be taken for granted.
Zinkie's opinion: My sixth-overall pick, Miggy is at the bottom of this group because of health woes; he's undergone surgery during each of the past two offseasons. To rise on this list, Cabrera will have to return to his 35-homer ways, especially considering he is the only hitter on this list who doesn't steal bases.
Fred Zinkie is a fantasy baseball writer for MLB.com. Follow him on Twitter at @FredZinkieMLB. This story was not subject to the approval of Major League Baseball or its clubs.