Tanaka faces hitters for first time in spring
Right-hander cautious, but feels 'perfectly fine' after throwing to Gardner, others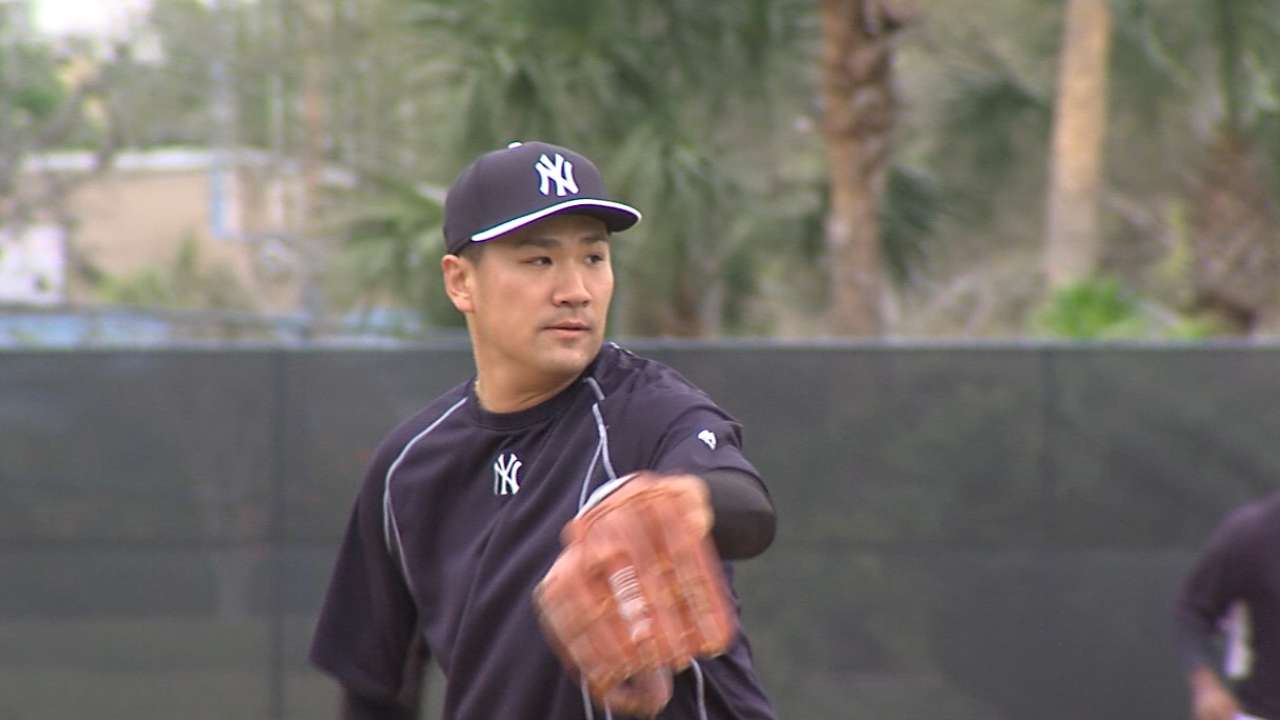 TAMPA, Fla. -- Right-hander Masahiro Tanaka, the $155 million starting pitcher who made only two starts after July 8 last season due to a partially torn ligament in his elbow, faced hitters for the first time Monday at George M. Steinbrenner Field.
It was just five pitches each to Brett Gardner, Chris Young, Ramon Flores, Jonathan Galvez and Tyler Austin, plus two pitchouts. Manager Joe Girardi and several of his lieutenants watched intently from behind the mound, and general manager Brian Cashman headed up a front-office delegation behind the batting cage.
The scrutiny is understandable. Tanaka, who opted against surgery, is integral to the Yankees' hopes of returning to the playoffs this season. In 2014, his first year in the Major Leagues, he went 13-5 with a 2.77 earned run average in 20 starts.
"For the first time, I think it went well," Tanaka said through his interpreter.
He added that he purposely didn't throw as hard as he had been earlier in camp. "I tried not to go too, too hard on the mound. That's what I was thinking. The reason is, because it's natural, once you get on the mound and once you're facing batters, you want to go hard. In order for me to not do that too much, I thought in my mind to not go too hard.
"My body's perfectly fine. I understand everybody's worried about the elbow and I understand too that I have to be cautious about it, as well, but so far it's been good."
"I thought he looked good. He's right where we want him to be," said Girardi.
The manager added that he will not be on the edge of his seat every time Tanaka throws a pitch. "If I worry every pitch, it's just going to drive me crazy. It's not worth it. If it's going to happen, it's going to happen. Hopefully he'll get through the year and be really healthy."
The next step for Tanaka will be to throw another bullpen or simulated game. Girardi added that left-hander CC Sabathia, whose season was ended by July 23 right knee surgery last year, will face hitters for the first time in batting practice shortly and could pitch in a Grapefruit League game as early as next week.
Paul Hagen is a reporter for MLB.com. This story was not subject to the approval of Major League Baseball or its clubs.