Recently retired Pierre visits Marlins 'family'
Catalyst on 2003 World Series title team, former outfielder has open invitation to serve as coach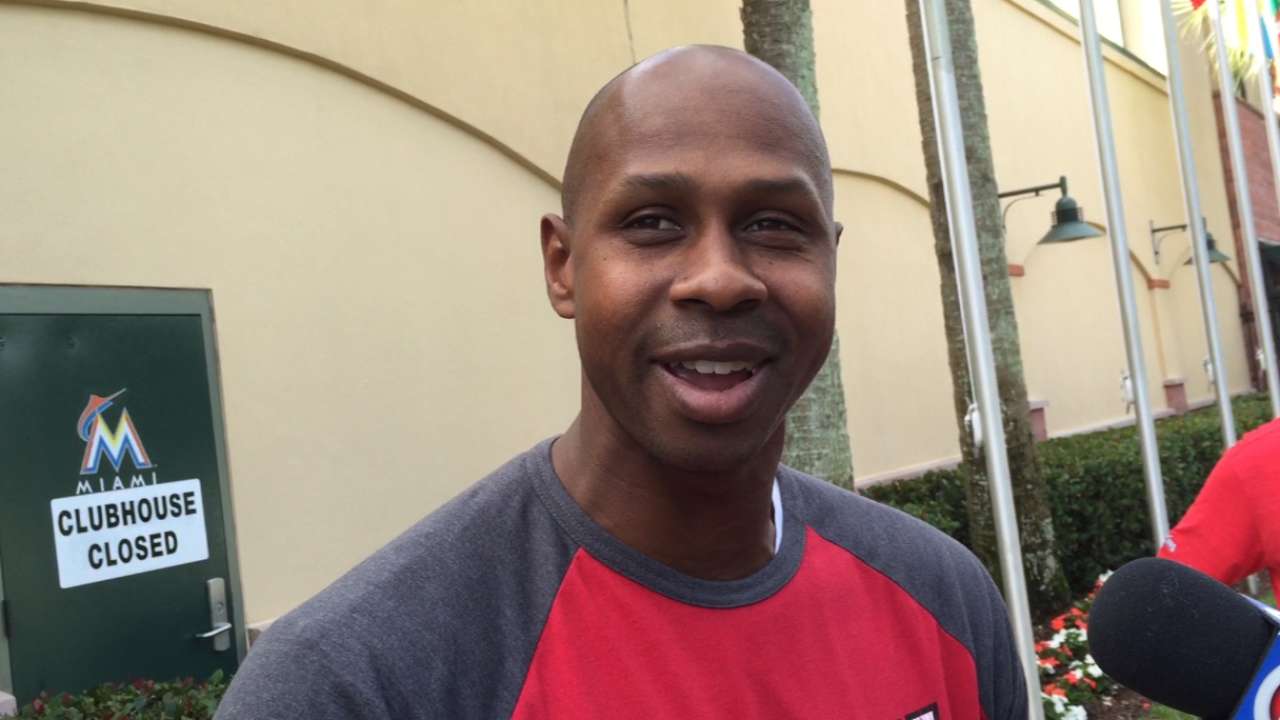 JUPITER, Fla. -- A couple of days after announcing his retirement, Juan Pierre couldn't stay away from the ballfield. The Marlins couldn't be happier.
Pierre stopped by the Roger Dean Stadium complex on Monday, sporting a Miami Heat T-shirt and his mild-mannered enthusiasm.
"Field 6 is where I was made," Pierre said.
One of the hardest workers in franchise history, Pierre regularly started his Spring Training days in the batting cages before 7 a.m. ET. He'd get his outfield work done on Field 6 of the spacious complex.
"The Marlins, that's my family," the former outfielder and lineup sparkplug said. "It's the one organization that's always supported me. Obviously, we won the World Series, that helps the relationship a lot. They always shot me straight."
The catalyst on the Marlins' 2003 World Series title team, Pierre enjoyed a 14-year career, posting 2,217 hits and 614 stolen bases. With his game-changing speed, he had a slash line of .295/.343/.361.
Pierre's last season was 2013, and once he didn't get as much as a Spring Training invitation the past two years, the now 36-year-old announced his retirement on Friday.
The past two years, the Marlins told Pierre he has an open invitation to join the organization in a coaching capacity.
"After the [2013] season he played for us, we talked a long time about a lot of different things," manager Mike Redmond said. "I know he was trying to play, wanting to play. I told him, 'Hey, man, when that day comes that you retire, give me a call, let me know. We'd love to have you around and be a part of this organization.'"
For now, Pierre is saying no thanks. In his words, he's being "Mr. Mom," putting his two children -- Joshua (3) and Jonathan (five months) to bed every night.
"They won't let my wife do it, I have to do it," Pierre said smiling. "So I enjoy little things like that. Maybe down the road, I'll get back into it in some capacity. I don't know yet. Definitely the love for the game is still there.
"My ideal job is Spring Training, between 7 and 9:30, early work, then I go home."
Redmond laughed when he heard the hours, because Pierre was known for arriving early and leaving late. Long hours never bothered him.
Pierre lives in Parkland, Fla., a 40-minute drive from Jupiter. He hasn't ruled out wearing a uniform occasionally in Spring Training and offering instruction.
"This is definitely an organization that put me on the map," Pierre said. "They boosted my career and supported it, non-stop."
Joe Frisaro is a reporter for MLB.com. He writes a blog, called The Fish Pond. Follow him on Twitter @JoeFrisaro. This story was not subject to the approval of Major League Baseball or its clubs.