With games fast approaching, 3 areas for Reds to settle
Manager Price looking to fill in the gaps in rotation, bullpen and bench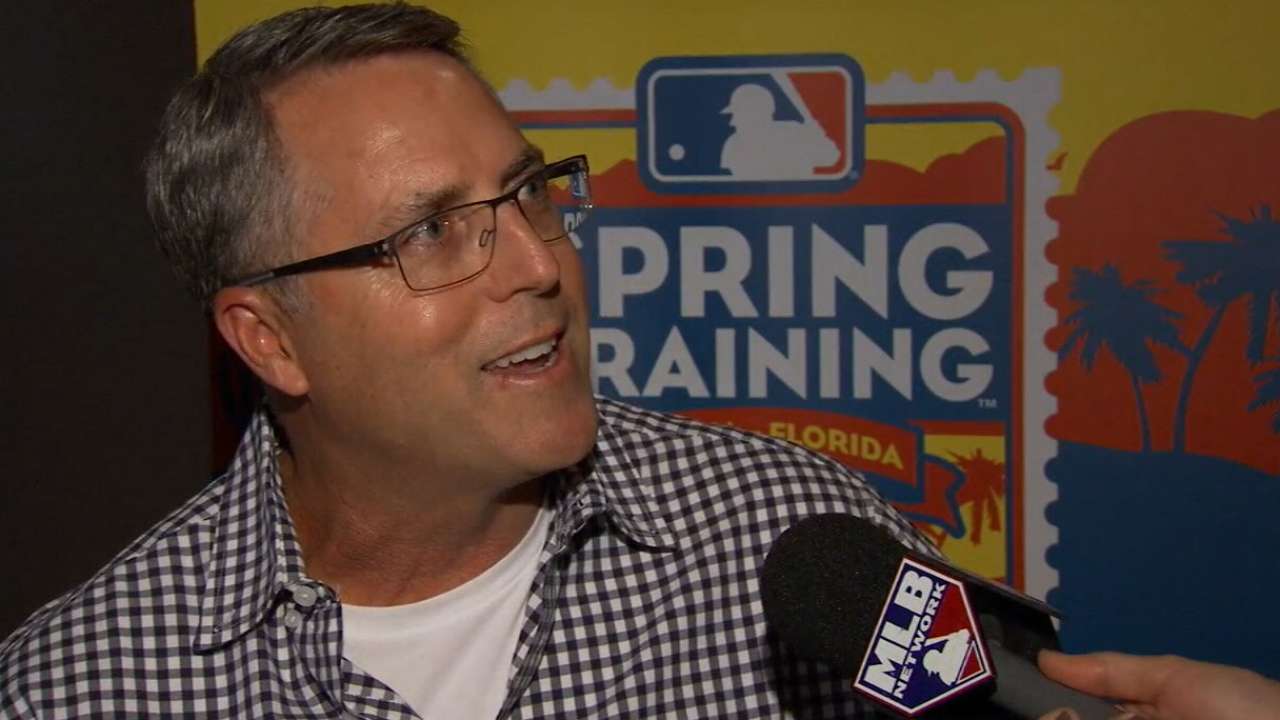 GOODYEAR, Ariz. -- Following about two weeks of drills, meetings, batting practice and bullpen sessions, Spring Training moves to a much-anticipated and more tangible phase. Tuesday will mark the start of games, as the Reds will play the first of three straight vs. the Indians at Goodyear Ballpark (3:05 p.m. ET on MLB.TV and Gameday Audio).
"You put all the work in, but you finally get a chance to get on the field and play a game where the real competition comes out," Cincinnati center fielder Billy Hamilton said. "It's been a good spring. I felt like last year, we were working in camp for 2 1/2 weeks before we played the game. Now, it feels like we just started camp and the games come. That makes it even better. Practicing is a good thing, but you always want to show what you can do on the field. I'm excited about it. It should be fun."
While the Reds have already settled their eight position players, there are numerous unsettled situations for the 25-man roster.
• Two rotation spots are open, with the likelihood of a third, assuming Homer Bailey isn't ready for the first couple of starts of the season. The competition will start promptly with rotation candidate and non-roster invitee Jason Marquis starting on Tuesday vs. the Indians' Zach McAllister. Other starting pitchers seeking to make Cincinnati's roster this spring are Tony Cingrani, Anthony DeSclafani, Raisel Iglesias, David Holmberg and Dylan Axelrod.
• There are multiple bullpen spots up for grabs.
• Other than backup catcher Brayan Pena and outfielder/second baseman Skip Schumaker, the bench is unsettled.
"We've got a lot of guys we need to see," manager Bryan Price said. "The guys I already know are on the club, I already know their schedule leading up to Opening Day. It's filling those other gaps with the other players that are competing for spots on the team. It's really exciting. It's something I look forward to it."
Spring statistics won't be the determining factor for Price, general manager Walt Jocketty and the coaching staff, as numbers can be deceiving. For example, Dave Sappelt batted .564 in the 2011 camp before he was cut. Last year, Roger Bernadina made the club after batting .413/.518/.739 and didn't do well during the regular season.
Conditions are also different in Arizona with higher altitude, harder infields and a high sky that makes fly balls harder to track.
"So we have to do a really good job as a staff in evaluating players from what we see in all different areas -- not just the line score," Price said. "A lot of times, if you base it on statistics, the guys you thought were going to make the club wouldn't. I'm not going to say, 'Throw it out the window.' What we have to see is command, ability to make secondary pitches behind in the count, how our guys compete, hold runners and try to find out who are the best guys to make our club."
Mark Sheldon is a reporter for MLB.com. Read his blog, Mark My Word, and follow him on Twitter @m_sheldon. This story was not subject to the approval of Major League Baseball or its clubs.