Courageous teenager works out with Wood, Braves
Ritter played with titanium rods in back after removal of foot-long tumor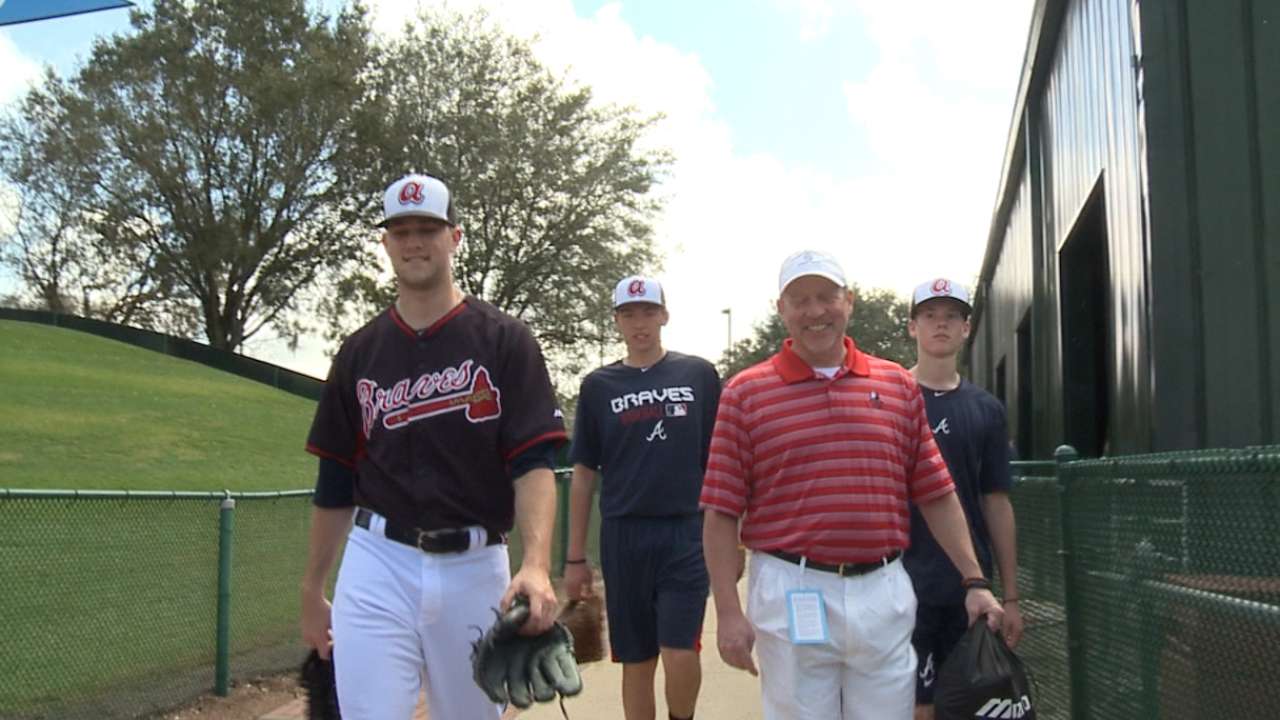 LAKE BUENA VISTA, Fla. -- As he has undergone multiple surgeries to remove a foot-long tumor from his spine and continued to play high school sports with titanium rods in his back, Thompson Ritter has maintained a passion for baseball that was enriched when he accepted Alex Wood's invitation to work out with the Braves during Monday's practice.
Wood extended the invite on Sunday night after hearing the 17-year-old Ritter tell his inspirational story to a group of individuals who traveled to the Orlando area to participate in Children's Healthcare of Atlanta's Birdies and Baseball golf scramble, which was played Monday afternoon.
"It's fun hanging around him," Wood said. "It truly is inspiring. Everybody has their own stuff, but hearing his story and everything they've overcome as a family is pretty tremendous. I'm glad they let me in on a part of their journey, so I figured I'd let them in on a part of mine."
Joined by his parents, Charlie and Jennifer, and his 15-year-old brother, Charlie, Thompson toured the clubhouse, stretched with the players and then participated in some PFP (Pitcher Fielding Practice) drills. As Wood completed a side session, the Ritter boys sat directly behind him and conversed with former Braves pitcher Steve Avery, who is in camp this week as a guest instructor.
"My mom, I think, was more excited to see [Avery] than I was," Thompson Ritter said. "She's a big Braves fan and watched him when he was playing."
It was certainly a thrill for the Ritters, who have spent most of the past five years watching their oldest son battle through debilitating back ailments. Thompson was diagnosed with scoliosis in 2010, and eight months later, he was admitted to the pediatric intensive care unit when an MRI showed a 12-inch tumor along his spine. Though he was unable to walk initially after this procedure, he was playing baseball a few months later.
Doctors inserted two titanium rods in his back the following year. Then another MRI exam performed in December 2013 showed the tumor had returned to his spine. Two surgeries later, the tumor was removed and Ritter was cleared to resume his role as a left-handed pitcher for George Walton Academy, which is located in Monroe, Ga.
"It was pretty special hearing [the Ritters] speak last night, and I told them that I hope they continue to share their story with as many people as they can, because it truly is inspiring," Wood said. "I figure the least we could do was get them out here today and have them hang out for a little while, especially with them being from Georgia and being some Braves fans and Dawg [University of Georgia] fans as well."
Mark Bowman is a reporter for MLB.com. This story was not subject to the approval of Major League Baseball or its clubs.