'Nicest guy in baseball' took alternate route to The Show
Cursi reflects on memorable tenure with Rays, which began as bullpen coach in '99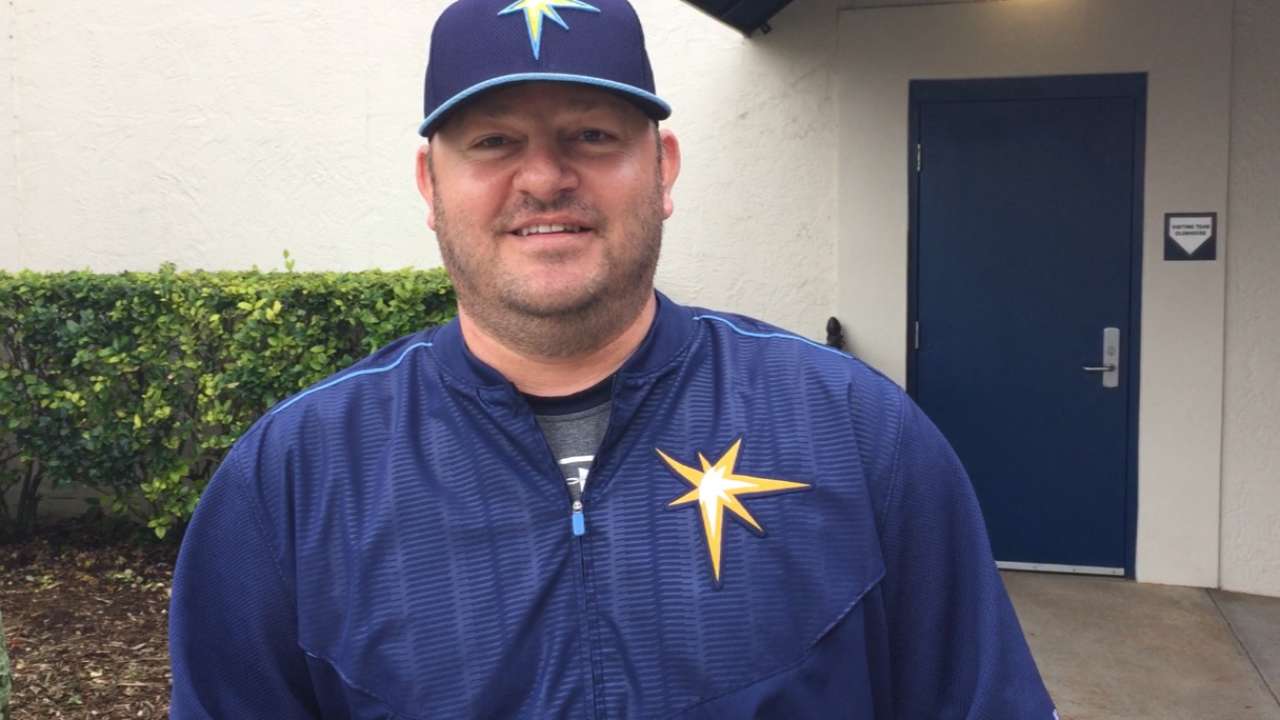 PORT CHARLOTTE, Fla. -- By Scott Cursi's estimation, he wasn't a bad player when he caught for Pickerington High School in Pickerington, Ohio.
"I could hit a little bit," said Cursi, adding with a chuckle, "but I couldn't really throw or catch."
Any aspirations Cursi might have had for future greatness were tempered by a catcher also playing in the Columbus, Ohio area.
"Unfortunately our rival [Reynoldsburg High] had another catcher," Cursi said. "His name was Mike Matheny, and he was a lot better than me. So I kind of knew the standard of what to strive for."
Knowing what a future Major Leaguer looked like didn't stop Cursi from continuing to play, nor did it keep him from finding a less conventional route to The Show.
He went on to play baseball at Seminole Community College in Sanford, Fla., and graduated from Central Florida with a degree in physical education. Eventually he worked as a coach at Seminole, which is where he capitalized on a connection to find his way into the Southern League as the bullpen catcher for the Double-A Orlando Cubs, who became the Orlando Rays.
"Bruce Kimm was the manager of that particular team," Cursi said. "In '97, [Kimm] ended up being the bullpen coach for the Florida Marlins and worked there with Larry Rothschild, who was the Marlins' pitching coach. When Larry basically got the [manager's] job with the Tampa Bay Devil Rays, I called Bruce to see if he had Larry's number and if he could put in a good word with the Major League team."
Kimm followed through and the Devil Rays hired Cursi to be the team's bullpen coach. That was 1999. Cursi, 44, has been a staple in the club's bullpen since. He's now the bullpen catcher.
"I actually thought after the first year I was there that I wouldn't last another year," Cursi said. "But they kept bringing me back and bringing me back. I've been very fortunate."
Cursi has definitely enjoyed the ride, smelling the roses along the way.
When asked to name some of the highlights of the job, Cursi said, "It's the historical moments I remember most."
"Wade Boggs getting his 3,000th hit and when the team clinched the 2008 pennant," Cursi said. "Akinori Iwamura when he came up with that ground ball. Warming up David Price for that game was incredible."
Remember, Price, then a rookie, came out of the bullpen that night to earn the save against the Red Sox in Game 7 of the 2008 American League Championship Series.
Cursi also remembered seeing Derek Jeter's 3,000th hit at Yankee Stadium and there was Game 162, the memorable ending to the 2011 season when the Rays earned a spot in the playoffs with a come-from-behind win capped by Evan Longoria's walk-off home run against the Yankees.
"Probably one of the most impressive things I've seen was James Shields in Game 162," Cursi said. "He actually warmed up three times and they never brought him in. But he was throwing the ball mid-90s and he was coming in that next inning. He was ready. Just watching the ball get on me so quick, and he didn't miss the mitt either. Pretty impressive."
Cursi is familiar with the locations and configurations of the bullpens at opposing ballparks and called Oakland the toughest.
"Because during day games where the sun hits the seats in the dugout, it's like the brightest place on the planet," Cursi said. "But believe it or not, they have really good fans in Oakland. They've always been really good toward me, and toward our players."
Speaking of fans, there's always a heckler in the group. Cursi laughed when asked if he's grown to appreciate some of the better hecklers.
"Yes, there have been some original ones," Cursi said. "I'm a little bit heavier now than I was back then, so I have to roll with the punches, but at the end of the day if you just acknowledge them or say something to them or talk to them, they actually love it."
Rays reliever Jake McGee called Cursi a "fan favorite."
"He's always nice to all the kids," McGee said. "He's always giving them baseballs. But every time he gives a kid a baseball, he tells them, 'You better play with this. You better play catch with it, don't just keep it at home on the shelf.'"
Cursi and his wife, Stephanie, have a 4-year-old son, Noah. Bullpen coach Stan Boroski said that after Cursi had his son, he began seeking out babies and toddlers in the stands, asking their parents all kinds of questions and earning him the moniker, "The nicest guy in baseball."
His duties include catching all the bullpen sessions that Rays starters throw between starts, playing long toss before games with relievers, occasionally throwing batting practice and warming up the relievers during games. All told, he might exceed 400 throws on any given day.
"He always keeps it loose [in the bullpen]," McGee said. "He's the same guy every day. He has a lot of knowledge. He says he has a lot of useless knowledge. He's very funny, he's very smart. He's good with every player."
Cursi doesn't throw around useless compliments when it comes to a pitcher's stuff on any given day, either.
"Sometimes he'll say, 'You're looking good today,'" McGee said. "Most of the time he doesn't say too much. But it's almost better that way. If somebody says good stuff all the time it doesn't mean anything, because you know you're not good all the time."
Cursi wears No. 77, but he prefers the anonymity of his Rays windbreaker, which suits his understated nature and his desire to not be confused as a player or a coach. However, he did wear his jersey when the Rays played Triple-A Durham at Durham at the conclusion of Spring Training in 2010. That night, then-Rays manager Joe Maddon put him behind the plate to catch Andy Sonnanstine, who pitched the final inning against the Bulls.
Typical of Cursi's way, everything fell into place. Sonnanstine retired the Bulls in order with Cursi in the rocking chair.
"That was pretty cool," Cursi said.
Not bad for a kid who could hit a little bit, but not really throw or catch.
Bill Chastain is a reporter for MLB.com. This story was not subject to the approval of Major League Baseball or its clubs.