Grimm relieved to know role after breakout season
After gaining confidence in 2014, right-hander poised for big year
MESA, Ariz. -- Justin Grimm seems best suited to be a reliever. The antsy right-hander can barely sit still in the Cubs' clubhouse. It's hard to imagine him going four days without pitching.
Grimm got plenty of work last season, finishing ninth among National League relievers in appearances in his first full season with the Cubs. He also was in the top 25 in strikeouts. But Grimm was a starter in 2013 with the Rangers, and he still holds onto the possibility he could return to the rotation, especially after a rainy August day at Wrigley Field.
Grimm had three rough outings in July in which he gave up 10 earned runs combined. On Aug. 23, rain halted play between the Cubs and Orioles after the second inning for three hours. Grimm was told he would take over when play resumed.
"They had a stacked lineup and a lot of hype around them, and I went out there with a clear mind knowing what I was capable of doing," Grimm said. "That one outing sticks out to me. I think that was huge for me, and not just getting hitters out, but maybe in the future if they have a need and need me to go back to starting."
Grimm did not give up a hit over 3 1/3 innings against the Orioles in that game, striking out three and picking up the win.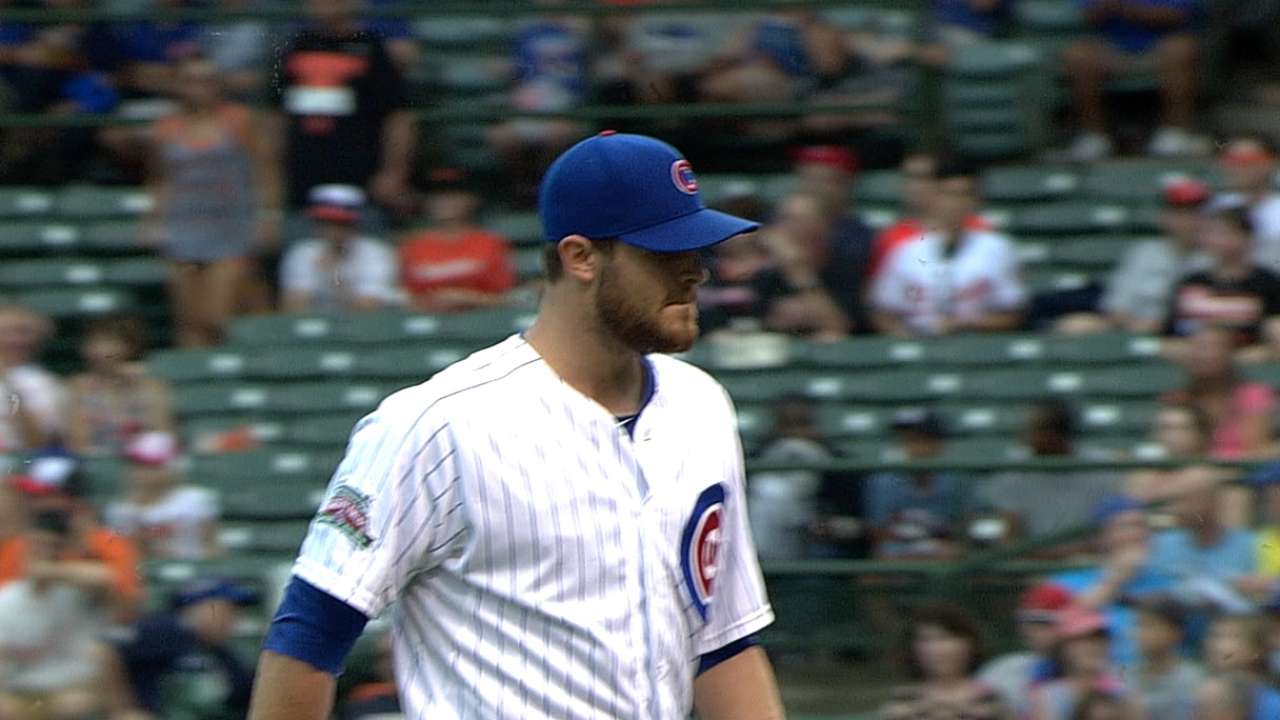 "Right now, it's just being in the present," Grimm said of his role in the Cubs' bullpen, "and not looking at the past, not looking at the future, just remaining in the present, keeping my head down, going out throwing strikes and attacking guys. I think it'll be a special year."
At the end of last season, Grimm was told to prepare the same way for 2015 and to expect to be in the bullpen again. Knowing his role is what matters. Bouncing back and forth from the rotation to the bullpen, as Grimm did in 2013 with the Rangers, was difficult.
"I think the biggest thing last year [with the Cubs] was gaining confidence at the big league level," Grimm said. "I feel some guys, they get it right away. And other guys, it takes them a little while. Last year was a huge success for me. It's not a matter of feeling like I belong -- I do feel that way and I feel I can get hitters out on a consistent basis now. It's just a whole different mentality."
Grimm stayed healthy, he was effective, and at the end of the season, he felt as strong as he did at the start of the year.
The animated Grimm benefited from having veterans Carlos Villanueva and Wesley Wright in the 'pen. Now, Jason Motte will have to keep an eye on the young right-hander.
Grimm knows he doesn't appear to have the temperament to be a starter. He can barely sit still for more than a few seconds.
"My personality in the locker room, it's totally different when I'm on the field," Grimm said. "I love this game. ... It's something I'm very passionate about. I can lock in and focus when the time's ready. I just like to keep it loose off the field and be happy with life and go with it."
Carrie Muskat is a reporter for MLB.com. She writes a blog, Muskat Ramblings, and you can follow her on Twitter @CarrieMuskat. This story was not subject to the approval of Major League Baseball or its clubs.