Cespedes, Tigers begin to build long-term relationship
Originally pursued by club, Cuban outfielder seeks championship in Motown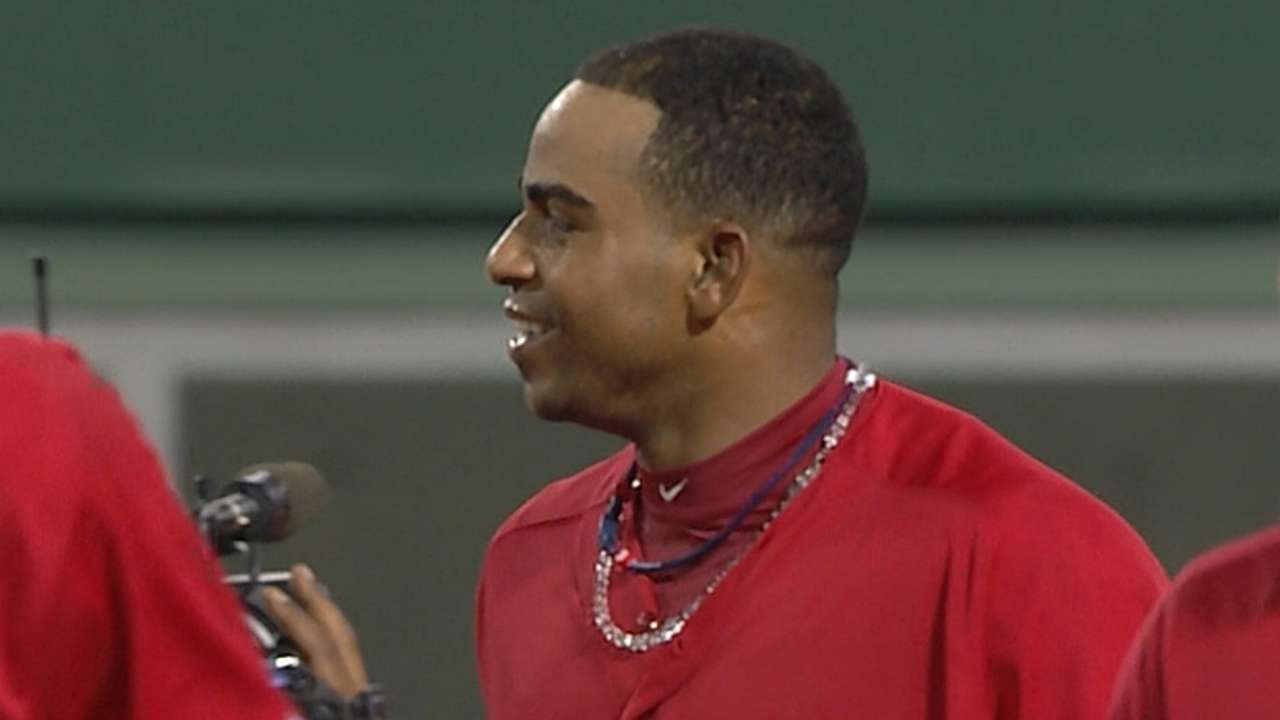 LAKELAND, Fla. -- Yoenis Cespedes believes he probably would've been here a few years ago for his first pro contract if not for a twist of fate. One bad step from Victor Martinez, one shift in priorities for the Tigers toward Prince Fielder to replace him, and Cespedes' journey from Cuba landed him in Oakland instead.
"Detroit was the team that was the most interested," Cespedes said Sunday through translator Aileen Villarreal.
It took Cespedes long enough, but now he's here. If he has the chance, he'd like to stay a while. With free agency on the horizon next offseason, he's open and willing to discuss a long-term contract.
"This is a good team now and will be for a lot of years to come," Cespedes said. "Every Major League player wants a ring, and with this team, you have a really good chance."
Cespedes does not know whether his representatives at Roc Nation Sports, whom Cespedes joined at last season's end, have engaged in any talks with Tigers officials. Detroit's top contract issue is David Price, who is also up for free agency next winter.
Cespedes talked with reporters Sunday for the first time since reporting to Spring Training. He described finding a comfort zone in the Tigers' clubhouse after a tumultuous year that saw him traded from Oakland to Boston at last July's non-waiver Trade Deadline, then put back on the trading block soon after the Red Sox signed fellow Cuban Rusney Castillo and created an outfield surplus.
Cespedes' Red Sox tenure ended with December's trade to the Tigers for Rick Porcello. Cespedes would rather not discuss Boston anymore. He's just starting the process of learning about Detroit.
The Tigers, in turn, are learning more about Cespedes.
"I know enough Spanish to be able to talk to him," manager Brad Ausmus said. "He actually speaks English very well. I think he speaks it a little better than he understands it."
Translating Cespedes' game to Comerica Park is somewhat simpler. His strong arm should provide the Tigers with their biggest defensive contribution in left field since Bobby Higginson ranked among the league leaders in outfield assists. The gaps should play more to Cespedes' speed, which Ausmus said has been evident in baserunning drills.
"I knew he could run, I knew he was athletic," Ausmus said, "but he was flying around the bases."
That's more the Cespedes the Tigers remember scouting when he was working out for teams a few years ago. So is the all-fields approach to hitting.
"He can use the whole field," team president/general manager Dave Dombrowski said last month. "When he was a youngster and we saw him, he would drive that ball to right field and right-center. I haven't been around him quite as much, of course, over the last few years."
Ausmus has an easy way to foster that.
"Put him in the same hitting group as Miggy," Ausmus said, "and let him watch the best hitter in the game do it on a daily basis."
Cespedes said he's not trying to hit the ball to a particular place so much as focus on making contact. He is, however, looking forward to hitting with Cabrera.
"It's going to help a lot," Cespedes said.
Jason Beck is a reporter for MLB.com. Read Beck's Blog and follow him on Twitter @beckjason. This story was not subject to the approval of Major League Baseball or its clubs.