MLB.com Columnist
Phil Rogers
'The Cubs Way' might just be the ticket for Fowler
Center fielder has opportunity to get back on track with new team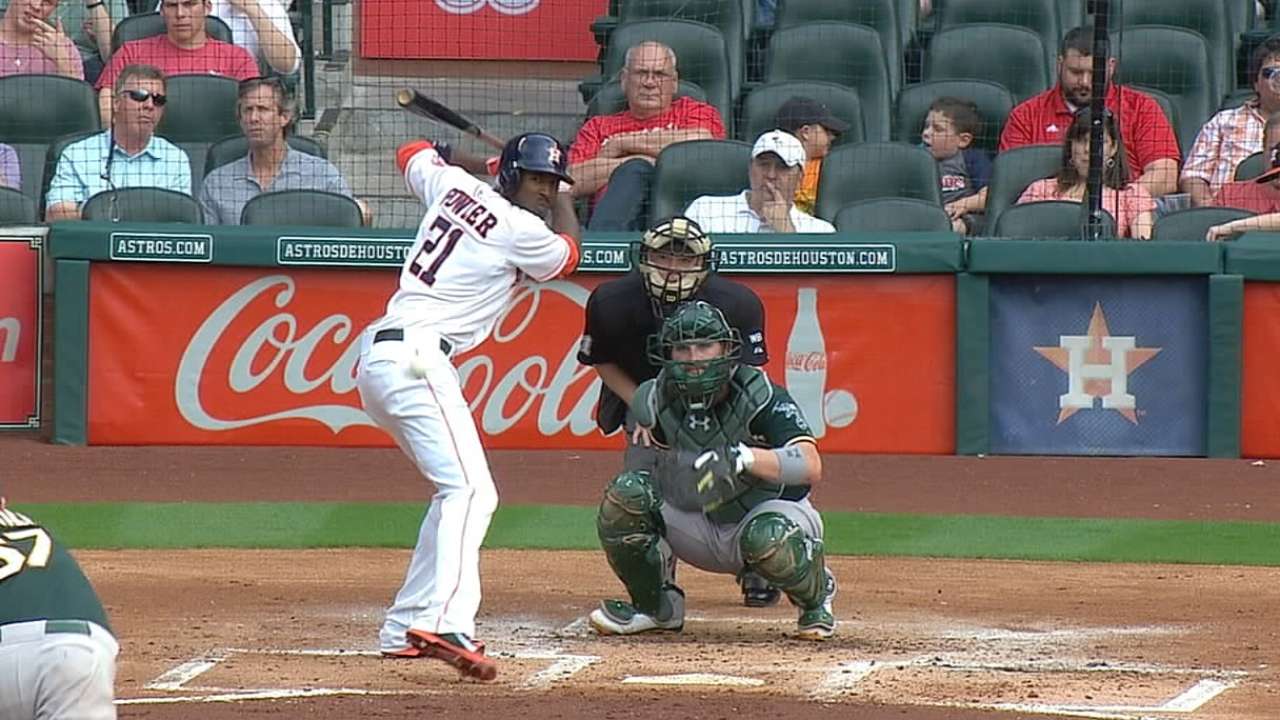 MESA, Ariz. -- Dexter Fowler is a center fielder, not an advance scout.
But that didn't stop Fowler from paying close attention to the opposing team last year, when he was playing against the Triple-A Iowa Cubs while working his way back to Minute Maid Park after straining an intercostal muscle. He grew more impressed after every one of the four games, and he quickly drew on those memories when the Astros traded him to the Cubs in January.
"Very excited," Fowler said. "It's a good time to be a Cub right now. … I came back [from the rehab assignment] raving about how good they were going to be."
Kris Bryant and Jorge Soler both hit home runs in the series, which came just after Javier Baez and Arismendy Alcantara had been promoted to Chicago. But it wasn't just the talent that stood out to Fowler as he watched how they played for manager Marty Pevey.
"Their professionalism," Fowler said when asked what impressed him. "The way they played the game down there. Coming from the big leagues down to the Minor Leagues, you didn't really expect to see that kind of talent down there. They're really good."
When Theo Epstein and Jed Hoyer came to the Cubs before the 2012 season, they wrote a manual called "The Cubs Way," detailing how they wanted instructors to teach and what traits they wanted their scouts to value. Fowler says the organization's direction jumped out at him even though he had spent 2014 with the Astros, who are in a similar rebuilding stage.
"It's very impressive, the way guys go about their business, the way guys carry themselves," Fowler said of the Cubs' prospects. "That's huge. It's huge to me. This is an organization where everybody is eager."
This, of course, includes Fowler himself.
Fowler received National League Rookie of the Year Award consideration on a Rockies team that won 92 games and an NL Wild Card spot in 2009, but he approaches free agency without having built off that fast start to his career. He was a consistent contributor for Colorado and Houston, but the Astros traded him to the Cubs for third baseman Luis Valbuena and fifth-starter candidate Dan Straily.
Joe Maddon hadn't seen a lot of Fowler through the years, but the impression he made in an Interleague series at Coors Field in 2009 stuck with him. He was thrilled when Epstein acquired Fowler in a trade that addressed two goals: filling the leadoff spot and providing a proven center-field option so that the versatile Alcantara could be developed into a Ben Zobrist-style super utility player.
"I'm really eager to work with this guy," Maddon said of Fowler. "He's probably on the verge of becoming really, really good. He's at that age where things start making sense all the way around. He's a young veteran. He's got enough experience. I'm really eager to watch this all unfold. … I really like him."
Injuries like the intercostal strain have been a recurring issue for Fowler, who will turn 29 next month. He's averaged 128 games in the last six seasons, and after stealing 27 bases as a rookie, he hasn't reached 20 again. Fowler put up a slash line of .276/.375/.399 in 116 games last season, hitting eight home runs while stealing 11 bases.
Analysts will point out that Fowler has been based at two home fields (Coors and Minute Maid Park) that are better for hitters than Wrigley Field. But Maddon is convinced that Fowler can be a catalyst for a Cubs team that is looking to contend after winning 73 games last season. Fowler is the type of complete player who stands out.
"When you [see] a tall switch-hitter like that who plays center field, runs well, got some pop -- he's got all the tools," Maddon said. "Plus, he has a little charisma to him."
Then-manager Rick Renteria used seven center fielders in 2014, with Emilio Bonifacio starting on Opening Day and Alcantara a regular down the stretch. Along with Justin Ruggiano, Ryan Sweeney, Junior Lake, Ryan Kalish and Matt Szczur, they combined to hit .222 with a .610 OPS.
Epstein has a celebrated center-field prospect coming in 20-year-old Albert Almora, who will likely return to Double-A Tennessee to start the season. But Fowler will get a chance to show he's more than a place-holder.
"I'm watching him closely," Maddon said. "He's pretty much on top of his game now offensively. His swing's really good. … He's feeling really good about himself right now. He doesn't deny it."
Fowler, who will earn $9.5 million this season, is the kind of veteran player Epstein could deal at midseason if the Cubs aren't contending. But Epstein and Hoyer have said they hope they'll be looking to add talent, not trade talent, this time around.
It's as big of a season for Fowler as it will be for the Cubs. But he says he's thinking more about the team's overall talent than the importance of the season for his own career.
"I don't even look at it like that," Fowler said. "I look at it as each and every day go out and continue to grow as an individual and teammate, just try to improve on my game. I think if I stay on the field all the time, everything else will take care of itself."
Fowler has a manager who believes in him and an organization that excites him. This is, as Maddon said, a good time to keep an eye on Fowler.
Phil Rogers is a columnist for MLB.com. This story was not subject to the approval of Major League Baseball or its clubs.