Wheeler, Niese to lead staffs in intrasquad game
Traditional tilt takes place a day before Mets begin Grapefruit League action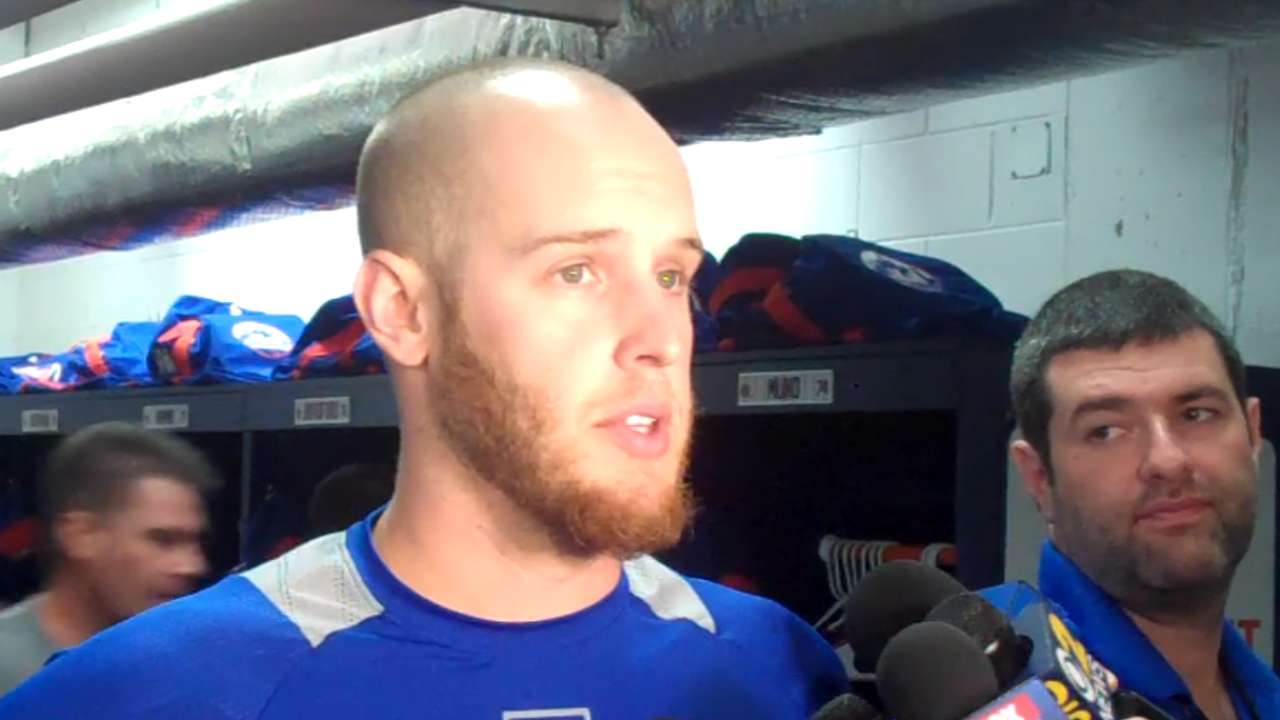 PORT ST. LUCIE, Fla. -- Zack Wheeler and Jon Niese will start Tuesday's Mets intrasquad game at Tradition Field, an annual event in advance of Wednesday's Grapefruit League opener. Tuesday's scrimmage will begin at 12 p.m. ET, with tickets available at the gate for $6. All proceeds go to charity.
Niese is set to anchor a "Team Blue" pitching staff that also includes Rafael Montero, Carlos Torres, Vic Black and Sean Gilmartin, a Rule 5 Draft pick trying to win a spot at the back end of New York's bullpen. Wheeler will lead a "Team Orange" staff that includes Buddy Carlyle, Jeurys Familia and closer Jenrry Mejia.
Starting third baseman David Wright and outfielders Curtis Granderson and Michael Cuddyer are also scheduled to play in the game.
"This is what they're paid to do," manager Terry Collins said. "I understand the whole process of getting their legs ready and getting their arms ready and all the extra work, but this is when all the work starts to pay off. They start to see what they're getting out of it."
It will be Wheeler's first game action in his bid to prove capable of an Opening Day assignment. Though the Mets are currently considering every member of their staff for April 6 other than Matt Harvey, who will pitch one of the club's other first five games, Wheeler appears to be an early favorite.
The Mets were thrilled how Wheeler finished last season 8-3 with a 2.71 ERA in his final 16 starts, consider him a strong candidate to lead the team in innings this summer and -- perhaps most importantly -- would like to line him up for the second series of the year against the Braves, whom he has limited to 16 earned runs in eight career starts. That will only be possible if Wheeler pitches Opening Day.
"There's a lot of factors and certainly a bunch of people that deserve it," pitching coach Dan Warthen said, noting that the Mets will make a final decision on their March 18 off-day, realigning their rotation at that time.
Other Monday notes from Mets camp:
• The entire roster woke up early on Monday to participate in a new league-mandated domestic violence seminar, which the organization Futures Without Violence is conducting at all 30 camps.
• SNY broadcaster Gary Cohen reported to Mets camp on Monday, with booth-mates Keith Hernandez and Ron Darling also due in this week. SNY will broadcast its first spring game Friday at 1 p.m. ET, which just so happens to be Harvey's first game back from Tommy John surgery. Darling will try his hand at play-by-play the next day. New SNY employee and former Mets outfielder Cliff Floyd will also participate in a broadcast over the weekend.
Anthony DiComo is a reporter for MLB.com. Follow him on Twitter @AnthonyDicomo. This story was not subject to the approval of Major League Baseball or its clubs.