Darvish on 2014 season: 'I never quit the team'
Right-hander was shut down in August last year due to inflammation in elbow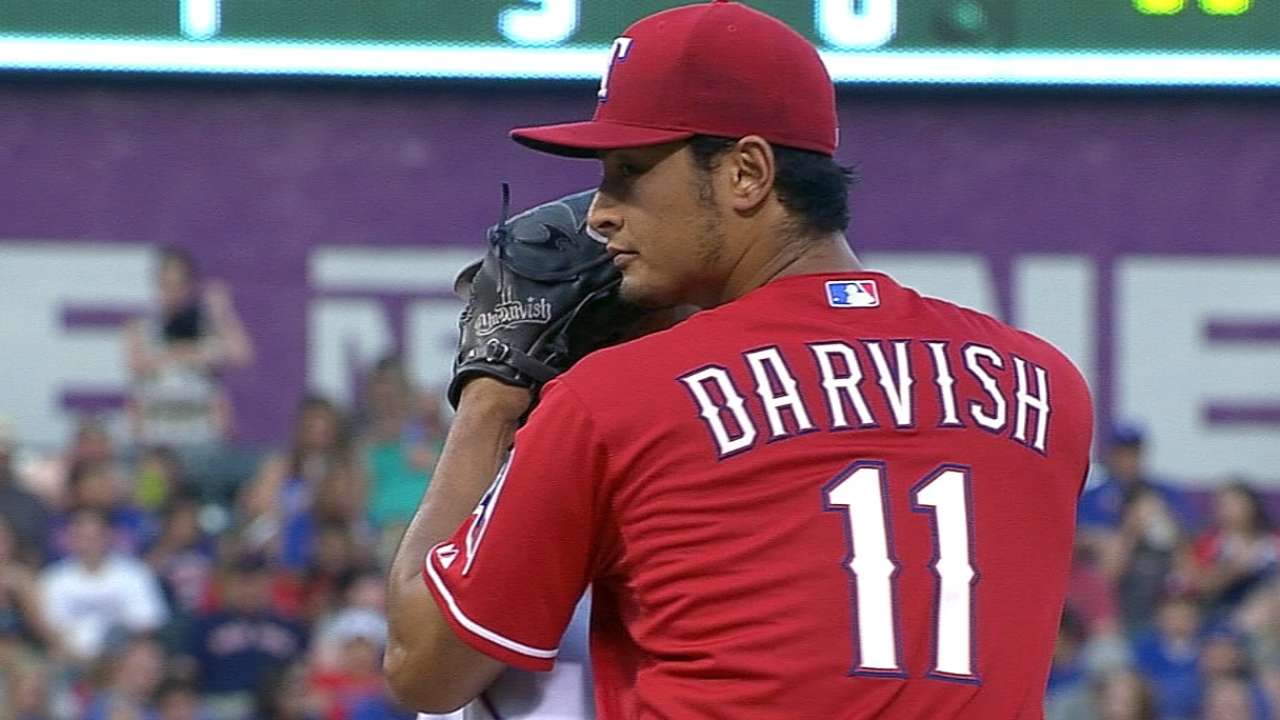 SURPRISE, Ariz. -- Yu Darvish pitched one scoreless inning during the Rangers' intrasquad game on Sunday.
After retiring three straight hitters, two on strikeouts, Darvish held a rare news conference in English. He addressed a question about accusations that he quit on the team last season by missing the final seven weeks with mild inflammation in his right elbow.
"Some people talked about that, that I, Yu Darvish, quit the team. I never quit the team," Darvish said. "I love my teammates, this ballclub. I never did that. I never did that in my life. That's not true."
Manager Jeff Banister wasn't with the Rangers last season. He is more concerned about the future and was more impressed with the way Darvish attacked hitters inside on Sunday. That's something Banister challenged Darvish to do in their first meeting this winter.
"Darvish was efficient and sharp," Banister said. "He mixed his pitches well. Looked like he had some intent to throw the ball in hard, which is nice to see. As a whole it looked like there was some intent and conviction on pitching inside, so that was nice to see.
"Watching him from the outside and watching videotape, it looks like there are times opposing hitters look like they are trying to push him out over the plate. I'd like to see him be more aggressive with his hard stuff, more aggressive in. Open up the outer part of the plate for himself. Attack the hitters. Look to get early outs. Any time you're looking to get early outs, that's an aggressive approach."
Worth noting
• Prince Fielder, Shin-Soo Choo, Adrian Beltre, Mitch Moreland and Elvis Andrus did not play in the intrasquad game. Said Banister, "We don't need them to play in an intrasquad game."
• Choo has been the big hit of the camp. Club officials are noticing a huge difference in his demeanor this spring. After he made a diving catch during batting practice, one club official said, "His energy is back and he is 100 percent healthy. He has been fun to watch, a totally different guy."
• The hitting star of the intrasquad game was rookie catcher Jorge Alfaro, with a home run and an RBI infield single. Carlos Peguero hit a two-run double. Ryan Ludwick, Ed Lucas and Nate Schierholtz each had two hits.
• The fifth-starter candidates all got off to good starts as Ross Detwiler, Nick Tepesch, Nick Martinez, Anthony Ranaudo and Ross Ohlendorf each had scoreless innings in the intrasquad game. Ranaudo allowed two hits but struck out three.
• Outfielder/first baseman Kyle Blanks did not play in the intrasquad game. He is still dealing with inflammation in both Achilles tendons. But Blanks said he is making good progress and the goal is to be full-go by March 10. Said Blanks, "That's out-of-the-gate day. After that it's just let it go."
• Banister praised the work of his catchers Chris Gimenez, Robinson Chirinos, Tomas Telis and Alfaro after the intrasquad game. Said Banister, "For me, the one thing that stood out today was all the work the catchers have been doing early in the day, showed up the first day. They did a heckuva job today."
• The young pitchers took their lumps. Luke Jackson, Jerad Eickhoff and Alec Asher allowed six runs in three combined innings. But they were all involved in the decision as the home team, managed by Triple-A Round Rock's Jason Wood, beat Double-A Frisco manager Joe Mikulik's squad, 5-4. Asher got the win, Eickhoff the loss and Jackson the save.
T.R. Sullivan is a reporter for MLB.com. Read his blog, Postcards from Elysian Fields, and follow him on Twitter @Sullivan_Ranger. This story was not subject to the approval of Major League Baseball or its clubs.