As games approach, D-backs look to fine-tune
Early focus in March will not be too concerned with players' numbers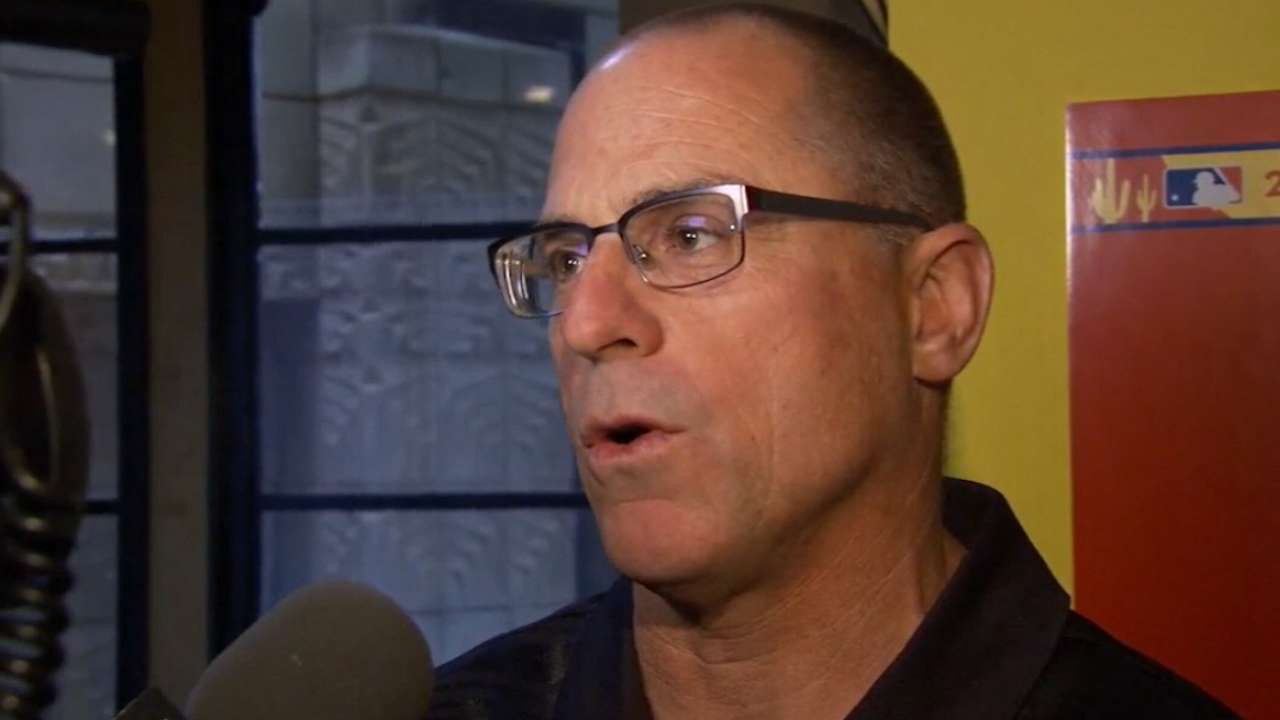 SCOTTSDALE, Ariz. -- If you're trying to figure out what the D-backs' Opening Day roster is going to look like, do yourself a favor and stop. It's impossible to do right now.
With most camps you can narrow down the competition to a few spots at most, but the D-backs have competition all over the field and with so many moving pieces it will take time and games to sort them all out.
Games get underway Tuesday when the D-backs play host to Arizona State University and their Cactus League schedule starts the next day. Here are some things to keep in mind as the action picks up:
There shouldn't be many lackluster games
While the games themselves don't count, the way the players perform in them will go a long way towards determining playing time.
"Lot of guys playing for their life, playing for innings and at-bats," D-backs chief baseball officer Tony La Russa said.
Pitchers will be graded on different things as March moves along
"I think we're going to have an issue with command to start with," D-backs manager Chip Hale said. "I don't think we've given them enough batting practice against hitters. So this first and even second start is more just them fine-tuning what they're doing. As long as we see their stuff come out of their hand well, execute some of the plays that we put on maybe. It's hard early. I think we have to give them some slack right out of the chute."
Innings will disappear quickly
Right now, each starter is scheduled for a pair of appearances, but after that, as pitchers go deeper in games, there are fewer innings to go around and that's a problem when you are trying to look at a dozen pitchers vying for rotation spots.
In an effort to get more innings, the D-backs will play some "B" games against the Reds and Rockies and they could throw a veteran like Josh Collmenter or Jeremy Hellickson in a Minor League game to allow one of the pitchers battling for a spot to pitch in the regular game.
It's not about the numbers for hitters
Rather than how many hits a player gets, he will be judged by the quality of his at-bats and how hard he battles the pitcher.
"We're not necessarily telling these guys, 'Hey we want you to get seven pitches per at-bat,'" Hale said. "We're telling them, 'You make your at-bat the toughest of the day for that pitcher.' And I think that will grind on the pitching staff of the other team more than anything."
Steve Gilbert is a reporter for MLB.com. Read his blog, Inside the D-backs, and follow him on Twitter @SteveGilbertMLB. This story was not subject to the approval of Major League Baseball or its clubs.