Rodriguez to make start in Braves' spring opener
Veteran left-hander among those competing for fifth spot in rotation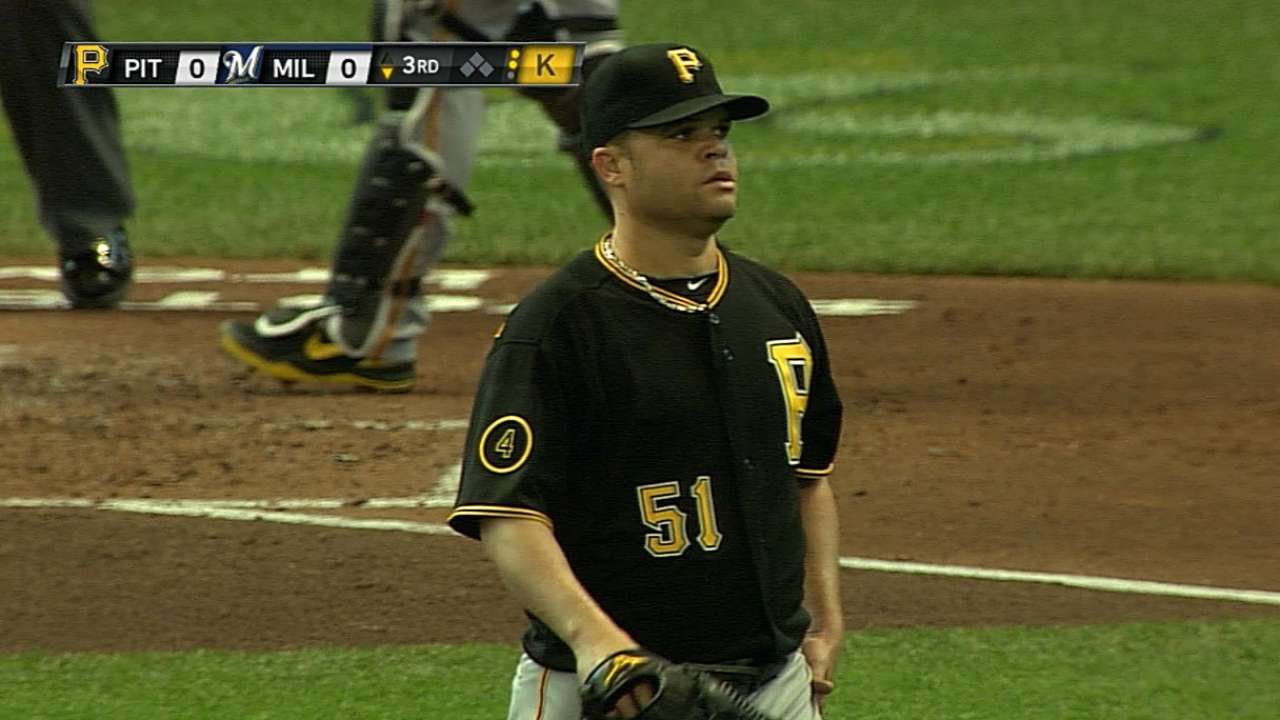 LAKE BUENA VISTA, Fla. -- Now that Mike Minor has provided indication that he has distanced himself from last year's left shoulder discomfort, the Braves have a pretty good idea about how they will fill the first four spots of their starting rotation. The battle for the fifth spot will intensify on Wednesday when Wandy Rodriguez starts the Grapefruit League season opener against the Mets at Champion Stadium.
Rodriguez and Chien-Ming Wang are both scheduled to complete two innings against the Mets. Projected Opening Day starter Julio Teheran and Eric Stults, who is also vying for the rotation's fifth spot, are both scheduled to complete a pair of innings against the Tigers on Thursday.
The battle for the fifth spot should prove interesting as it includes two veteran non-roster invitees -- Rodriguez and Stults -- and a pair of prospects -- Mike Foltynewicz and Manny Banuelos -- who might both benefit from getting a chance to get a little more seasoning as a starter at the Minor League level.
The Braves have not yet announced when Foltynewicz and Banuelos will make their respective Grapefruit League debuts.
There are definite health concerns surrounding Rodriguez, who totaled 18 starts over the past two seasons and reportedly failed a physical after signing a Minor League deal with the Phillies in December. The Braves were still comfortable enough to sign the 36-year-old southpaw to a Minor League deal on Jan. 14.
An arthritic elbow limited Rodriguez to 12 starts in 2013. He was released by the Pirates this past season after making just six starts with an inflamed right knee.
"I feel good," Rodriguez said after Sunday afternoon's workout. "My arm and knee have not been a problem."
If Rodriguez is not able to stay healthy and regain the successful form he had when he posted 3.47 ERA while totaling 128 starts for the Astros and Pirates from 2009-12, the Braves might turn to Stults, who is looking to rebound from a frustrating 2014 season.
After posting a 3.93 ERA and 3.63 FIP (Fielding Independent Pitching) in the 33 starts he made in 2013, Stults produced a 4.30 ERA and a 4.63 FIP for the Padres in 2014. But the 2.74 ERA he produced in his final 11 starts provided him to take some confidence into the offseason.
"I think it's always good to have competition," Stults said. "It's going to make guys better. I'm excited for the opportunity to compete. We'll see what happens."
Mark Bowman is a reporter for MLB.com. This story was not subject to the approval of Major League Baseball or its clubs.