MLB.com Columnist
Barry M. Bloom
Miller hopes charmed career continues in Bronx
Warm welcome with O's one of indelible moments for lefty, who could close for Yanks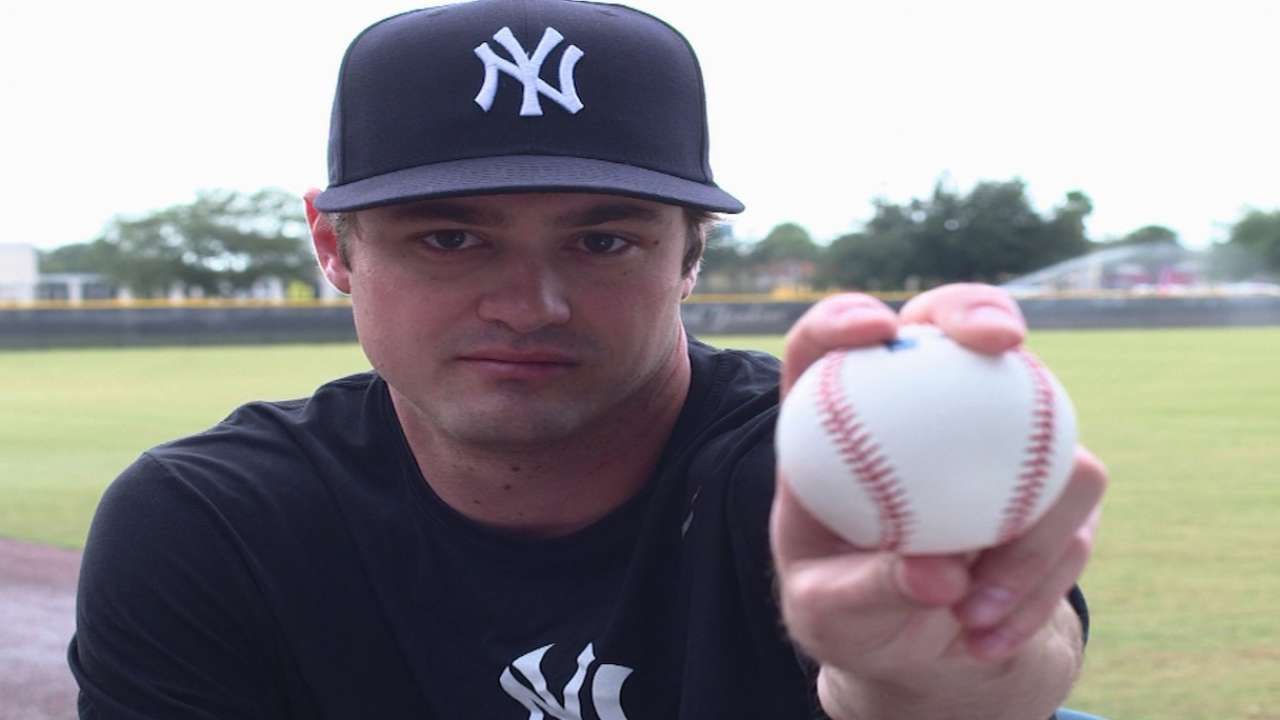 TAMPA, Fla. -- For Andrew Miller, the moment is suspended in time.
Just prior to his first appearance for the Orioles last August after the Red Sox traded him to Baltimore, Miller ran in from the bullpen to a rousing ovation from the 39,487 fans at Camden Yards, an experience that is indelibly etched in his memory, the newest Yankees left-hander said.
"The reception was something that was really cool. It was something I never expected," Miller said this weekend as the Yankees worked out at Steinbrenner Field. "A reception like that for a middle reliever acquired in a deadline deal? That was unbelievable.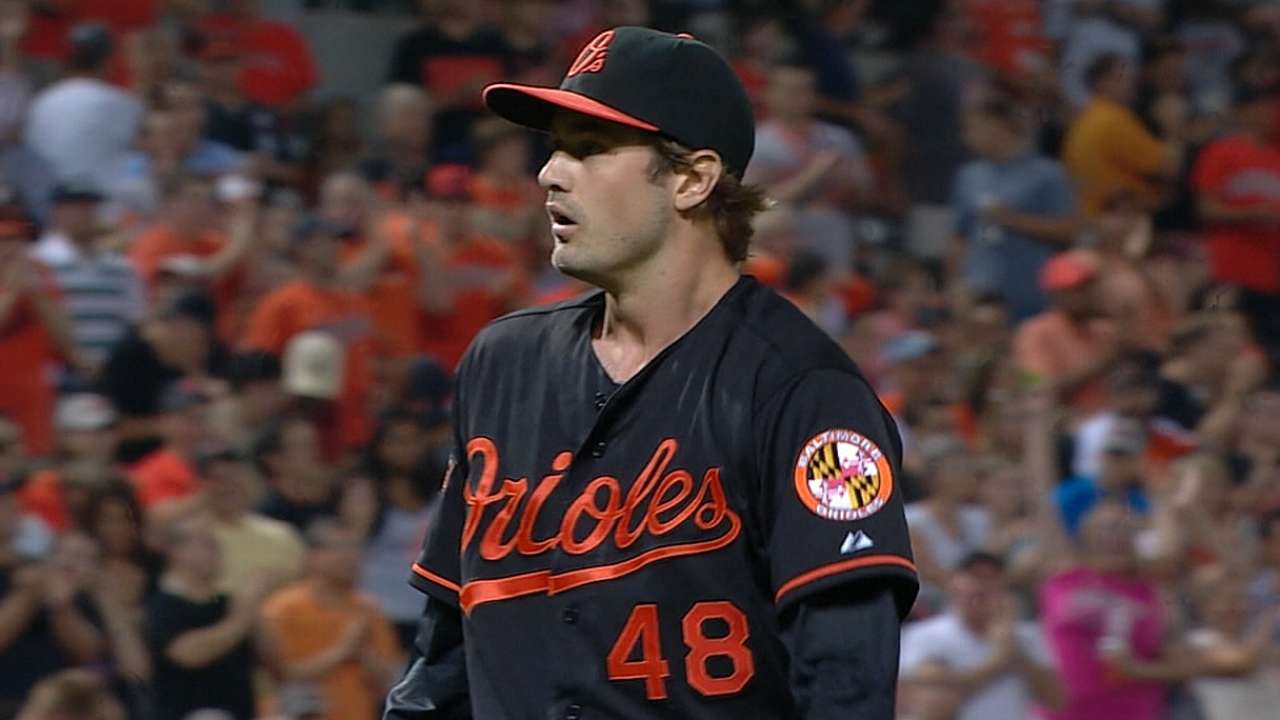 "I hope to accomplish a lot more, but believe it or not, that was a career highlight -- to go out on that field and have the fans react like that, that was pretty special. Thank heaven I was able to back it up and pitch well for those guys."
Miller is hoping to create more special moments at Yankee Stadium in the years ahead. Miller is 29 and just signed a four-year, $36 million free-agent deal with the Yankees, leaving $4 million more on the table to return to the Red Sox.
"This was the best offer for me," said Miller, who grew up in Florida and lives in the Tampa area. "There are a lot of things that go into an offer. It was the Red Sox and Yankees, and the Astros came in at the end. I had a comfort level with Boston that nobody could match. But the Yankees could match them when it comes to history. And they offered Spring Training at home and a good contract. It's not all about money."
Thus, Miller is working his way through the top teams in the American League East, and as a reliever, he knows he's joining the Yankees at a very opportune time in their history. Mariano Rivera retired at the end of the 2013 season and is in camp as a guest instructor. Last year's closer, David Robertson, took his 39 saves to Chicago and signed a free-agent deal with the White Sox.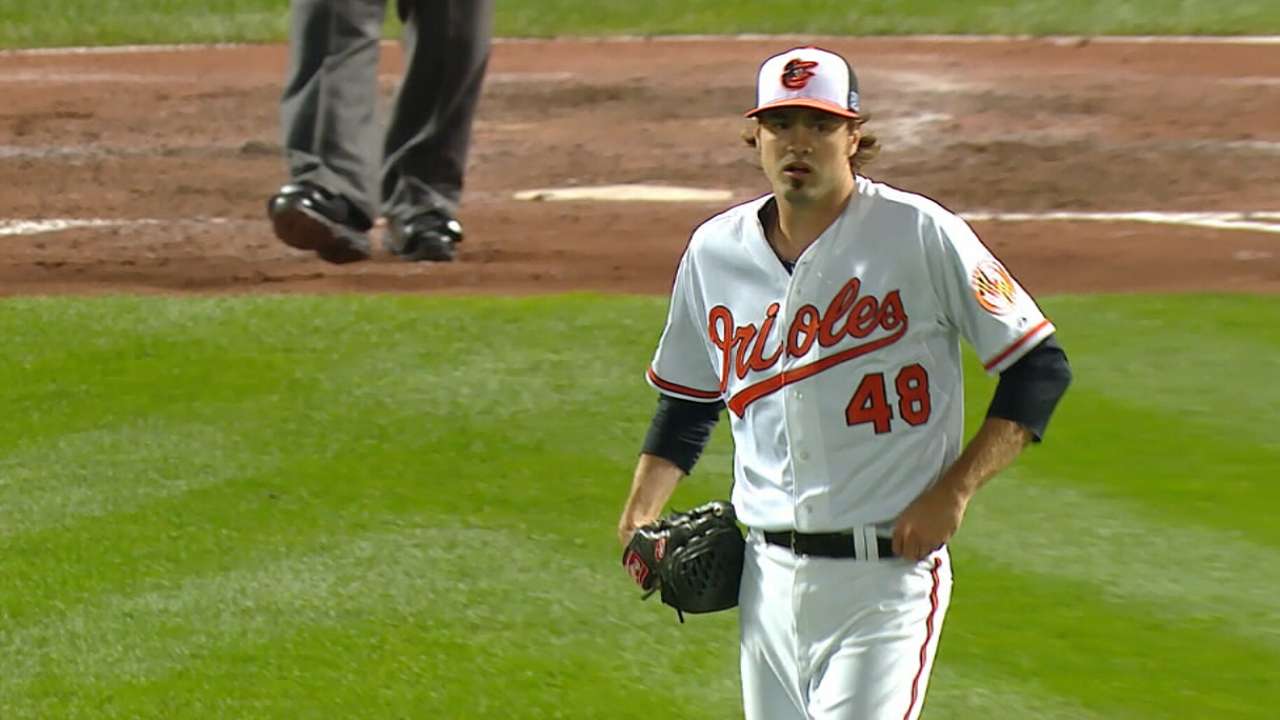 The back end of the Yankees' bullpen is wide open, and manager Joe Girardi said that the job of closer is probably a two-man duel between the left-handed Miller and power right-hander Dellin Betances. Girardi said he'll use the six weeks of camp to figure it out, which is fine with Miller.
Neither of the candidates has closer credentials.
Betances set up for Robertson last season and broke Rivera's record with 135 strikeouts in 90 innings, the most in a single season by any reliever in Yankees history. He had one save in 70 appearances. Miller had been utilized early in his career as a starter, but since 2011, he has been mostly a middle-inning reliever. In nine seasons pitching for the Tigers, Marlins, Red Sox and Orioles, Miller has one save in 259 appearances.
Girardi said he's well-aware that Miller is hardly a situational left-hander. In 65 games last season for Boston and Baltimore, right-handed swingers hit a paltry .145 against him. Still, Miller said he's had no conversations with Girardi yet about what his role will be as the Grapefruit League games start on Tuesday. It's early yet.
"No, no word," Miller said. "They've been honest with me, and everything I've heard is what you've heard. It's to be determined and it's up to all of us to stay healthy, get ready and prepare for the season. Things work out. We don't have a bunch of established closers. I have one save opportunity and one save. That's not much of a platform there to argue from. That doesn't mean I can't do it, but I can't say that I have."
The one save was registered last year during his highly successful stint with the Orioles under manager Buck Showalter. Miller was impeccable in his 23 appearances in Baltimore after the trade, allowing only three earned runs and eight hits in 20 innings. He walked four, whiffed 34 and had an incredibly stingy WHIP of 0.60. The ice cream on the pie alamode was allowing no runs and only one more hit in his five postseason appearances.
It all began on the night of Aug. 1 at Camden Yards, a day after the trade, in what turned out to be a 2-1 win over the Mariners. When Showalter called him into the game, Miller was well-aware that the cheers for him dovetailed as Baltimore starter Wei-Yin Chen left after walking then-Seattle newcomer Austin Jackson with one out in the eighth. Miller then pitched out of the inning.
"The whole thing really blew my mind," Miller recalled. "And it was a heck of a game. Buck got me in there right away. The crowd reaction was something a player like me never expects and probably doesn't deserve. I played in front of a lot of packed houses at Camden and what-not, but playing in a pennant race there was unbelievable. That was a lot of fun."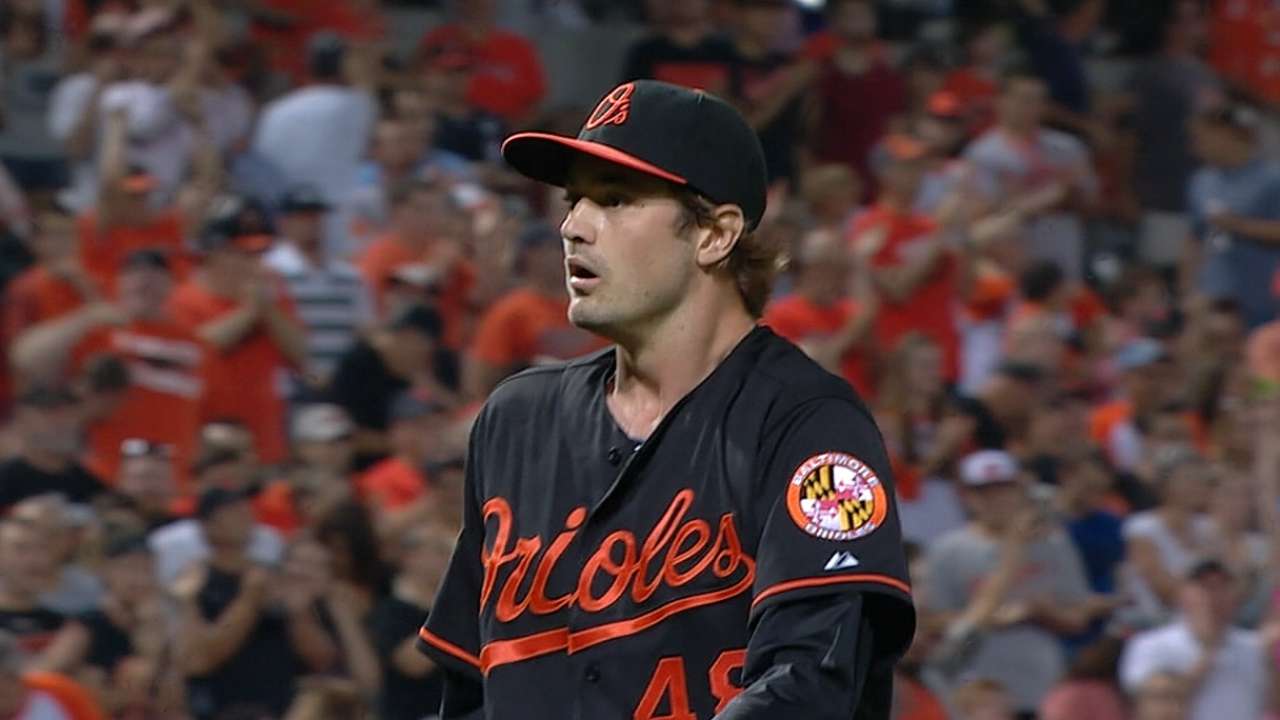 Miller has led a charmed baseball life in that respect. He was a member of the Red Sox team that defeated the Cardinals in the 2013 World Series, although he missed the postseason because of a left foot injury and accompanying surgery. Last year, he was part of an Orioles squad that was swept in the AL Championship Series by the Royals. Now he's hoping to be a big part of winning again for a Yankees franchise that has won 27 World Series titles, but none since 2009.
"I've been so lucky," Miller said. "I got to play in Detroit when they sold out every game and went to the [2006] World Series. The best example of the way Detroit was? Little old ladies knew everybody on the Tigers. They had so much history. Boston. What can you say? I got spoiled.
"Shoot, we're a week into Spring Training and I can't believe the people around here. And you know the history of the Yankees. I've had some pretty incredible experiences. I'm really looking forward to this one."
Barry M. Bloom is a national reporter for MLB.com and writes an MLBlog, Boomskie on Baseball. Follow @boomskie on Twitter. This story was not subject to the approval of Major League Baseball or its clubs.