Nothing but positives for Showalter as team ramps up
Wieters, Machado return to action for Orioles in first intrasquad game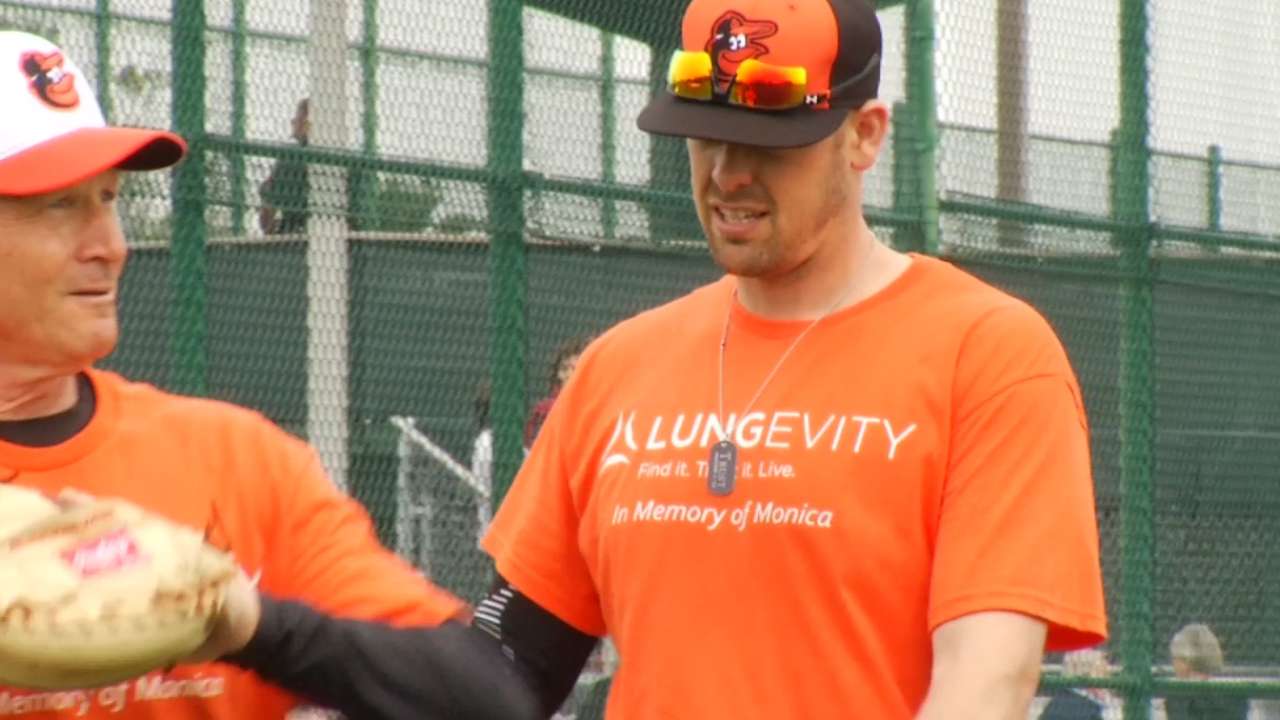 SARASOTA, Fla. -- It wasn't exactly a full-blown exhibition game, with a five-out inning, two four-out innings and even a one-out inning -- and it ended in a 0-0 tie -- but manager Buck Showalter was pleased with the Orioles' first intrasquad game Sunday afternoon at Ed Smith Stadium.
The Orioles saw 12 pitchers take the mound, each of them for one inning, and every position player in camp except outfielder Henry Urrutia had a plate appearance. The defense was solid on both sides, particularly in the infield, and two of the club's stars -- Matt Wieters and Manny Machado -- were back on the field in a game-like setting for the first time in months.
"What was bad today?" Showalter said. "It'd be picky to find anything wrong."
Here are a few of the highlights from Sunday's game and postgame interviews.
• While Wieters' return to catching received most of the attention, it was also Machado's first game since Aug. 11, when he suffered a partially torn ligament in his right knee. Machado finished 0-for-2 and ran noticeably hard to first base trying to beat out a ground ball in his second at-bat.
"Last time Manny was in a batter's box facing live pitching was the knee injury. I was sitting there watching just thinking what must be going through his head," Showalter said. "It's been a long road, both of them."
• Closer Zach Britton started the game for the "home" team and worked a perfect first inning, inducing three ground balls on nine pitches, six of them for strikes.
"That was Zach," Showalter said.
• Left-hander Mark Hendrickson, 40, pitched the third inning of Sunday's game. He retired Machado and J.J. Hardy before giving up a single to Adam Jones. Hendrickson struck out Chris Davis to end the inning. Showalter joked with Hendrickson afterward about the challenge of facing three of the club's toughest right-handed hitters before finally getting a favorable platoon matchup.
"You're a right-handed specialist, I guess," Showalter quipped.
• Outfielder Delmon Young and infielder Everth Cabrera were the only two players to reach base twice in Sunday's game. Young doubled off Ryan Webb to lead off the bottom of the second, the game's first hit, and drew a walk in the fourth inning. Cabrera knocked a line-drive single to right field in the third inning and drew a walk in the fifth.
• Catcher Caleb Joseph's wife, Brooke, was due to give birth to the couple's first child Sunday. For that reason, Showalter told Joseph that he won't be playing any road games this spring "until the egg hatches."
• Several of the Orioles' everyday players likely will sit out the club's Grapefruit League opener Tuesday against the Tigers at Joker Marchant Stadium in Lakeland, Fla. Among the players expected to sit out the trip are Davis, Hardy, Jones, Machado, Wieters and Steve Pearce.
Adam Berry is a reporter for MLB.com. Follow him on Twitter at @adamdberry. This story was not subject to the approval of Major League Baseball or its clubs.