MLB.com Columnist
Bill Ladson
Inbox: Would Nats consider 6-man rotation?
Beat reporter Bill Ladson fields questions from Nationals fans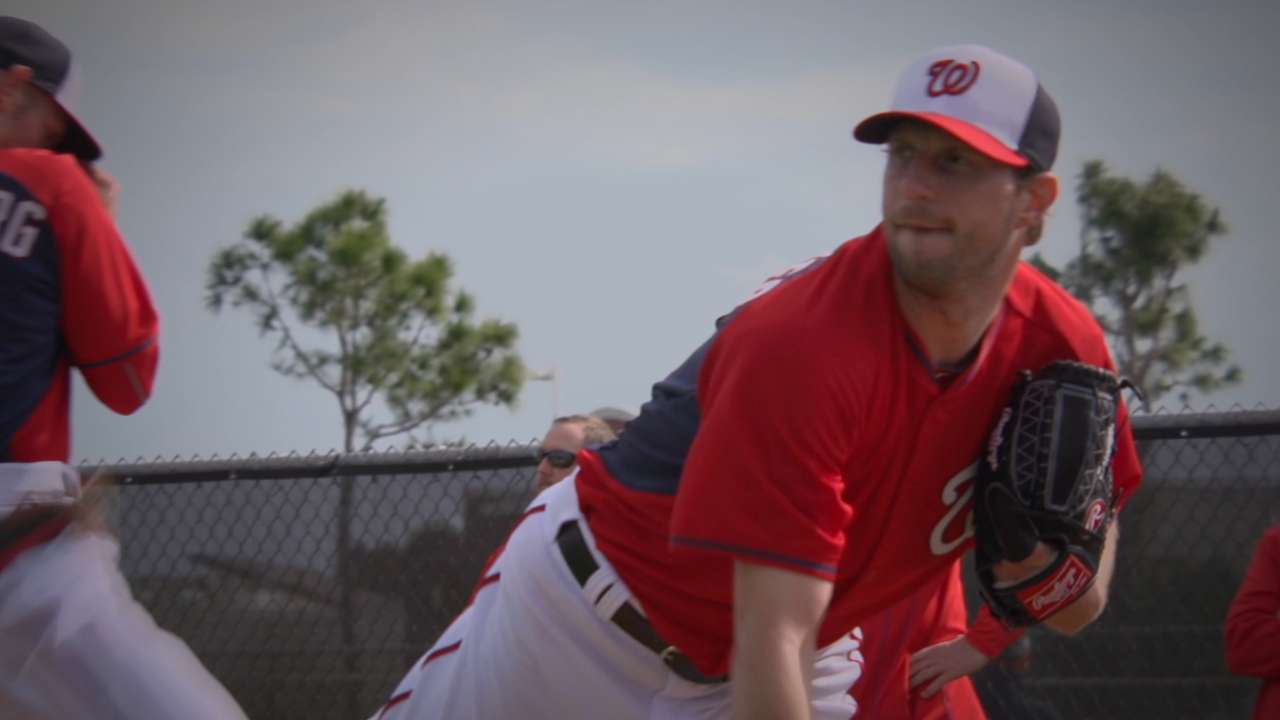 Would the Nationals consider a six-man rotation so Tanner Roark isn't left out?
-- Nicholas Z., Cottleville, Mo.
You are one of many who feel Roark should remain in the rotation after his productive season in 2014. However, I don't see the Nationals going with a six-man rotation. When the season starts, I see Roark in the bullpen as a long man.
If the Nationals and Jordan Zimmermann cannot come to an agreement and he signs somewhere else, what kind of effect will this have on the Nationals in general?
-- Chloe B., Beltsville, Md.
It will not have an effect at all. Manager Matt Williams won't allow it. It will be nothing but baseball. I don't think I'm wrong when I say this: I think the Nationals have enough firepower in the Minor Leagues to replace Zimmermann. Remember, Lucas Giolito is a highly touted prospect. A.J. Cole and Blake Treinen are ready to be in the rotation. I think Zimmermann is the best pitcher on the Nationals, but the team is prepared for life without him.
Why is Gio Gonzalez starting over Roark? Roark is clearly better. Gio won't throw strikes.
-- Rick E., New Market, Md.
Gonzalez didn't have a bad season last year. He had a respectable 3.57 ERA. Remember, he missed a month because of a shoulder injury. Once he came back, he was his old self except for the last game of the National League Division Series against the Giants. Give Gio a break. He will be OK.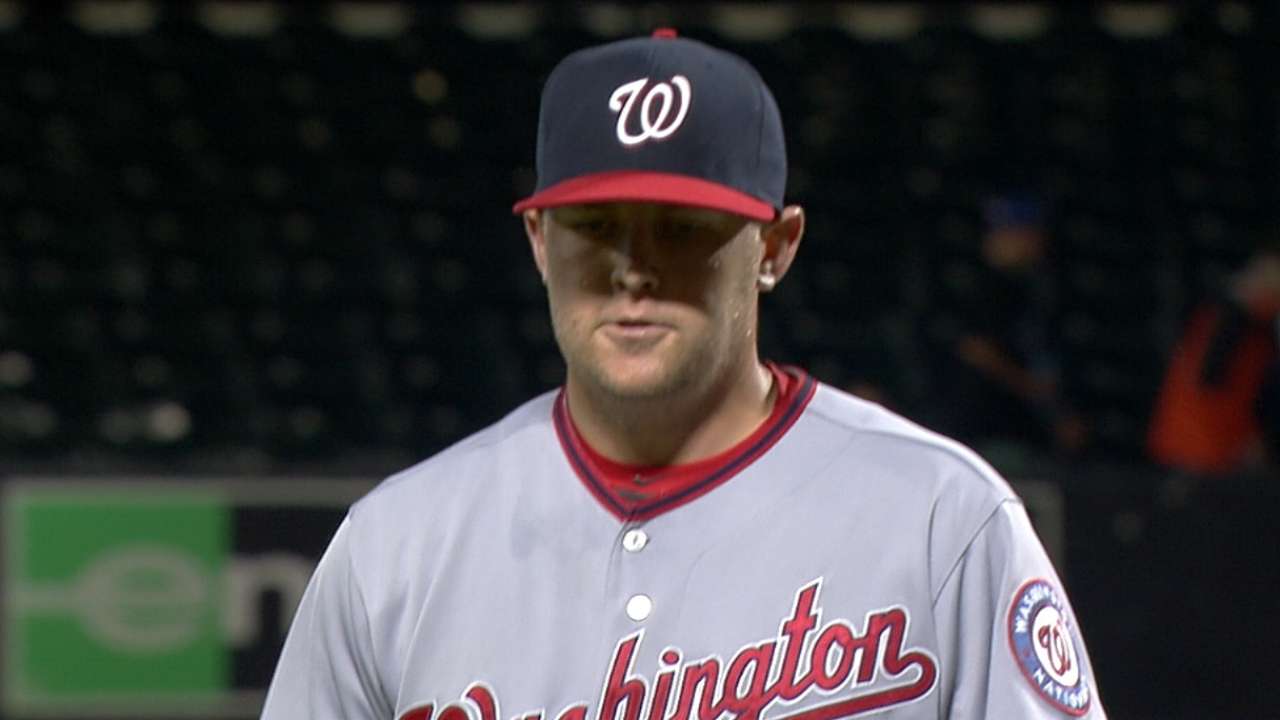 I like Drew Storen and his numbers are, overall, excellent. I have to admit, though, I worry about him in close games in the postseason. Am I overly concerned about the fact that 2012 and '14 playoffs saw him blow saves in key games?
-- Jay G., Roseboro, N.C.
I believe you are overly concerned. First of all, I don't blame Storen for the Game 2 loss against the Giants. The offense collapsed in that 18-inning game. The offense was the reason the Nationals lost the series in four games. As far as 2012 is concerned, Storen had a bad game. It happens. I admire the fact that he reclaimed the closer role and became a dominant pitcher the final month of the season. I expect him to be the same this season.
Do you expect a significant contribution from any of the players signed to Minor League contracts?
-- Bill M., Springfield, Va.
I'm expecting Mike Carp to make a big contribution from the bench. He could be the left-handed pop they lacked last year in a pinch. Carp can also play first base and the corner-outfield spots. I'm also interested to see how Emmanuel Burris performs this season. He could add speed and defense off the bench.
Which Minor Leaguers could get called up during the season?
-- Kenny W., Springfield, Va.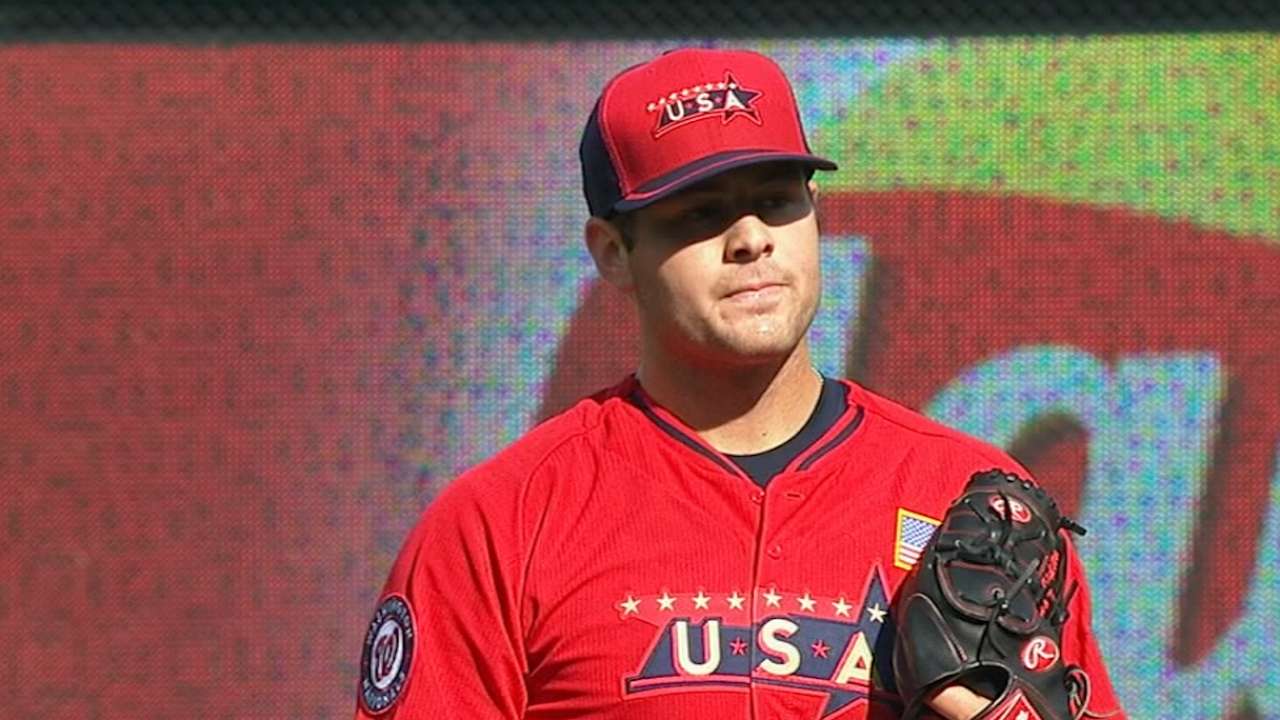 It wouldn't surprise me if we saw Giolito get a September callup. I'm expecting him to have a great season in the Minor Leagues. I'm expecting Cole to be in the Majors this year. Williams was impressed with the right-hander during a live batting-practice session on Sunday. I'm really high on left-hander Matt Grace. It will be interesting to see how he does out of the bullpen. As Davey Johnson used to say, the more lefties in the bullpen, the better.
Do you see Danny Espinosa on this team in 2016? It seems like he has gotten a lot more slack than anyone on the team. Additionally, what are the team's long-term plans for second base?
-- Taylor K., Ellicott City, Md.
I can't really predict where Espinosa will be a year from now. For all I know, he could be a bench player. If he improves his hitting, maybe Espinosa could be part of the future. To say he received more slack is wrong. This is the same guy who was sent to the Minors in 2013. One thing Espinosa has going for him is his defense. That will keep him in the big leagues for a while.
As far as the long-term plans at second base, it's hard to answer that question at this time. We could see Wilmer Difo at the spot. He looked impressive last year while playing for Class A Hagerstown. That would mean Yunel Escobar moving to shortstop if Ian Desmond were to leave the team. Ask me this same question after the season is over.
Bill Ladson is a reporter for MLB.com and writes an MLBlog, All Nats All the Time. He also can be found on Twitter @WashingNats. This story was not subject to the approval of Major League Baseball or its clubs.