Rodon will take Sale's spot in Cactus rotation
Pitching coach Cooper says top prospect should start vs. Padres
GLENDALE, Ariz. -- White Sox pitching coach Don Cooper paused for a moment when asked about the Cactus League rotation replacement for Chris Sale beginning this Friday against the Padres in Peoria. He originally listed the starter as to be determined, but then quickly changed his mind.
"I'll tell you what," Cooper said. "Expect to see Carlos Rodon in that spot."
Rodon, the top-rated White Sox prospect and 14th-rated overall in baseball per MLB.com, was not scheduled to start a Cactus League contest prior to Sale suffering an avulsion fracture in his right foot during an accident at his Arizona home Friday. The 22-year-old southpaw was going to be stretched out as a starter, but the only actual Rodon starts either would be in B games or on split-squad days coming March 12 and April 1.
With Sale out of action for at least three weeks, an opportunity now has arisen for Rodon. Cooper and the White Sox want Sale back as soon as possible, with the chance still existing that the club's ace could miss one or even two regular season starts. But while the White Sox pitching coach is sensitive to Sale's situation, he's also taking the next man up theory.
"Here's something else that happens when injuries occur or problems that Chris is having occur," Cooper said. "One guy's day is kind of shut down a little bit. The opportunity is knocking on other people's doors. Now the door is open for [Rodon] to go out there and start and show everybody what he can do."
Other starting candidates such as Scott Carroll, Chris Beck, Francelis Montas and Brad Penny also will get looks in this capacity, names that general manager Rick Hahn mentioned Saturday and Cooper reiterated Sunday. As for Sale, Cooper believes White Sox head athletic trainer Herm Schneider will have him do whatever arm work is possible without jeopardizing the foot injury.
There was absolutely no doubt in Cooper's mind that Sale will avoid injuring another part of his body by overcompensating for the avulsion fracture. Cooper's reasoning is that the White Sox won't let that situation develop.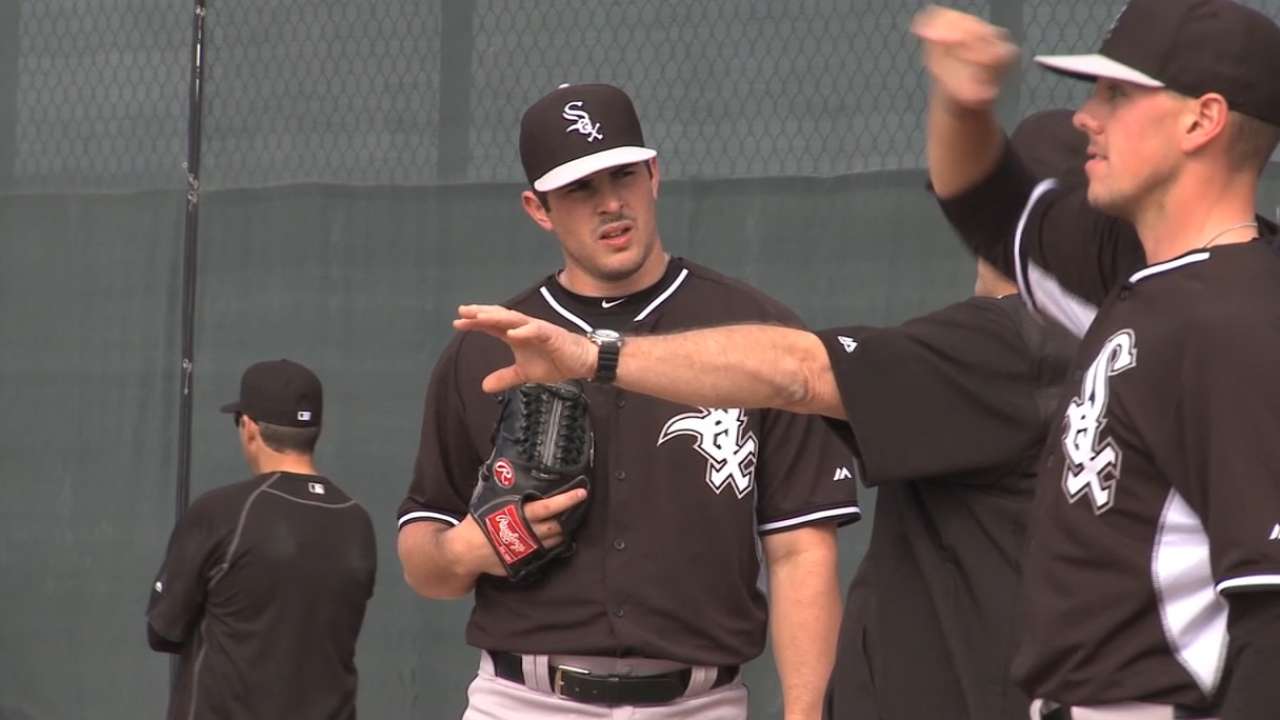 "It's a tight window, but I'm not thinking of it that way," Cooper said. "He might miss one start or might even miss two, I don't know, but whatever he misses is because we are making sure of his whole situation. When we get him back, we are going to have him all year hopefully.
"We are going to do it right because we are going to take care of his injury. We are going to make sure he's right before he does anything."
Putting Rodon in Sale's spot doesn't mean he's the frontrunner to break camp. Basically, it means all the pitchers mentioned by Cooper and Hahn have a better shot at the rotation until Sale is ready.
"As long as everything is under control, [it] allows the guy to heal up 100 percent and not rush back, and let the other guys shoulder the load a little bit," said White Sox starter Jeff Samardzija, who could start for the Cubs and White Sox on back-to-back Opening Days. "And then when he does come back, he's 100 percent and ready to go."
Scott Merkin is a reporter for MLB.com. Read his blog, Merk's Works, and follow him on Twitter @scottmerkin. This story was not subject to the approval of Major League Baseball or its clubs.