MLB.com Columnist
Mike Bauman
Matheny expects big bounce-back from his hitters
Cardinals won NL Central in 2014 despite slumping across the board on offense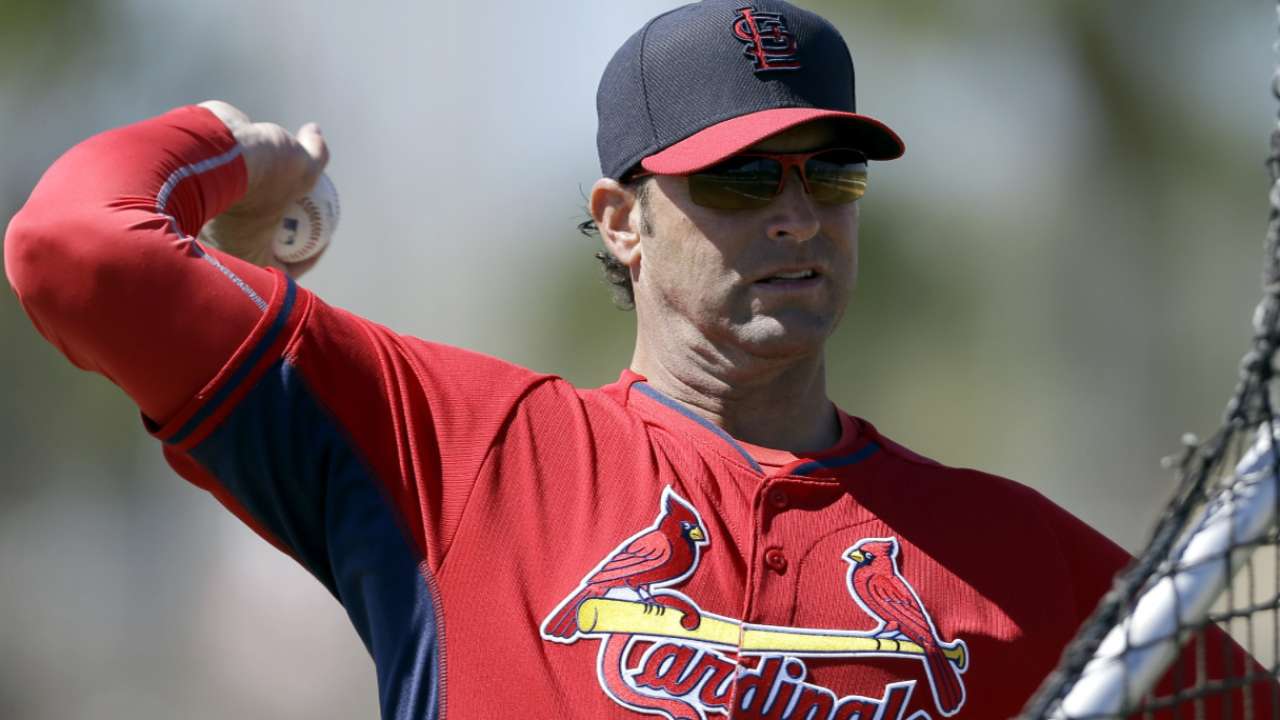 JUPITER, Fla. -- In some quarters, the entire National League has already been conceded to the Washington Nationals. They had, after all, one of the best rotations in baseball last season, then added the king of the free-agent pitching class, Max Scherzer.
But anyone who ignores the St. Louis Cardinals in a discussion of the NL's best clubs -- or baseball's best clubs, for that matter -- has not been paying particularly close attention.
The Cardinals are the only club in the game that has been in a League Championship Series for each of the past four postseasons. They have won the past two NL Central titles.
Now, they have valid reasons to believe that they will be better than last year. This is more than the typical Spring Training rose-colored view.
The Cardinals won 97 games in 2013, when they led the NL in runs scored, averaging a robust 4.83 runs per game. The Cardinals won 90 games last year, when they finished tied for ninth in the league in runs, averaging a relatively paltry 3.82.
This is not a team that routinely outslugs the opposition. In 2013, the Redbirds ranked 13th in the NL in home runs with 125. But last season, the Cardinals' offensive shortcomings were accentuated by a lack of power. The Cards were last in the NL in home runs 2014 with 105, the club's lowest total since 1992.
The fact that St. Louis was a postseason qualifier while undergoing what amounted to a collective offensive slump speaks volumes about the Cardinals' strength in the rest of their game.
But it also tells you why the Redbirds have legitimate reasons to believe that they can be better in 2015.
At Roger Dean Stadium on Sunday, Cardinals manager Mike Matheny was asked why he thought that 2013 was more like what "normal" should be for this offense. Matheny exhibited no hesitation -- but plenty of anticipation -- in talking about how his team's bats should produce this season.
"I watch what these guys do. I watch what they have the potential to do. I watch how motivated they are," Matheny said. "Even though we had a 90-win season, we've got a group of guys that individually believe that they've got more to bring to the table.
"So if you have a group of high-achieving athletes that are motivated to be better, you're always going to bet on them. We were outliers two years ago offensively, and I believe last year was another outlier season.
"But I'm not just looking for that mid-ground. I believe we aim for two years ago. We aim for high production. Not that it was some fairy tale. It was achieved already. So why would you cut yourself short here in your aim?"
So for the manager, this is not simply a matter of a few players getting back to their best levels. This is an across-the-board betterment that Matheny expects, a series of individual efforts that will result in a unanimous improvement.
"Only because that's what I hear from them," Matheny said of his players. "Every single one of them, to a man, believes that they've got a better season ahead of them. They're completely convinced of that, and I am, too."
The record clearly shows that a determined group of Cardinals generally means trouble for the opposition. In this case, you can see, without stretching your imagination very much at all, where improvement might occur.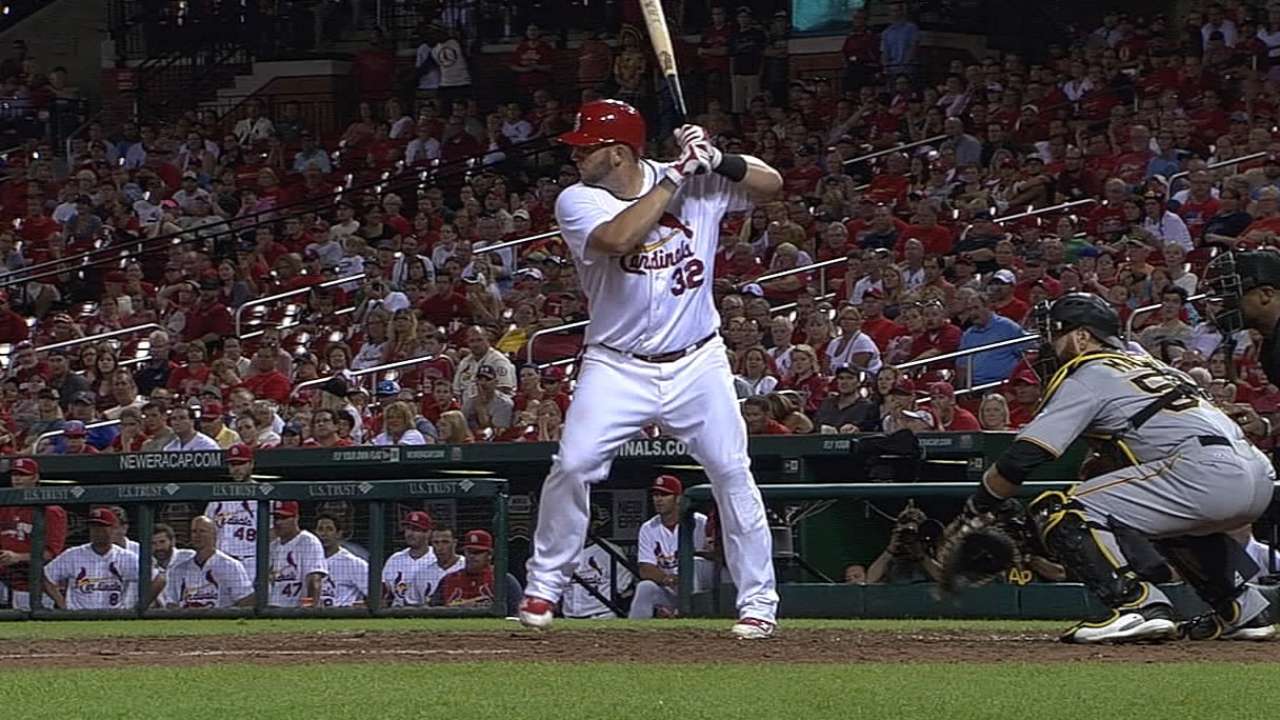 For instance, first baseman Matt Adams could put up the kind of power numbers he had over a partial season with the Cards in 2013. Third baseman Matt Carpenter had a tremendous '13 and a solid '14. He could have a bigger season than he did last year. Second baseman Kolten Wong, just 24, could continue his improvement, taking more of his game from potential to production.
At another position, a newcomer could provide plenty of assistance. The Cardinals struggled to find production in right field last year. Now they have Jason Heyward, who was obtained in a trade from Atlanta. Heyward, a two-time Gold Glove Award winner, had a career-low 11 home runs last year. But the Braves had asked him to lead off, and he traded power for his highest on-base percentage (.351) in four years. One way or another, Heyward should be a big help to the St. Louis offense.
As Matheny said, both of the past two seasons were statistical outliers for the St. Louis offense. The Cardinals would be hard-pressed to duplicate the stunning hitting with runners in scoring position that they produced in 2013. On the other hand, they have every right, based on the track records involved, to believe that they will be individually and collectively better than they were in '14.
Wherever you think the level of the Cardinals' offense should be, the one thing you know for certain about this team is that it has typically followed down periods with a refusal to remain down.
Mike Bauman is a national columnist for MLB.com. This story was not subject to the approval of Major League Baseball or its clubs.